Each week, the Huffington Post Canada's Living team will try out something that has sparked our curiosity, and as long as we live to tell the tale, we'll let you know all about it.
What It Is: A-50 minute fitness class that fuses cardio, strength and endurance training using M3 machines (like "a Pilates Reformer on steroids). The machines use a system of springs and pulleys to assist in both resistance and levels of difficultly. Mix that with some beats, and you've got yourself almost an hour of a sweaty workout. In terms of calories burned, the program claims to melt away 500 to 700 per class.
The class started off with basic instructions on how to use the machine and what each of the pulleys attached to the back of your machine meant. We also had trainers by our side during the workout to help with adjusting them.
We started off working the legs and arms, which got a bit tricky at first because I wasn't used to the equipment. Next, after our so-called warm-up (it was really hard!), we moved on to working out the abs and lower back.
You also do typical fitness routines on the machine as well, including lunges and push-ups.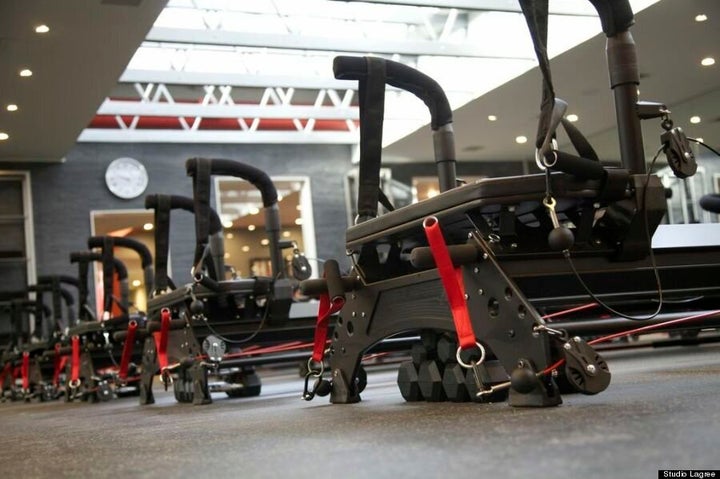 Our Thoughts: The abs portions was probably my favourite. Even though having your whole body on a machine seems a bit awkward at first, you start to adapt to it. These exercises challenged my balance, energy levels and of course, my lack of flexibility.
To end off 50 minutes of sweat and sad faces, we ended up stretching out our muscles. This was also great — it was like doing yoga on a machine.
The Warning: This class is definitely not for everyone. If you're the kind of person who doesn't hit the gym regularly, or needs time to adjust to new equipment, I would not suggest hitting the studio right away. Also, the pacing may throw you off. It's not fair in any situation for a class or trainer to slow down for you to keep up, so in this case, I would try a trial version before committing to a package.
Also, prepare for soreness the next day. Just like any new fitness program, your body may start hurting in places it normally wouldn't.
It's also bit out of most people's price range. Spending $35 per class is a lot, so make sure you have room in your budget.
Tips: Try an initial class. For $15, you might just fall in love, or hate it. At least this way you can see yourself at the studio, get an idea of the equipment and vibe and meet the trainers. The trainers were pretty welcoming and understanding to beginners, so it may be a good way for you to understand how this workout will treat your body.
Have you tried out Studio Lagree? Let us know what you thought in the comments below:
ALSO — Other things the Huffington Post Canada Living team has tested: