Pregnant moms-to-be rejoice! Never before have there been so many options for stylish winter maternity coats. Designers have caught up with demand. You no longer have to sacrifice fashion for function during pregnancy. I've found the best stylish winter maternity coats to keep you and your inside baby warm and toasty this winter. Better still, some of these winter jackets will take you from pregnancy, baby wearing, and beyond! Scroll down to check out the slideshow below.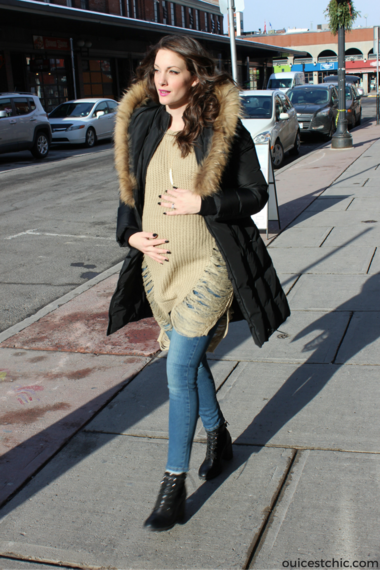 Tips for Buying Winter Maternity Coats
Before this influx of stylish and affordable maternity fashions, options were limited. Most expecting mamas would either have to buy a winter coat that was far too large all over or borrow one from their husband. Both options were less than ideal because regular coats aren't designed to accommodate an expanding belly, which can cause a lot of discomfort during an already uncomfortable pregnancy.
Now there are lots of different types of winter maternity coats available. You can find chic and classic styles, modern and contemporary options, even edgy street-style coats. Whether you are looking for faux fur, leather, wool, or water-repellent fabric, there's a winter maternity coat to match your taste and budget.
When looking for stylish maternity coats consider your primary needs. Will you need it for:
If your pregnancy will last the entire winter, it may be worthwhile to get a well-insulated winter maternity coat, as opposed to a convertible coat. These winter coats are structured to retain more heat but include the same great design features that you'd come to expect. Most pregnancy-specific coats include a drawstring to accommodate growing bellies. However, if your third trimester falls in the end of winter, make sure you size up to allow room to grow.
If budget is your main concern, you may want to look for winter maternity coats with a removable insert. That's what I wore for both of my winter pregnancies, and I loved it! The maternity insert turns your outerwear into a three-in-one winter coat. Wear the extender upside down during pregnancy; turn it right side up for baby wearing in a baby carrier; and remove it completely to wear as a regular winter coat.
Although I was initially reluctant to invest in another winter coat that would be used for only a limited period of time, I really did get so much use out it. I actually wore it over four winters (two pregnancies and two babywearing stints) before giving it to my sister-in-law.
Winter maternity coats have good resale value and expecting moms are always looking for used maternity coats online. So if the price is giving you cause to pause, know that you will undoubtedly be able to sell your maternity coat once you are finished with it. Or better yet, gift it to one of your expecting friends. They will for sure appreciate it and it makes a great Christmas gift!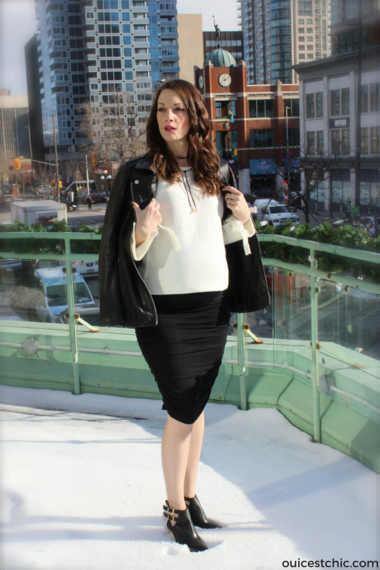 Check out this season's best winter maternity coats below and visit Ouicestchic.com for more effortlessly chic living tips for busy moms.
Follow HuffPost Canada Blogs on Facebook