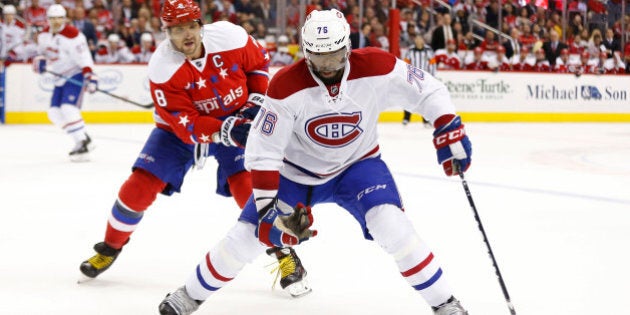 You try being a Montreal Canadiens fan while growing up in the suburbs of Toronto. Trust me, it wasn't easy. All I had was a dozen more Stanley Cups to brag about, and honestly, that argument got old real quick. The only consolation when arguing against a Leafs fan was when I reminded them of their cup drought, an insult with diminishing returns as the years went by. It was just too easy. I mean, 1967 was a long time ago, even in 1993.
I was so invested in that series that I made a tattoo bet with my friend Mike, the loser having to get the logo of the opposite team if their team lost. The very idea of having to get a Maple Leafs tattoo was daunting, and Gretzky may have saved me from eternal embarrassment. I can think of nothing that would be more difficult to deal with as far as ridiculous hockey related activities are concerned than the thought of that tattoo. Nothing even comes close.
Until yesterday happened. Yesterday was different. Yesterday was real.
With him went my love and respect for the team I was raised to love more than Jesus.
The Montreal Canadiens traded PK Subban, and with him went my love and respect for the team I was raised to love more than Jesus. I'm serious, we were Catholic but we weren't religious, and if given the choice to go to church on Christmas or watch even a pre-season Habs game, all of us would fight for the remote and open a bag of chips, no doubt. My father not only hated the Leafs, but like a true stubborn Montreal native he insisted his kids hated the Leafs, too. And so I did.
I loved Montreal and hated the Leafs like it was my job. Until yesterday.
You have to understand, Subban is more than a star. Not just because of his stats, but because he gives all of himself, on and off the ice. In a league saturated with conformist, conservative hockey players and personalities, Subban is a breath of fresh air. He's always smiling, too. His smile is infectious. You can see he is not putting on airs when he speaks.
Subban's personality, his character, is the main reason his star power is so high. They don't name a children's wing of a hospital after just anyone, and even though any wealthy person can cut a cheque, sometimes you know the guy handing you that cheque is just as special as the philanthropy itself. Subban is probably the best hockey role model I can think of, and Montreal just pushed him away.
And they didn't have to push him away.
If you don't believe race played at least a small part in this fiasco then you haven't really been paying attention.
From coaches, the GMs, to announcers to certain fans, Subban was viewed differently, even as he conducted himself in the same manner as other players who never are criticized so directly, so often. One player celebrates after a goal, well, that's just passion. Subban celebrates, that's him being cocky. If another star player makes an unforced error, that's just part of the game, it happens. If Subban makes an unforced error his coach tells the press he's being selfish.
Like it or not, hockey culture is really, really white. And while I don't believe every hockey player or fan is a member of the KKK, there is a sort of culture shock many hockey people feel, even subconsciously, when they see Subban play. This is especially true for the two men who got rid of him.
I won't even use the names of the coach or GM that made this happen. I honestly find them both to be useless, underachieving conspirators. These two guys have telegraphed their inexplicable mistreatment of a player whose personality made them feel both inept and superior. I believe Subban's exuberant personality rattled these two stiffs in a way that would have never happened if Subban's last name was Ovechkin. Take that for what it's worth.
For the first time in my life, I will be cheering for my hometown team, the Toronto Maple Leafs.
But at any rate, here we are today. The world still spins, the Habs still might have a decent season, but, for the first time in my life, I will be cheering for my hometown team, the Toronto Maple Leafs. I think being screwed over by a GM and coach is a great primer in discovering what it feels like to be a Leafs fan, to be honest. Plus I heard they have a decent goalie this year, finally. Yay. Go Leafs go.
I'm not gonna lie, this isn't going to be easy. And who knows, maybe I will only abandon my precious Habs for a year, or at least until that dreadful GM and incompetent coach are finally gone.
In the meantime, I wish PK Subban all the success in the world. The kid deserves it. The best part about Subban is that he has the type of character that would probably contradict a lot of what I just wrote. He would tell me to keep cheering for the Habs, that his race played no part in how he was treated and that the kids at the hospital will still get all his love and support.
He might be right, but for the next little while at least I am still going to bleed Toronto blue. A protest fan, cheering on the hometown team he was raised to despise.
I'll say one thing about Toronto fans; for better or worse, they are loyal. And loyalty is exactly what a guy like me is looking for right now.
Follow HuffPost Canada Blogs on Facebook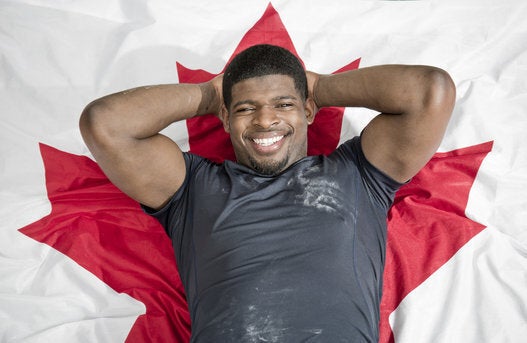 P.K. Subban in Photos