Canadian Sum-41 rocker, and Avril Lavigne's first husband, Deryck Whibley tied the knot with model Ariana Cooper last weekend — just a year after his near-death experience.
"I've been very sick in the hospital for a month and was pretty sick for a few weeks leading up to my trip to the hospital. The reason I got so sick is from all the hard boozing I've been doing over the years. It finally caught up to me," the singer wrote on his personal website.
Whibley went on to confess that he passed out while drinking one night and woke up in the hospital a week later. His liver and kidneys had collapsed. Doctors told him if he had even one more drink he would die.
Following that terrifying experience, Whibley focused on his recovery with the support of Cooper and a few of his bandmates. And even on their wedding day, the couple toasted with apple cider.
People magazine reported that the nuptials were held at the Hotel Bel Air. The wedding was described as an intimate and relaxed affair. But the bride did bring a little edge to their big day, by rocking a pair of custom Converse sneakers with her strapless ball gown.
Congratulations Derek and Ariana!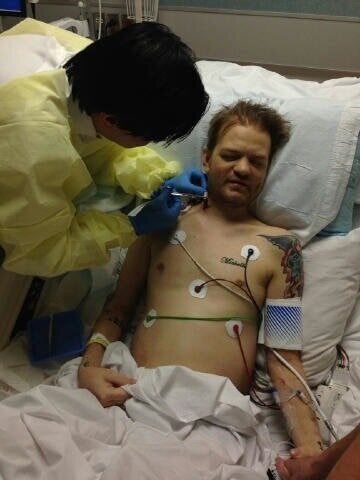 Deryck Whibley