I'm a certified nutritionist and a fairly adventuresome cook and a foodie. But I have to confess that until recently, I'd never heard of sumac. Well, that's not entirely true. I have a vivid memory of catching poison sumac while camping as a teenager. Suffering with the itchy rash for several weeks did emblazon the image of the nasty plant in my mind.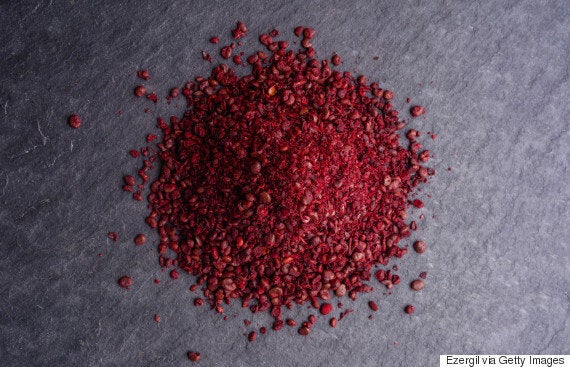 What I know now is that sumac is a bright red spice that's tart and fruity, that it's different from the shrub that tortured me years ago and its health benefits are great for aging adults like me.
The Health Benefits of Sumac Spice
1. The antioxidant value of sumac spice is phenomenal.
When herbs and spices are rated for antioxidant levels sumac sits atop the list, even above commonly used spices like cinnamon and oregano. It even beats the acai berry (which is trending now as a health elixir), as well as many fruits and vegetables. Eating foods high in antioxidants can help prevent heart disease and breast cancer and treat osteoarthritis.
2. Sumac spice can help lower blood sugar levels.
Research studies on sumac demonstrate its effectiveness in controlling or preventing many of the chronic diseases that often accompany aging. One study found that consuming sumac helped type 2 diabetics by lowering blood glucose levels and increasing levels of good cholesterol.
3. Sumac juice is high in vitamin C.
Because of its high vitamin C content, sumac juice was used by Native Americans to fight the common cold, fever and scurvy. Separately, a study published in Physiology International, a periodical of the
Hungarian Academy of Sciences, found that consuming sumac juice helped reduce muscle pain after intense exercise.
How to Use Sumac Spice
If you're lucky enough to find fresh sumac in your area (staghorn or smooth sumac are the most common types in North America), use it to make sumac-ade. It's made from crushed sumac berries steeped in cold water. Its flavour is a delicious cross between lemonade and cranberry juice. Hayley Ryczek of Health Starts in the Kitchen writes about foraging for sumac berries in Pennsylvania in late summer, later steeping them in water to make an all-natural Kool-Aid.
While it has a diverse flavour profile, sumac blends surprisingly well with other spices such as allspice, chili, thyme and cumin. It's also used to make Za'atar, a Middle Eastern spice blend, that includes oregano, thyme and sesame seeds.
To use this versatile spice, mix it with olive oil and then use it as a coating when you oven roast your favorite vegetables -- it's especially great with cauliflower. Or add it to Middle Eastern spreads like hummus and Baba Ghanoush, or simply sprinkle it on top for a splash of color. You can also blend sumac with complementary spices to make a rub for meats or fish. A sprinkle of sumac is also a great way to perk up the flavour of popcorn or bread-dipping oil.
And for a completely different take, add sumac spice to a mixture of simple syrup and sparkling water. Stir in crushed mint sprigs and enjoy a refreshing summertime drink.
Lorie Eber is a Certified Nutritionist and Gerontology Instructor who provides one-on-one weight loss coaching. She's also certified by the Mayo Clinic as a Wellness Coach and a NASM Personal Trainer. She's the author of 40 Ways to Leave Your Lover: That Would be Junk Food and How to Stay Healthy in A World Designed to Make Us Fat and Lazy.
Follow HuffPost Canada Blogs on Facebook
Popular in the Community