This summer, consider adding whiskey to the melange of beers and wines at your next barbecue. Although it may seem intimidating to include such a strong spirit into the mix, once you know the tips to serving whiskey, it can elevate your drink game and impress your guests.
I asked the Manager and Head Bartender at The Carbon Bar, Brendan Piunno, for advice on how to serve whiskey flights or cocktails with grilled and sizzling meats. At their restaurant, they've paired their BBQ with a flight of Jack Daniel's and cocktails to match the multi-coursed meal. They're currently offering this menu experience until the end of June. I asked Piunno how one could recreate a similar experience at home.
What are some general rules to pairing whiskey with BBQ? Would you say that straight-up flights are not for the faint of heart?
Piunno:It's all about pacing (with water) and savouring the flavourful notes in each whiskey. Do not down it like a shot! Even though it may be served it one, you need to treat it like a fine wine. Breathe it in, sip it, and roll the liquid around on your tongue. With a bit of practice you can begin to detect the subtle flavour nuances in each type. But yes, as a general rule, go for the cocktails if you're not a seasoned whiskey drinker; it's intense stuff.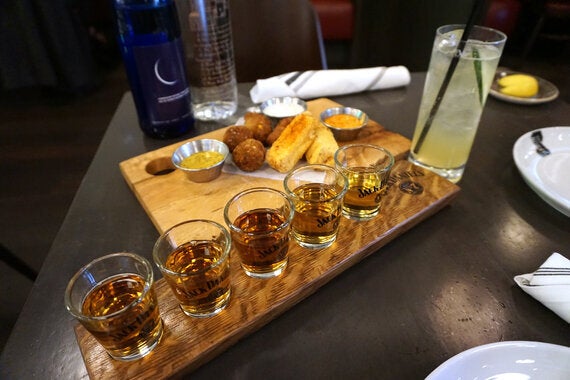 Why Jack Daniels? Do you recommend it to those who are new to the brand?
Piunno: For us, Jack Daniel's is an ideal choice because the flavour profile in each whiskey echos that of what you would find in barbecue: notes of caramel, wood, and spices.
Similar to our restaurant philosophy, Jack Daniel's carries that iconic barbecue spirit. It is from the south, straight out of Tennessee, which happens to be one of the barbecue holy lands in the United States. The norm there is to be gracious and charming -- that southern hospitality. Those are the elements we emulate at The Carbon bar, so for us, it was a natural pairing.
If you're new to the brand, give the Old No.7 Classic a try: the Jack Daniel's Tennessee Whiskey. It has a rounded flavour, is mellow on the palate with notes of vanilla, and very cocktail friendly. Its versatility will prove useful to the user -- you can also add it to your BBQ sauces for an extra kick.
For those who want to play bartender at home, which whiskey cocktail would you pair with each dish?
Piunno:If you're serving pulled pork sandwiches or tacos, try it with a Lynchburg Lemonade; we use the classic Jack Daniel's whiskey in it. It works together because the pork itself is rich and sweet, so the lemonade helps to cut through all the heavy flavours.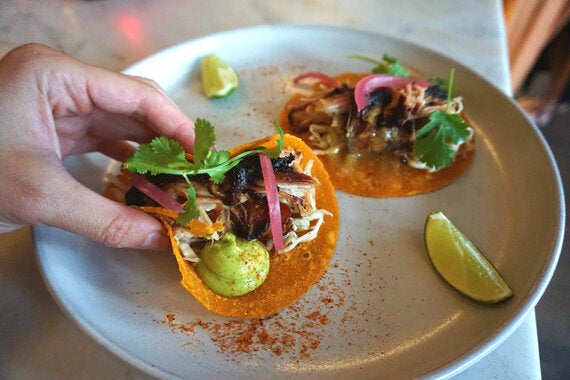 And that's another important thing to note: all of our cocktails aim to lighten the heaviness of the BBQ meats which have ample amounts of smoke and fat. Keep in mind that citrus fruits (lime, lemon, orange) are your best allies for summer cocktails. The acidity balances everything out and the slight tang helps to cleanse your palate.
For robust meats like spicy sausage, beef brisket and even pork ribs, I recommend drink enthusiasts make our Wild Tennessee Mule that uses Gentleman Jack. This whiskey has been charcoal-mellowed (aged) twice which results in the liquid's smooth, rich texture. The ginger beer used for this cocktail echoes the spices we use in our meat and offers a refreshing flavour profile. Even if you think you're not a fan of ginger, give it a try. This cocktail will change your mind; it's not that harsh assertiveness you get from raw ginger but more of that light, sweet spice you find in gingerbread.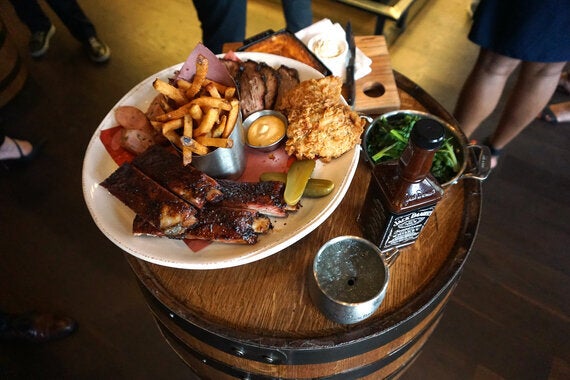 For the perfect finish, something sweet is expected; however, I've personally never been a fan of drinking straight liqueurs with it. In general, I find the sweetness of both dessert and drink to be overpoweringly sugary. The one exception is with spiked iced coffee.
The Carbon Bar recommends a Kentucky Pecan Pie but for something with a bit more summery charm, a classic Strawberry Shortcake pairs perfectly with a Tennessee Honey Iced Coffee. Here, the liqueur is used with appropriate restraint. A bit of boozy-addled pleasure with notes of honey to sweeten your chilled coffee.
Recipe courtesy of The Carbon Bar
Add 4 cubes to the bottom of a tall glass. Add Jack, fresh lemon, and cucumber together. Top with tonic.
Recipe courtesy of The Carbon Bar
(*simple syrup- equal parts water and sugar brought to a boil. Off heat and add mint leaves, whole cloves, ginger sliced, grated nutmeg, lime zest, and high proof rum to taste. Pour into mason jar and keep in fridge.)
Mix first two ingredients together in a copper mug filled with crushed ice, top with ginger beer.
Tennessee Honey Iced Coffee
Recipe adapted from AllRecipes
1/3 cup fresh, medium-coarse ground coffee
1 1/2 cups filtered water
Evaporated Milk or half & half
1 - 2 oz. Jack Daniel's Tennessee Honey
To Make Cold-Brewed Coffee: Place the coffee in a glass jar, add the water, and stir to combine. Cover and set aside at room temperature for 12 hours or overnight.
Strain the coffee through a large-size paper coffee filter. Cold-brewed coffee can be refrigerated in a covered jar for up to 24 hours.
To serve: Fill a tall glass with ice cubes. Pour in the cold brewed coffee. Add milk and Jack Daniel's Tennessee Honey.
Follow HuffPost Canada Blogs on Facebook