First they enjoyed their introductory taste of Canadian winter fun by tobogganing and skating. Now young Syrian refugee girls safely settled in Ontario have a chance to attend their first Canadian summer camp thanks to the free program Glen Bernard for Syria.
Glen Bernard Camp, located on 700 acres near Algonquin Park, has been operating a girls-only camp for nearly a century. This week, in the wake of Prime Minister Trudeau's announcement that the government has now settled 25,000 refugees, the camp announced they would be making spaces available for 24 Syrian girls, between the ages of 11 and 13. All costs will be covered, including camp fees, equipment and supplies.
"Canada has been called on by the world to help address the worst humanitarian crisis since WWII. We're so proud to be able to play a role in helping build a new life for these newcomers. We can't wait to meet them this summer and introduce them to our community," Jocelyn Palm, owner of Glen Bernard Camp and Order of Canada recipient, said in a press release.
"They're excited to learn more about Canada and its traditions. And what more Canadian a tradition is there than summer camp?"
"We know --from scientific research and from years of first hand experience -- that summer camp can have a real impact on a child's sense of belonging, self-confidence and self-esteem," she added. "This is true for all campers, but especially true for girls,"
In fact, Waterloo University's Canadian Summer Camp Research project found that 65 per cent of campers showed strengthened social integration and citizenship, 67 per cent showed improved self-confidence and 69 per cent demonstrated heightened emotional intelligence.
"Every Syrian newcomer to Canada is here building a new life for themselves," explained Syrian-Canadian Leen Al Zaibak in the same release. Zaibak co-founded Jusoor, a non-governmental organization focused on continuing education for Syrian students through scholarships at Western universities.
"They're excited to learn more about Canada and its traditions. And what more Canadian a tradition is there than summer camp? This is an incredible program that will give these girls memories and friendships that will last a lifetime."
Application forms can be found at gbcamp.com and will be accepted until April 1. The camp is encouraging private sponsors to apply on behalf of girls aged 11 to 13.
Glen Bernard Camp isn't alone in its support for our recently arrived Syrian refugees. Here's a look at some other ongoing efforts to help, ranging from collecting school supplies and offering free dentistry to big cheques from a businessman and an NHL captain.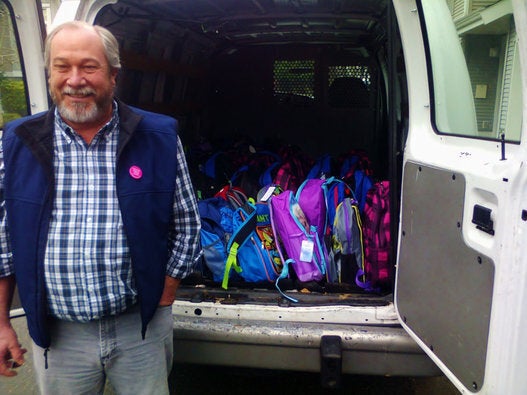 Great Things Canadians Have Done So Far For Syrian Refugees