With the arrival of summer also comes the arrival of pool parties and days at the beach. Along with those fun events also comes stress and anxiety for many at having to don swimsuits at those events. Why?
Well, it could be that certain body types are constantly being celebrated as being the gold standard when it comes to beach bods. Case in point, never ending photos of the hottest celebrity beach bods and sexy, shirtless stars.
Tidal Wave Of Unrealistic Expectations
The problem is that we are continually inundated with images in the media and on social media that quite honestly aren't realistic. Pics of ripped, spray-tanned celebrities frolicking on the beach aren't representative of what the vast majority of people look like. While they look great, it is important to be aware that other types of bodies are just as beautiful.
Sadly, when paparazzi capture photos of stars looking like us (i.e. regular people), media sites include them in their worst bikini body photo galleries and tabloids mock stars for not appearing to be so-called "beach ready."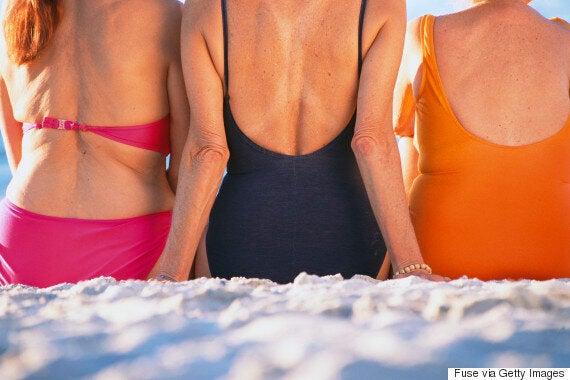 Take for instance, Hugh Grant recently being mocked for his "dad bod" or Jennifer Aniston being described as having a "fuller figure" on a recent vacation. So much so that the tabloids assumed she must be pregnant. Celebrity body shaming is awful and hits too close to home when those celebrity bodies look like average bodies.
The question is why does society hold celebs to such high and narrow standards? And why do we often hold ourselves to those same unrealistic standards?
What frustrates me is what are we to think when celebs who look like many of us are harshly scrutinized and ridiculed for having soft tummies, stretch marks or cellulite when snapped at the beach?
When you look around a beach or at a pool party, you will notice that most people don't look like Chris Hemsworth or Carrie Underwood.
On the one hand in the media we hear body-positive messages to:
"Be proud of your curves."
The next minute in the media we hear catty criticisms:
"Whoa, he has gained a lot of weight."
When you look around a beach or at a pool party, you will notice that most people don't look like Chris Hemsworth or Carrie Underwood. We are delusional to think that they are representative of what the general population look like in swimsuits.
There is a good chance you will see the odd six pack, but for the most part, you will likely see some soft tummies and cellulite as well. People won't be spray tanned, have glistening abs or buns of steel. And most people won't look like they just came from the cover shoot for Men's Health or Shape magazine.
Reality check: In Canada, the average woman weighs 155 lbs. and the average man weighs 187 lbs. In the U.S., the average woman weighs 156 lbs. and the average man weighs 196 lbs.
That is reality. Not the overly photoshopped pics we often see in magazines and in ads.
Be proud of your body. Love your body, as it is now. As it looks now.
I wish more people would celebrate their bodies as they are like model Ashley Graham. As she said last week, "a little cellulite never hurt nobody. Stop judging yourself, embrace the things that society has called 'ugly.'" Absolutely.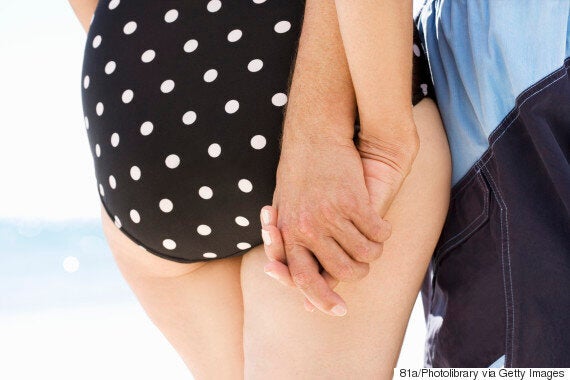 Stop Comparing And Covering Up
This summer, don't compare yourself to the spray tanned, filtered, posed, air brushed celebrity pics on Instagram and in the media.
In fact, don't compare yourself to anyone.
Don't hide behind cover ups and over-sized T-shirts.
Love your body, as it is now. As it looks now.
It doesn't matter what size you are -- the goal should be to be confident in the skin you are in. That is hot. That is sexy. And that's what we should all be striving for.
No matter what your body type is, what your height or weight is, whether you describe your body as muscular or jiggly, round or flat, curvy or thin, know that you are beach ready now. Not 10 lbs. away from being ready. It is beach ready now.
Recently, I stumbled upon an inspiring blog titled "Moms, Put on That Swimsuit." In the post, blogger Jessica N. Turner said "I refuse to sacrifice memories with my children because of a soft tummy. Because at the end of the day, it is not just about me. It is about my kids." She added, "put on that bathing suit. Run through the sprinkler. Jump in the pool. Splash. Have fun. Your child will remember those moments and your freedom -- not how you looked in your swimming suit."
She nailed it. So many people stay on the sidelines, self-conscious about putting on their swimsuits and insecure about how they look.
As the blogger pointed out, your kids don't care. They aren't judging you.
Your friends aren't judging you either.
So, don't be so hard on yourself and don't miss out or sit back and avoid getting in the water.
The summer goes by in a flash and it isn't worth stressing over or spending hot days covered up.
This summer, put on your bathing suit, bikini, tankini, board shorts, speedo (OK, maybe don't go that far), whatever makes you feel comfortable and get out there.
Splash around with your kids and your friends, have fun and soak up the summer.
Life is short. The summer goes by in a flash and it isn't worth stressing over or spending hot days covered up.
Just last week, I bought a new bathing suit. It is colour-blocked, has cut outs and I can't wait to wear it. Not because I think I am going to look amazing in it. But because I am excited about what I will be doing when I am wearing it. I will be having fun with my family and friends and making new summer memories.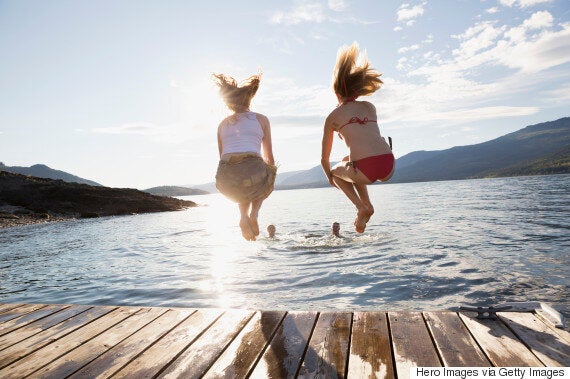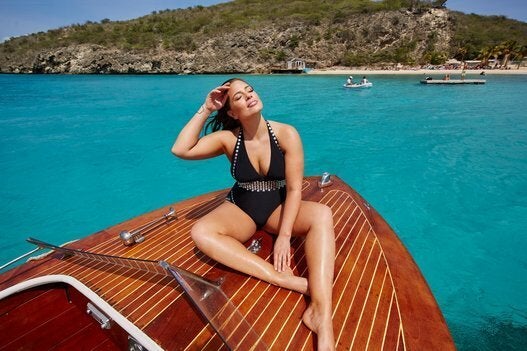 Ashley Graham Swimsuitsforall Collection
Follow HuffPost Canada Blogs on Facebook