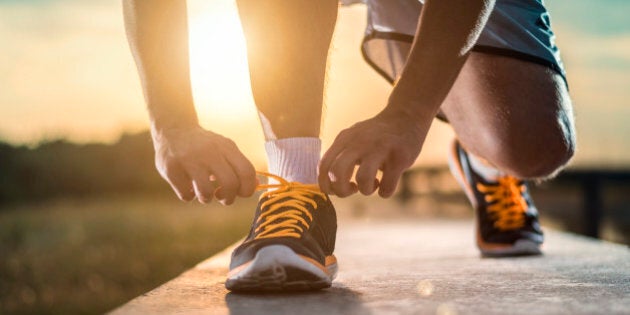 I love running year round. My favourite runs are trails. The beautiful scenery passing me by and the soft ground under my feet. I started running more than 20 years ago and when I first began, it was a slow shuffle (barely a jog) and I was almost able to get around the block.
I went to a running store and the salesperson told me to increase my runs by 10% each week and to take days off. Eventually, I made my way up to running marathons. Now, I take it easier and run approximately 10 kms a few times a week. I always feel better after a run.
To find out the top tips on how anyone can get started running this summer, I spoke with MEC Ambassador and elite ultra marathoner Joan Roch. Joan shared with me his top tips on how to start running.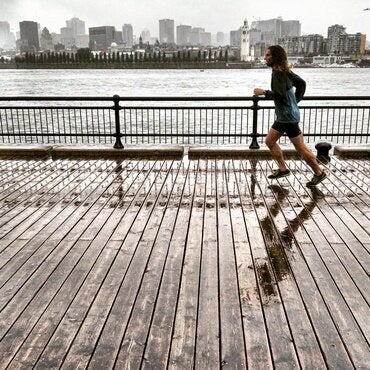 How do you pick the best runners for your feet?
I recommend finding a shoe that feels comfortable while being as minimalist as possible. Don't get too distracted by big claims or new technologies. If the shoe doesn't suit your foot or running style, don't buy it. It's worth getting fitted by a professional and testing the shoes in-store before you buy them.
Do you need different runners for trails and the road?
You will only need specific trail running shoes if you're tackling technical trails. For example, trails that feature rock, roots and mud. The additional grip provided by trail running shoes makes running through rugged trails that much easier.
Top tips for someone new to running?
Run often, not long! A certain level of discomfort is normal when running, but you should not feel real pain. It's challenging to identify the difference between the two when you are new to running, but experience will teach you your limits. Running should never be painful. If it is, call it a day.
For clothing - how to choose the best clothing for running in the summer?
In the warmer months breathable and wicking fabrics will keep you comfortable. Look for lightweight poly blends designed for intense activity. Avoid cotton - cotton shorts, socks, underwear. Cotton retains moisture and will weigh you down.
Why is it important to get good quality socks for running?
Socks must be thin as not to create a pressure point, that will in turn create a blister. They should also be fast-drying so look for fabrics like merino and poly blends. It's also important to know that your skin will slowly but surely adapt to running without socks if you give it time!
If someone was going to purchase/invest in one item to start running what would it be?
I like to carry as little gear as possible when I run... but I can't run without my GPS activity tracker. This gadget allows me to freely alter my running routes and explore new places while stile correctly measuring the distance I have covered. Also, my running log is automatically maintained and online, which is awesome.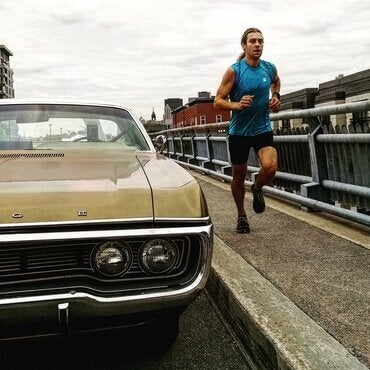 How to care for your runners when they get wet, muddy, smelly?
I rinse them, and wash them on delicate cycle. However, the most effective way I've found to refresh smelly shoes is by dropping them in the sea (or a bucket a very salty water)! I discovered this when on vacation in Mexico.
Where are your favourite places to run - in Canada and abroad?
I prefer trails to roads, so any parks with some mountains and a good network of technical trails will make me happy. When I travel I gravitate towards even higher mountains or volcanic islands like Martinique in the Caribbean or Reunion Island in the Indian Ocean. It's hard to beat running on top of a mountain with the sea on all sides.
What would you tell someone who's never tried running?
Although it's a simple activity, running can be challenging at first and it may take a while for you to really enjoy it. Just give it time. After a few weeks or months, you will experience more and more of the rewards that come from being active. I've never regretted having gone for a run. Never. I recommend finding a friend or a community run crew to go out with. Connecting with experienced runners and other beginners is a great way to improve your run. It's also a good time!
What are some of the harshest conditions you've experienced running?
I have run through arctic cold, meter-deep mud, gale-force winds, rains, storms, high altitude mountains, sand beaches, dirt roads, frozen rivers and hot, humid, tropical weather, but the most challenging experience was in Montreal. I was running over ice and my feet broke through, right into a pool of slushy snow. My feet were freezing from the slush and my ankles were all cut-up from the ice. Every stride was torture, but I made it!
Be careful! Running is taxing on the body, so take it easy and know that it will take time for your body to fully adapt to this rewarding activity.
Your suggestions are always welcome, as I continue on my journey to live life to the fullest. Let's have the very best 2016!