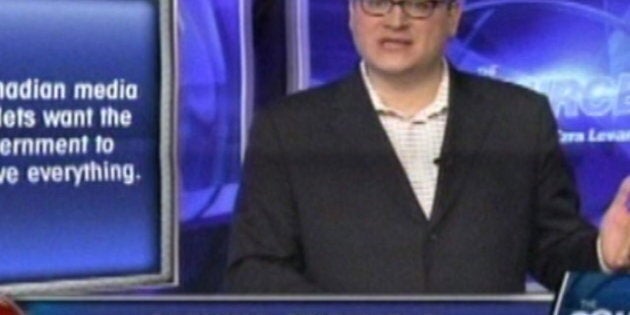 The struggling Sun News Network suffered another blow this week after Canada's broadcast regulator ruled against it in a payment dispute with Rogers, the country's largest cable company.
The CRTC sided with Rogers in hearings to determine how much the cable company should pay Sun News, which says it is fighting for all news services to be treated fairly, regardless of their editorial stance.
The decision denies the financially troubled news network a deal that would have helped to shore up future revenue for the channel, which has run up losses in the $16-million to $18-million range annually.
The network has been renegotiating contracts after a CRTC decision required all cable providers to offer the channel to their viewers by May, but denied Sun News mandatory carriage on basic cable subscriptions. The network's vice-president, Kory Teneycke, has said that without mandatory carriage, the network was facing "a death sentence."
Sun wanted cable companies to pay different rates depending on whether the channel was offered in a specialty package or on basic cable, as an incentive for distributors to carry it more widely. Rogers said that Sun News' proposed rate (which was omitted from the ruling) would "greatly exceed" how much it is paid by Rogers competitors such as Shaw and Bell.
The CRTC ruled that Rogers' offer "represents a more reasonable rate."
Rogers spokeswoman Patricia Trott called it "the right outcome" on Friday.
"We worked hard and creatively to develop an offer that more than fairly compensates Sun News and incents the channel to continuously improve its on-air product – and we're pleased that the CRTC endorsed this approach."
Quebecor, which owns Sun News, could not be immediately reached for comment.
Rogers' win means it will pay Sun News based on the same model it uses to determine the rate of pay for competitors like CTV News Channel and CBC News Network — the more viewers a channel gets, the more Rogers pays.
The problem for Sun News is that its audience is a fraction of its competitors. Sun argues it has been historically disadvantaged because it was buried in higher channels.
The CRTC's refusal to consider how channel ratings are calculated "is inherently prejudicial to Sun News given its vastly inferior distribution and channel placement when compared to its competitors," Teneycke said in a July letter to the regulator.
The CRTC previously ruled that cable companies had to include all national news specialty services in the best available package consistent with their genre and programming — but stopped short of saying theyhad to be available on basic cable.
Sun News argued that it was unfair to compare the fledgling network to its long-established competitors because it is only distributed in 40 per cent of Canadian homes, while its competitors were in 100 per cent.
Sun News had also wanted the CRTC to consider the faults it found with Rogers' distribution of the network, but the regulator refused, saying the parties would have to negotiate those terms on their own.
"It is our view that grossly different treatment of Sun News both in price AND distribution is not consistent with the new framework, nor is it viable for Sun News as a business," Teneycke said in his July letter.
The dispute was brought to the CRTC in July by Sun News after the two sides reached an impasse over the rates.
In another related case against Telus, the CRTC sided with Sun News, saying it was the superior proposal in that case.