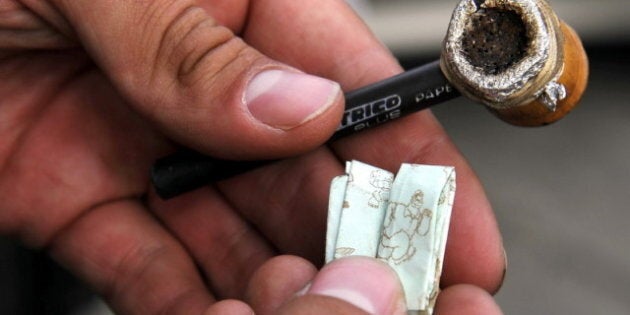 As many of you were groggily returning to your desks post-holiday this past Tuesday, you might have paused to wonder what the hell you were doing. There it was: the same old cubicle or office, with its family photo, stained coffee mug, and the leftover office party candy you'd forgotten to throw away, now adhering itself nicely to your desk top. You booted up your computer and what did you see? A blaring headline indicating that by noon on January 3, according to a new report, "the top paid CEOs will have already raked in an average $44,366 -- the amount that it took average workers an entire year to earn." WTF?!
Your fingers still numb from the commute, you probably didn't feel much like working through the philosophical underpinnings of our free market system as to how this could be so (as HP contributor Brendan Steven patiently explained the next day). Nor might you have yet been in the mood, as blogger Jason Lietaer was, to appreciate the clever PR smackdown the Canadian Centre for Policy Alternatives had achieved by releasing their report during a slow news week. And it wouldn't be until yesterday that you could read Ben Johnson's extremely funny take on the whole situation, "A Letter from the One Per Cent." Most likely you thought, simply, "Life sucks."
That was certainly how hockey fans were feeling the very next day, when Canada was smacked down by Russia in the world junior semi-finals; for the first time since 2001, Canada would not play for the gold. Sigh.
Then we had a big smackdown start-up in the blog rail between Vancouver doctor Reka Gustafson and contributor Miranda Frum over whether taxpayers should be paying for crack pipes. (Full disclosure: Miranda is my eldest daughter; she was originally recruited to the site by Arianna.) Gustafson, of Vancouver Coastal Health, argued for the subsidized distribution of crack pipes; Miranda who is, to her mother's deep dismay, a smoker, wondered why a government would subsidize a criminal habit--while refusing to approve the sale of e-cigarettes in Canada, a much healthier alternative to the dreaded tobacco kind. ( Just quit, honey.)
And as the--what? dust? powder?--from that was settling, another smackdown started up, this one between Kathryn Marshall of Ethical Oil and Rick Smith of Environmental Defence Canada. Marshall accused environmental groups of receiving foreign backing to lobby against the Northern Gateway project, upon which hearings will begin this coming week.
Of one of those groups who will be participating in the hearings, Marshall wrote:
[A] registered intervener is a group called ForestEthics. They're the hardcore, San Francisco-based environmentalists that pressured Chiquita bananas to boycott Canadian oil sands oil. The group says it plans to argue that the pipeline, which could ship more than half a million barrels of Canadian oil a day to a port in Kitimat, B.C., "is not in the national interest." Read that again: Activists from San Francisco and California want to convince our government that a significant energy project is not in our national interest. Since when did Canadians choose to let foreign groups make those kinds of decisions for us?
They've discovered that Americans give us money. And they say this money forced us to talk about the pollution and destruction that come along with tar sands extraction. They think we're ashamed of this. We're not. But we are ashamed of something. We're ashamed of what their friends in the oil industry are doing to our climate, to Canada's international reputation, to northern Alberta, and what they would like to do to northern British Columbia, too.
It wasn't all smackdowns, all the time: Huffpost launched a new science vertical this week, expanding its coverage on every subject that can have an impact upon our lives.
And we ran two blogs on extraordinarily important human rights issues taking place: the first by David Keyes, executive director of Advancing Human Rights, about the plight of imprisoned Egyptian blogger Maikel Nabil Sanad. Sanad, who is on a prolonged and certainly deadly hunger strike, is protesting his imprisonment for the "crime" of insulting the Egyptian Military. MP (and contributor) Irwin Cotler has taken up Sanad's cause internationally. As Keyes writes about why we should care:
[The] regime hopes the world forgets about Sanad and his fellow political prisoners.... Nelson Mandela, Natan Sharansky, Saad Eddin Ibrahim, and the many other dissidents Cotler has represented are living exemplars of the power of freedom to overcome tyranny. Sanad's freedom is a litmus test for Egypt's future. So far it is failing miserably.
Canada has an important and enduring connection to this vulnerable group. Some 30 years ago, several thousand Baha'i refugees fled Iran to make Canada their home, settling in every province and territory and becoming proud and contributing Canadians.... we encourage all Canadians to add their voice in calling on the Iranian government unconditionally to drop all charges against educators, to halt all further aggression towards the BIHE and to allow the Baha'i access to education. The Baha'i of Iran must know that in resisting the cruel oppression of those who persecute them, they do not stand alone.
So as you return to work tomorrow (if you haven't already), remember that things could be worse. Even in January. Even in January in Canada. You could be in Mexico...
Stand by for more coverage on THAT horrific issue in the coming week--by your best news and opinion source on the web.