Bouchard, currently 31 in the world rankings, is the first Canadian since Carling Bassett-Seguso at the 1984 U.S. Open to reach the last four of a grand slam. With no Canadian having ever reached a grand slam final, last night was potentially history in the making.
And after that exhilarating and shocking victory, what did the on-court interviewer ask this dedicated and amazing athlete? How did she feel? What were her expectations for her next match? What did this mean for Canadian tennis? How proud was she of her killer tennis skills? Nope, nope, and nope.
Instead, she was coyly asked: "Whom would you date?"
That's right. Who's the man of your dreams, Eugenie? Who are you crushing on, girl?
An accomplished athlete just reached the semifinals of the Australian Open in a shocking upset, making tennis history, and all the interviewer (who's female, by the way) could think of to ask, were her dating preferences. Because, being a woman, what else could she possibly be interested in?
I remember Eugenie's happy enthusiasm and pride when we interviewed the Montreal native in 2012 for the Westmount Examiner, after she became the first Canadian to win a Grand Slam in singles after her win at Wimbledon as a junior.
This is the highest ranking women's singles player in Canada and a real up and comer in the international women's tennis scene. There should have been no shortage of questions to be asked about her game, her emotions, her future.
Instead, her hard-earned, history-making victory was brushed aside and she was treated like a giggling, boy-crazy teenager who doodles hearts with Justin Bieber's name on her notebooks.
And maybe she does, but you know what? No one would have even thought of asking that question to Federer or Djokovic. Because...duh! They're guys.
While I saw a fair amount of people on Twitter last night question the question asked, calling it stupid, dumb, and ignorant, most people didn't see it for what it was: blatantly sexist.
The truth is, watching a young female athlete, who's been training for a moment like this since she was five years old, be subjected to such inane interviews is nothing new. It's, in fact, the norm.
Not only are women athletes and sports teams routinely devalued -- they are very often suppressed, degraded, or non-existent. And when female athletes are shown the spotlight, they are often infantilized (as was the case here) or sexualized.
And if female athletes can't be infantilized or sexualized, they will be ruthlessly scrutinized. Case in point, Serena and Venus Williams, whose strong, muscular bodies have been described as intimidating, non-proportional and -- I can't even believe it -- "savage."
And if your body can't be sexualized, it will be criticized for being fat. It's a losing battle, any way you look at it.
A few years back, a poster announcing the Rogers Cup (Canadian Tennis Open) was plastered around Toronto.
The poster said, and I cringe as I write this: "Come for the ladies. Stay for the legends."
The legends were the men in the poster. The ladies were apparently not athletes, but Southern belles sipping mint juleps, who might, at any minute, experience a fainting spell.
The term "lady" in sports reeks of "meek," "quiet," and "gentle." Sports are about action, aggression, competition (if not with someone else than at least with yourself or the clock.) Sports are about taking control of your body and pushing your limits. Instead, what we women get are advertising and media executives who, when they're not ignoring us and our athletic achievements, continue to sexualize us and belittle our accomplishments.
There's no denying we continue to live in a world that systematically undervalues women's participation in sports, and deems it unworthy of equal attention, funding and support, but to see it displayed that blatantly and in such a nonchalant way irked me.
In 1992, while Sports Illustrated devoted most of its coverage to Andre Agassi, the few paragraphs touching on the women's championship focused not on the games themselves but on the grunting of player Monica Seles.
So, 20 years later, what's changed? Nothing. We're spending as much time (if not more) talking about Serena's choice of tennis attire, than we do her backhand. Sports Illustrated hardly ever runs a cover with a female athlete, yet it never fails to run a swimsuit issue. Because, after all, nothing says female athletic accomplishment like a bunch of anorexic models in bikinis!
"On the playing surface of the NBA and the NFL, women have been institutionalized as trinkets and accoutrements to the main show of brawn and the triumph of the muscle. The relationship between a touchdown and a shot of sculptured pom-pom girls [...] is part of the environment." (Rhodes, New York Times).
The message? Enjoy the ladies, but focus on the real athletes. Come for the opening act, but stay for the real deal.
Rita Friedman in her book Beauty Bound touches upon this. "Cheerleaders provide an entertaining foreground for the serious business taking place on the playing field beyond. They are a colourful and anonymous chorus line [...] conveying the underlining message that women have a useful decorative place just outside of center court, cheering males on to victory." We've been relegated to supporting roles.
A friend of mine (who once played varsity soccer, is still in excellent physical shape and currently plays in a co-ed soccer league) had one male player say to her: "If a girl is forced to play the entire game, she might get tired and then hurt herself." A woman is biologically built to pop out babies, but a 90-minute soccer game might finish her off?
Make no mistake -- sexism today may be more subtle (we refer to it as "gender bias" if we want to be more polite), but it's just as pernicious. In some ways, popular myths and preconceptions of femininity and how they relate (or usually don't) to the athletic arena, continue to do more damage to women's potential in sports than any piece of legislation or lack of funding could ever possibly do.
As someone who has played sports her entire life, and who knows the importance of positive female sports role models in a young girl's perception of herself and her capabilities, it's both disappointing and infuriating to watch elite female athletes be treated in such a dismissive manner. Entrenched sexism needs to be pointed out, ridiculed, and eradicated.
In the meantime, if we're lucky and Eugenie Bouchard wins her semi-final match, we can all find out what she loves to bake in her spare time and who she thinks The Bachelor will choose this season. Those are the questions they'll be asking, right?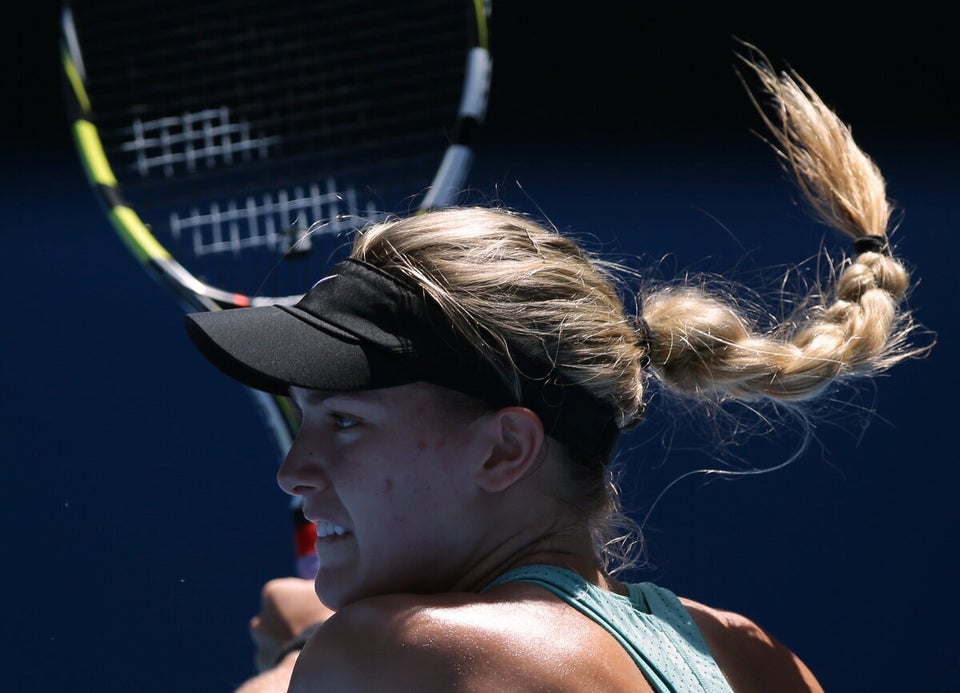 Eugenie Bouchard Australian Open 2014
Popular in the Community