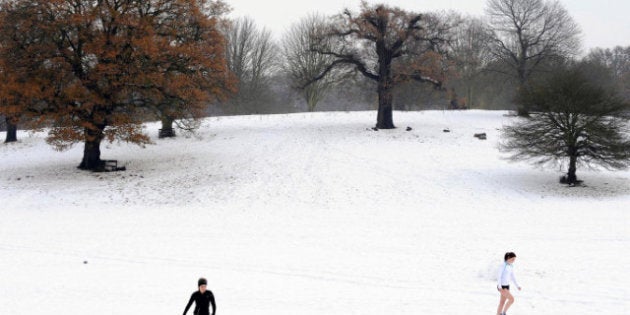 Canadians! It's time to get out your big boots, turn up your collars and jam your hands into your mittens! Winter is upon us!
Every year, it's the same cycle. Maybe this year will be different, we think as the snow gently wafts down around us. Maybe it won't get so cold. Maybe it will only snow in gorgeous, picturesque fields, perfect for snowmen and snow angels. Maybe the driveway will shovel itself, the buses will still run on time, and we all won't get low-grade colds that get passed around the office. Maybe this year will be different.
Obviously, we're kidding ourselves. Canadian winters are always a little tougher than we expect. We've been relatively lucky in Toronto so far this year, and the snow has contained itself to inoffensive little flurries that melt when they hit the ground. Despite long-range forecasts that predict arctic winds for the West Coast and heavy snows for Ontario, the country has mostly been spared anything horrible... so far.
So, in the interest of having a safe and short-feeling winter, here are some tips to getting to April with your sanity still intact.
Keep exercising. It's so tempting to curl up on the couch with a bucket of artichoke dip and wave away anyone who suggests that maybe your new slugging agenda is bad for the arteries, but movement is so important to our health. The gym may be less appealing in the cold, dark days, but experts suggest getting at least 40 minutes of heart rate-raising activity each day. Get off the bus a few stops early and walk the rest of the way home. Book a weekend ski weekend with your college friends. Take the kids sledding. Hell, get a jump rope and skip in your garage. Exercise is good for your muscles, sure, but it also helps keeps the winter blahs away, and you won't be so horrified by your reflection come time for bike shorts weather in the spring.
It can feel impossible to eat like a rational human being in the face of holiday parties and buffets, but it can be done. Identify the foods you usually gorge on -- for my sister, it's gravy; for me, it's chocolate and cheese -- and keep a watchful eye on your intake. Make sure you get veggies along with your turkey, and keep your portions in the realm of the sane. I usually have a small snack before I go to holiday parties -- an apple fills up stomach space that would be otherwise occupied by cookies. Mmm. Cookies.
Plan a holiday. There's a tendency to go into hibernation mode between Christmas and spring, but allotting some time to get away for a weekend breaks up the monotony of endless gray days. If you can afford it, head south -- the longer days and warmer temperatures can perk up even the dullest-feeling SAD-sufferer. If you can't take the time or spend the cash, do a short-range trip: a trip to a secluded B&B that offers snowshoes, or a big city for a special concert. Even playing hooky from work one afternoon to hit a museum or a spa can give you that vacation glow.
Winter often feels like an uninspiring time of the year, so plan some projects. if you're going to be trapped inside -- except for those daily walks! -- at least don't give in to the temptations of the screens, both computer and TV. Plot out your novel, throw a party, paint the bathroom, try baking a cheesecake, or make the great Canadian winter short film. Head to your local library or bookstore for inspiration -- you might be your neighbourhood's newest authority on Danish dance music, or re-caning chairs, or hybrid car maintenance. If you are going to watch loads of TV -- I'm not your mom; you can do whatever you like -- knitting is a soothing accompaniment, and at the end of it, you have a scarf.
When you're heading out, remember that Canadian winters are notorious for their unpredictability. Give yourself time to get where you're going -- traffic will be slower than in July, the streetcars will be delayed, and it will take longer to suit up for the commute. Building in the extra time to get where you're going can help cut down on abashed "I'm going to be late" calls to work, and you'll end up feeling more accomplished and smarter.
The most important thing to remember is that eventually, it will end. While winters here feel interminable, we look forward to the spring with a passion bordering on lunacy. So enjoy the change of seasons -- the first snowfall is always sort of magical, no matter how old you are -- and know that, in a few short months, the leaves will be unfurling and the crocuses will be poking up through that last late snowfall. Nothing lasts forever, not even winters in Canada.