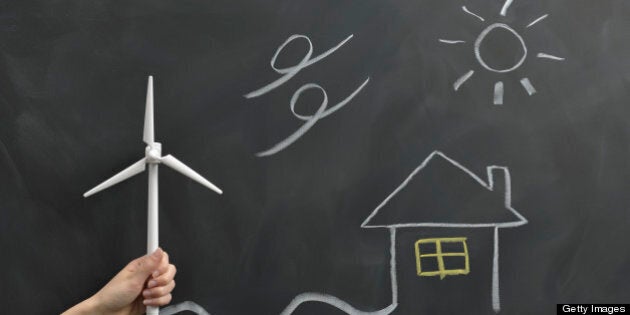 It wasn't very long ago that the whole idea of a net-zero home seemed exotic, futuristic and, oh yes, expensive. Well, they don't have to be.
By 2015, the Landmark Group of Builders says all of its new homes will be net-zero ready. Already Landmark homes have an EnerGuide rating of 82 to 84 and if things go as planned Landmark will make its average home EnerGuide 88 to 89 by 2015. A home rated this high is so airtight and energy efficient that it requires only a small amount of energy production to make it net-zero.
A few weeks ago I toured the Landmark Building Solutions facility in Edmonton. That's really a fancy name for house factory -- it's a spotless, robot-filled showpiece to energy conservation and I was more than impressed with the company's attention to detail and high building standards.
CEO Reza Nasseri is an engineer with a penchant for pushing the limits. He got the inspiration for developing this way of building homes while touring Germany 20 years ago. Since then Nasseri has built one of the most modern, automated home manufacturing plants in North America and in the process he has reduced the cost and energy intensity of building a home.
Landmark is not shy about calling their homes Alberta's highest rated sustainably built homes, but that's not their secret to building and selling 778 homes in Alberta last year.
Built indoors
Landmark has also achieved construction efficiencies and energy savings by building the major components of his homes in a manufacturing plant instead of on-site.
Landmark's plant is located in south Edmonton and it produces two homes a day with a host of robotic equipment, skilled workers and pleasant, predictable weather. By building in a plant they don't have to heat the job site in winter for tradespeople. The cost to heat that half-done house in the winter can be between $5,000 to $7,000 per house. By building the major components in their factory the time needed to to build a building comes way down as does the cost to heat it, from $1,000 to $1,500.
As Nasseri explains the old way of building homes is akin to dropping several semi-trailers full of car parts in your driveway and then hiring a mechanic to put it together.
In the plant a worker grabs an arm-like machine that easily picks up heavy sheets of plywood and in seconds places them on the squared-up wall while the second worker tacks them in place. A robot then spends about five to ten minutes travelling up and down the wall trimming here and there and nailing as it goes, never missing a stud.
These are not the manufactured homes that are shipped in on the back of a tractor trailer. Landmark manufactures the parts of a home - the walls, stairs, roofs and windows and assembles them on-site.
"We have no design restrictions. We can build the most complex house because we don't build a house - we build components. A machine builds a wall and a wall is a wall whether it's a custom $10 million house or a moderate house," says Nasseri.
Being a somewhat handy guy and having built two 1,000-square foot cottages with an old fashioned hammer and nails, I was blown away by the attention to detail and standards employed in the plant.
Energy nirvana
The standard energy features of a Landmark home are enough to make any energy efficiency nerd drool.
Spray-foam insulation seals every little nook and cranny and is R 6.5 per inch to boot. The average wall is insulated to R-22 to R-24. A 96 per cent efficient furnace is standard. On-demand hot water heaters only heat water when it's needed. Triple-paned windows, programmable thermostats, compact fluorescent light bulbs, an energy efficient heat recovery ventilation system and even drain water heat recovery is in every home.
Of course there are also low-flow showerheads, low-flush toilets and a host of other minor, but important features as well.
A new solar division at Landmark is already adding the potential of energy production to their energy efficient homes -- the final ingredient needed to make a net-zero home.
Sustainable, really?
I am not sure if you noticed, but if we are to believe the hype these days everything is "sustainable" from bottled water to "clean coal."
Asked why Landmark puts such an emphasis on energy conservation and reducing carbon emissions, Nasseri says, "Because we believe very strongly in the future of our children and sustainability is probably the most important thing today in our lives ...Every house we build this way takes about 10 - 12 tonnes of carbon out of the picture."
Nasseri calls climate change "the evil we have to deal with" and that the costs of dealing with it can be measured in terms of dollars, livelihoods and lives.
Money for nothing, energy conservation for free?
So how much does it cost the buyer to get all of those fancy energy efficient features in their new home? "Well, lucky for you nothing. So far we have not been charging for that, but we have been able to bring the costs down," says Nasseri. "The majority of people are still concerned about the granite counters and hardwood floor -- which we give them of course."
Part of the genius with Landmark Homes is they don't sell you all of those super energy saving features, they just include them as standard equipment in their homes.
"When we do our research and see that a particular product (such as an on-demand hot water heater) fits we go directly to the developer and negotiate to bring the costs down," says Nasseri.
What does the future look like? Landmark is aiming to make net-zero ready homes the norm by 2015 and "Within 20 years I feel very strongly that the majority of homes in North America will be built that way."
Popular in the Community