A touching tribute to the lives of fallen Canadian soliders has been erected along a highway near Sylvan Lake, Alta.
More than 100 Canadian flags were placed adjacent to Highway 11 over the weekend, in remembrance of the 116,000 Canadian soliders who have lost their lives since 1900.
Allan Cameron, executive director of Veterans Voices of Canada, said the 116 flags — one flag to represent 1,000 soldiers — are meant to make people "stop, think and remember."
"If we begin to forget one soldier it is going to go down the line and we are going to forget more. The whole idea here is we have to keep remembering," Cameron, who spearheaded the project, told CTV News.
"In light of the events of the last week it is so heartwarming to see such tremendous public support not only for our serving members but our past serving members," Rhonda Draeger, wife to Sgt. Walter Draeger, told CTV News.
"I think our guys, our two fellows who lost their lives last week, I think if they knew what was happening they'll know that their deaths weren't in vain," Cameron told Global News.
The flags were sponsored in the names of fallen soldiers.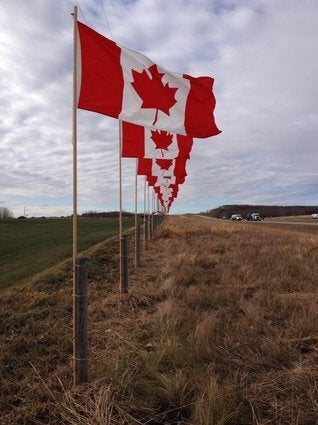 Canada's Fallen Remembered With Flags