This blog is part three in a series of four posts as Conrad Sauvé visits Syria, Lebanon and Turkey. The first two posts can be found here.
Travelling through Syria today is a difficult experience to put into words. Every day, it is hard to see and adequately describe the destructive impact of five, long years of conflict here.
Collapsed buildings are everywhere. Families huddle in the ruins, while aid groups struggle to keep up with people's basic needs for food, water, medical care and shelter.
I can see humanitarian aid is helping, but it is never a long-term solution. So much more is needed. Perhaps the following series of photos convey the serious challenges facing this country. Now, more than ever, I believe this war must end.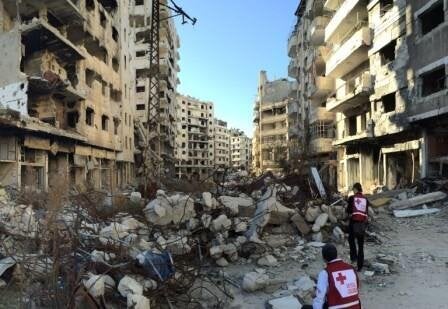 In the city of Homs, almost every home, shop and building that I see is pocked by bullet holes or completely demolished by bombs. Entire neighbourhoods are flattened. The deliberate obliteration of civilian infrastructure and medical facilities in Syria's towns and cities must stop.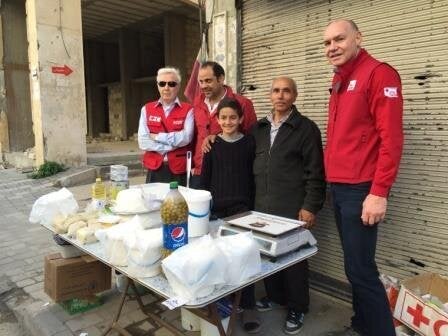 On a once-busy boulevard in Homs, a man and his son sell cheese and olives. The Syrian Arab Red Crescent (SARC) provides funds to support small businesses for families still trying to make a living here.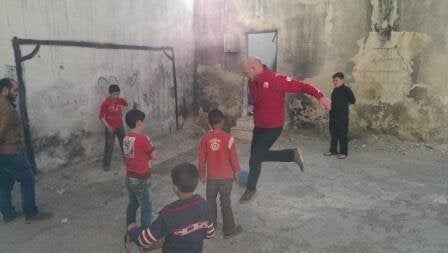 Some families are back and trying to start over in Homs. At the corner of one street, I see a group of boys playing soccer. The goal line, with a tiny heart at its centre, is etched on a wall. I used to play soccer, so when the ball comes my way, I join in. Somehow, life goes on, even in war.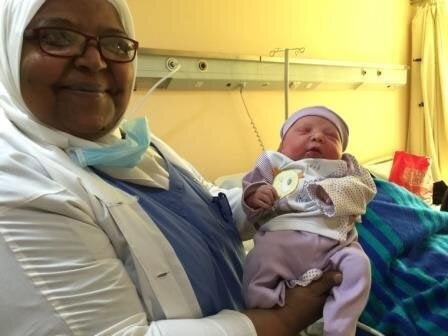 While visiting a hospital supported by SARC, a nurse proudly introduces me to baby Samira, born that day. Her parents lived through the height of the conflict in Homs. Now the birth of their daughter gives them fresh hope for the future.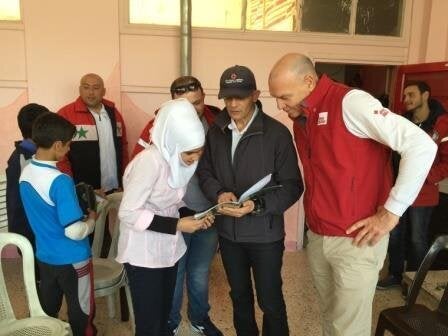 In Barzeh near Damascus, I meet children and families living in a shelter that once was a bustling school. Now, people arrive from war-torn communities nearby, and Red Cross helps supply them with food and hygiene parcels.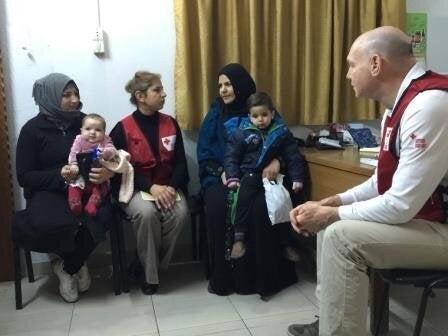 At a medical clinic in Dwella, I talk with two women and their children getting treatment. Both families are displaced within Syria, trying to make homes in a city not their own. One woman tells me six people in her family live in one room now. The Canadian Red Cross supplies medicine here. Many clinic staff came here from other conflict areas.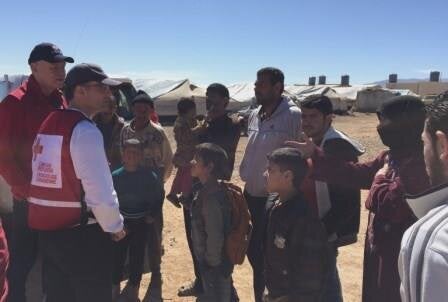 In a camp near Damascus, I meet a 75-year-old man (wearing knit cap) who has lived in a tent with few possessions for more than four years now. He says it's very difficult to make a living, and wild dogs sometimes attack people here. He does not want to spend another winter in a tent. "I would prefer to eat soil instead of living here. It is too cold. I am too old for this," he says.
These pictures tell the story of great suffering in Syria. There are also glimmers of hope. But every day these people wonder when the world will decide enough is enough.
Follow HuffPost Canada Blogs on Facebook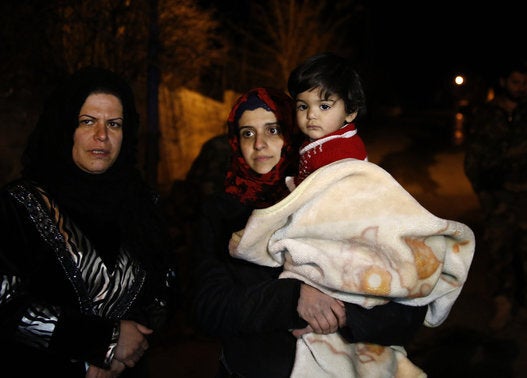 7 Deadly Threats Facing Innocent Syrian Civilians