OTTAWA — Canadians have not opened their wallets to the victims of the Syrian crisis as generously as the federal government had expected, The Huffington Post Canada has learned.
By the end of the year, however, Canadians had contributed only about $12.2 million in funds eligible to be matched, the department of Global Affairs told HuffPost.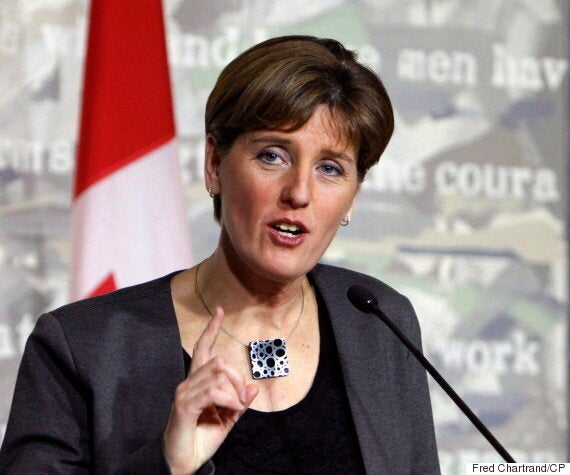 International Development Minister Marie-Claude Bibeau holds a news conference in November to announce $100 million in humanitarian funding to the United Nations High Commissioner for Refugees. (Photo: Fred Chartrand/CP)
On Jan. 7, the new Liberal government announced that donations would be matched for an additional two months — until Feb. 29. By this week, however, total eligible donations had reached only $17 million.
The department says the figure may increase slightly if smaller organization still have donations to report. The total is still a far cry from previous matching programs the federal government has established, such as the 2013 Typhoon Haiyan Relief Fund, which matched $85.6 million in donations received within less than two months, and the 2010 Haiti Earthquake Relief Fund, which matched $220 million raised within a one-month period.
In an interview with The Huffington Post Canada on SiriusXM's "Everything Is Political" show, International Development Minister Marie-Claude Bibeau said the Syrian effort is the first time the government has used a matching fund program for a "protracted crisis".
"Maybe that's one reason," she suggested. "It doesn't have the same impact as a typhoon or what happened in Haiti."
Several registered charities told HuffPost the government's experience is similar to their own.
"It doesn't have the same impact as a typhoon or what happened in Haiti."
Ann Witteveen, Oxfam's manager of humanitarian efforts, said the matching funds significantly increased the agency's donations, but "it is absolutely true that we raise more money for natural disasters and that ordinary Canadians give more money for natural disasters than they do for chronic crises that are related to conflict.
"I think it's because people understand better how someone can be accidentally affected by an earthquake, a typhoon or a storm. I think it's quite hard for people to understand the crisis caused by conflicts. I think sometimes they feel a little bit complicated."
Witteveen noted that Oxfam, which works with local agencies in Aleppo and Damascus, is able to raise more money for earthquakes and storms than droughts, for example.
"They [droughts] come on a little bit more slowly. There are not those vivid images that cause people to have an emotional gut reaction that makes them dig into their pockets at that moment," she said.
A perception of 'fault' in conflicts
Stephen Cornish, the executive director of Médecins Sans Frontières (MSF, Doctors Without Borders), said his group doesn't accept government donations in "active open conflicts" and hasn't participated in the matching program for Syria. But, he said, MSF also finds it more challenging to raise money for crises such as Syria's, where MSF is running five hospitals and supporting another 120 hospitals and clinics all over the country.
"I think in conflicts, when it is very complicated, we sometimes think that the populations there have some sort of stake in it or some sort of fault," Cornish told HuffPost. "The reality is, in almost every conflict that I have ever worked in, the people that are the most vulnerable could never imagine that a conflict could come to their area.
"That said, when people do understand the need, when they are aware of the situation, I think their empathy comes true."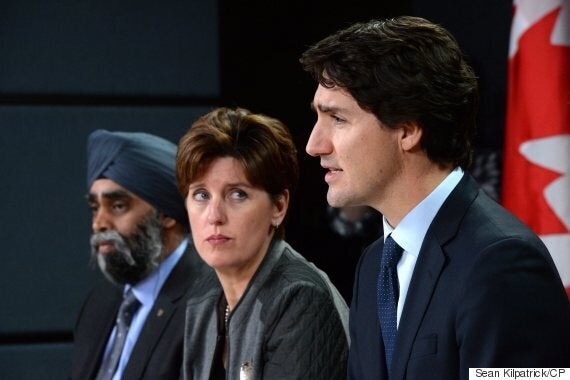 Prime Minister Justin Trudeau is joined by Minister of National Defence Harjit Sajjan, left, and Minister of International Development Marie-Claude Bibeau at a press conference announcing the retooled ISIS mission Monday. (Photo: Sean Kilpatrick/CP)
The federal government plans to review the Syria Emergency Relief Fund program and see if it should, or could, have done anything differently at the "end of the project," Bibeau said.
Below is the list of all the federal matching programs — and the pick-up rate — of the past 10 years:
The Typhoon Haiyan Relief Fund matched donations between Nov. 9 and Dec. 23, 2013. A total of $85.6 million in eligible donations was raised and matched by the federal government. No cap was set for this fund.
The Sahel Food Crisis Relief Fund matched donations between Aug. 7 and Sept. 30, 2012. A total of $6.9 million in eligible donations was matched by the federal government. No cap was set for this fund.
The East Africa Drought Relief Fund matched donations between July 6 and Sept. 16, 2011. A total of $70.4 million in eligible donations was matched by the federal government. No cap was set for this fund.
The Pakistan Floods Relief Fund matched donations between Aug. 2 and Oct. 3, 2010. A total of $46.8 million in eligible donations was matched by the federal government. No cap was set for this fund.
The Haiti Earthquake Relief Fund matched donations between Jan. 12 and Feb. 12, 2010. A total of $220 million in eligible donations was matched by the Government of Canada. An initial $50 million cap was established but was later removed.
The Burma Cyclone Relief Fund matched donations between May 2 and June 13, 2008. A total of $11 million in eligible donations was matched by the federal government. No cap was set for this fund.
The China Earthquake Relief Fund matched donations between May 12 and June 23, 2008. A total of $30 million in eligible donations was matched by the federal government. No cap was set for this fund.

– Source: Global Affairs