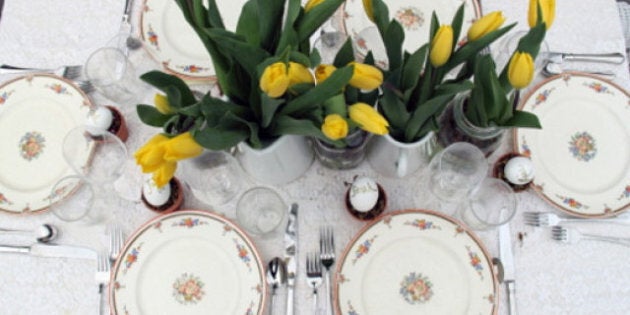 Sticky situation:

Every Easter, somewhere between Good Friday and Easter Monday, you are bound to see a clip of Charlton Heston's epic performance as Moses in Cecil B. De Mille's 1956 movie, The Ten Commandments.

Every Easter, somewhere between Good Friday and Easter Monday, when sharing a meal in the company of others, you are bound to look at one of your loved ones, and think: "I can't believe he just bit, licked and sucked." And nooooo, he wasn't eating the traditional Cadbury Creme Egg. Enough of this! You vow to teach your family proper table manners.
Well, my Huffington Post friends, the time has come, to raise your forks and teach them how it's done.
Print these Ten Commandments of Dining and use them to teach your family or even your work team.
Thou shalt not bring thy technology to the dinner table. Face time is better than screen time. Thy 'polite' mode is 'silent', not 'vibrate'. Put thy purse under thy chair. If it is an evening bag, place it behind your back or on thy lap, under thy napkin.
Though shalt not touch thy napkin, thy bread, nor thy water before thy guest of honour or host, places his napkin on his lap. That signals the start of thy meal.
Identify thy personal place setting with B-M-W: Bread - Meal - Wine or Water. Use thy utensils and wine glasses from the outside - in.

For children: please put your hands up, in front of you. With your left hand, make a small 'b' --for bread, which is on your left. With your right hand, make a small 'd' -for drink, which is on your right.

Thou shalt not use thy napkin to blow thy nose, dab thy sweat or remove thy lipstick. Thou shalt not discard unwanted foods in thy napkin. Place them on your plate and 'camouflage' them behind small foods such as a broccoli spear.
Contrary to Beyoncé's song To the left; circulation around the dinner table for bread, condiment and foods, is to thy right. Salt and pepper are a couple. They are always passed together.
Thou shalt not cut thy bun in half and spread butter all over it. Eat thy bread one small piece at a time. Tear a piece above thy bread plate, butter it, and chew.
Thou shalt not put thy elbows on thy table as long as food is on thy table. In between courses, it is OK to place elbows on thy table and even to rest one's chin on the back of thy hands.
Practice 'Continental also known as European'-style dining. Thy knife is in thy strong hand. Thy forefinger points down on its handle. Thy fork is in thy opposite hand. It conveys thy food to thy mouth, with tines down. Speared meat is cut, one or two pieces, at a time. Though shalt not cut thy entire plate at one time.
Thou shalt not apply makeup at the dinner table. Amongst friends and family,lipstick is acceptable. Former First Lady Laura Bush said Her Majesty agrees.
Send a thank you note or call thy host within 24 hours of thy meal to show your gratitude.
Still not sure about dining dos and don'ts? Wherever you are, I am at your service to offer you a customized dining tutorial.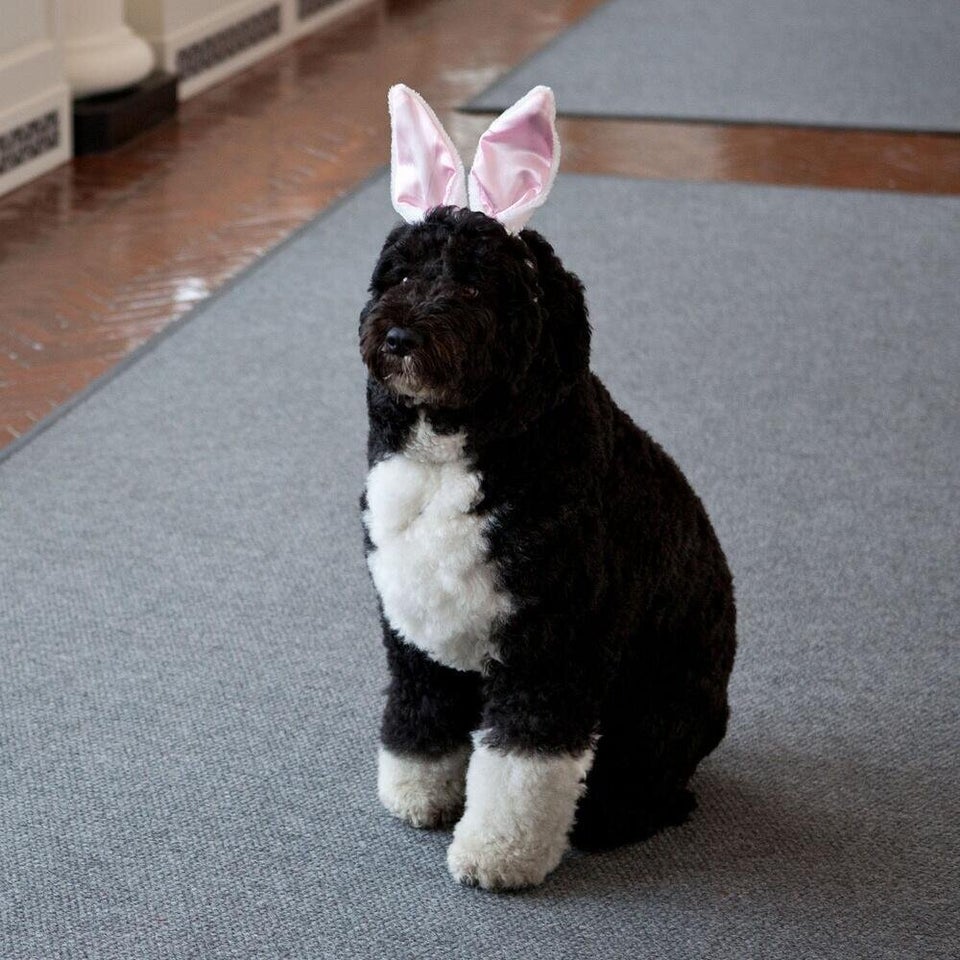 Pets And Babies Dressed As Easter Bunnies
Have a Sticky Situation yourself, write to julie@etiquettejulie.com and Julie will reply promptly. You can also ask your questions on her Facebook page. Planning a conference? Julie travels coast to coast to give bilingual interactive conferences.