The days are getting shorter. The weather's getting colder. And the holiday stress is right around the corner.
Between the recipe's quick cook time, use of simple ingredients and heaping mounds of cheese, there's plenty to like about the Canadian restauranteur's family dish.
Now, if the Italian name's tripping you up, you can just call it cheese and garlic tagliolini — it won't change how delicious the final product ends up. But if you are looking to brush up on your Italian, check out the full episode below and let Bonacini show you how the name rolls off the tongue.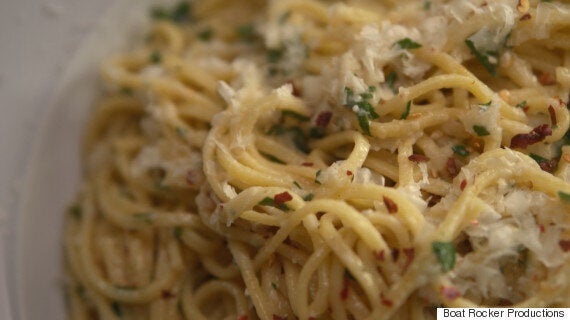 Kosher salt (to boil pasta)
1/2 lb. dried tagliolini or spaghetti
4 cloves garlic, slivered
1/2 cup high quality olive oil
1/4 tsp dried chili flakes
3 tbsp fresh Italian parsley, chopped
1/2 cup parmigiano-reggiano cheese, finely grated
Salt and pepper (to taste)
Pasta water (to loosen sauce)
1. Bring a large pot of generously salted water to a boil. Cook pasta in the boiling water according to package directions, stirring occasionally until al dente — cooked through, but still firm to the bite. Drain pasta, retaining some of the pasta water to loosen the sauce.
2. Meanwhile, add the olive oil to a sauté pan over medium heat. (Pan should be large enough to hold pasta.) Add garlic to oil and continue cooking over medium heat until edges of garlic sliver turn just slightly golden brown. Do not overcook or they will become bitter.
3. Sprinkle chili flakes into the oil and garlic and gently swirl in pan to combine flavours, about 30 seconds. Add cooked pasta to the pan, adding approximately ¼ cup of the starchy pasta water to loosen the sauce and give it a glossy finish. Toss pasta and sauce in the pan and add additional pasta water, as needed.
4. Remove from heat and add chopped Italian parsley, salt and pepper to pasta. Toss until spread throughout.
5. Plate each portion, garnishing with a good amount of grated Parmigiano-Reggiano cheese.
"Say It. Make It. Eat It." is an AOL Canada Originals series that celebrates the multitude of cuisines from around the world that are loved by Canadians from coast to coast. Renowned chefs from the country's top restaurants and online food celebs show you step-by-step how properly say, make and enjoy some of their favourite dishes — and they'll fill you in on why these dishes are close to their hearts. Get ready to cook and dine like a pro, Canada.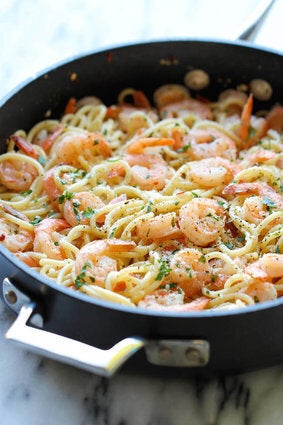 30 Minutes Or Less Pasta Recipes
Popular in the Community