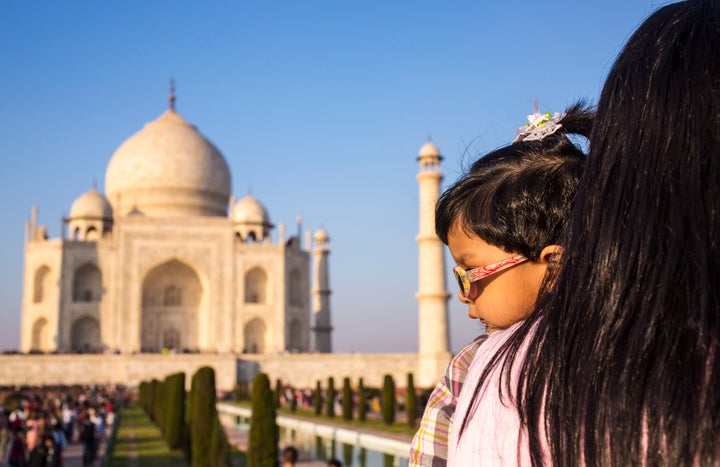 For breastfeeding moms who enjoy actually leaving the house, though, feeding their babies can mean negotiating flimsy coverups, finding practical spaces to sit down and nurse comfortably (no, a toilet lid does not qualify), and being shamed for having the audacity to do something natural in public.
India's picturesque Taj Mahal is getting a baby-feeding room. It will be set up by July to help "millions of mothers who visit with their babies," Vasant Kumar Swarnkar, a top official at the Archeological Survey of India (ASI), told Reuters.
It will be the first time any monument in India will have such a facility, Swarnkar told Times of India. Two other world heritage sites in India— Agra Fort, and Fatehpur Sikri— will also get breastfeeding rooms over the summer, he added. These spaces will have chairs, tables and fans.
WATCH: How breastfeeding discrimination affects working moms. Story continues below.
He said he came up with the idea after watching moms struggle to breastfeed at monuments in India, sometimes hiding behind statues and walls to do so.
"The situation turns even more embarrassing on days when there is a rush of tourists. Considering this, the ASI decided to provide some space for them," Swarnkar said.
"My hope is that more and more monuments— not only in India but around the world — replicate this (plan) so that women can feed their babies comfortably," Swarnkar said.
Nursing rooms keep popping up, but stigma still exists
Public breastfeeding spaces are becoming more common. Everywhere from airports to stadiums and museums have been adding nursing rooms in recent years.
But some moms say these spaces dedicated to breastfeeding, while created with good intentions, just perpetuate the stigma of breastfeeding in public.
"We are allowed to be in public. We do not have to go anywhere besides where we choose to be in that moment to breastfeed our child," Abby Theuring, a popular blogger and podcaster known as "The Badass Breastfeeder" wrote in a post about "the ugly side of nursing rooms."
"The message that breastfeeding needs to be hidden perpetuates the oversexualization of the female body and the act of breastfeeding."
WATCH: Alberta hockey player breastfeeds in the locker room. Story continues below.
Myranda Juarez told her local news station that a school counsellor initially offered to let her use her office, and when Juarez declined, she was told she either had to breastfeed in the office or leave.
"I didn't prefer to be moved. I didn't feel like I was making a disruption," Juarez told KWTX News.