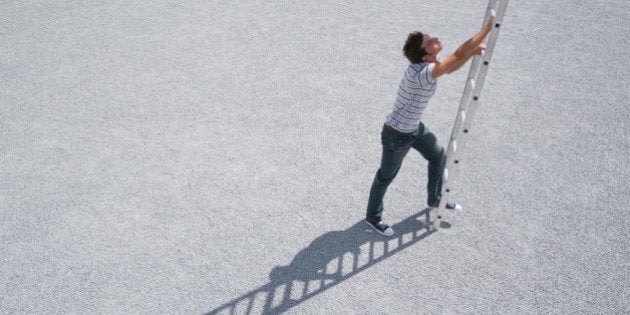 We all make choices in our lives every day -- some big, some small. We need to decide where to live, who to date, what job to take, how to brand ourselves...and we often base these decisions on short-term gratifications like what makes us happy for the moment, what seems more exciting or what is most profitable at the time.
But I believe the key to success is focusing on long-term LIFE goals instead. And that means looking ahead to the future, deciding what you want out of life, and making conscious decisions that keep you on track. Sure, there will be risks and detours now and then, but if the majority of your decisions are leading you in the right direction, then you can feel confident and trust that you'll eventually arrive in the place you want to go.
Here are five things to keep in mind when you're unsure about your next steps.
Determine what success means to you.
How do you figure out what you want your life goal to be? For some of us it's easy, for others it changes over time...and for some, it's really hard to narrow down. This is where you have to follow the natural flow of what makes you happy and what you are genuinely good at. You can use exercises like journalling or writing your morning thoughts, taking life purpose quizzes or reading books like the classic "What Colour is Your Parachute?" It's also never too late to re-establish your goals or life plan. Look at Arianna Huffington...almost 65 years old today, she didn't start The Huffington Post until she was in her 50s! Julia Child didn't enter into her successful cooking career until her 50s either, and she didn't even know she was interested in cooking until she went to Le Cordon Bleu in her 40s.
If you can't picture the long-term, ask yourself where you want to be in five years.
For those who know me well, they know I always work and think backwards. This means I ask the question "What does success look like?" for whatever I'm dealing with, and then work backwards to ensure I make it happen. We should all be married to the outcome of what kind of life, relationships and career we want to have. And if you have a hard time looking at the big picture, where do you see yourself in five years? Does that vision make you happy? If not, what can you do to change the outcome TODAY? Work backwards from your goal and with each decision you make, take a close, hard look at whether it leads towards your five year plan or away from it.
Be mindful about your partnerships...in love and in life.
Would Beyoncé be as successful if she didn't marry Jay-Z? Perhaps. She IS a great performer. But for what she gave him in broad pop appeal, he gave her in street cred. And that expanded her brand and furthered her hugely successful career. What about Kim Kardashian and Kanye West? Would she have landed on the cover of Vogue without his influence? She clearly wants a "big life" and being married to Kanye she is more likely to achieve this. She wouldn't have had it as big when she was married to Kris Humphries. That partnership might not have been leading towards her long-term goals, but I believe we aren't learning if we aren't making mistakes.
This is the same with work relationships; whether it's two companies coming together or two business people, choose your partnerships carefully. A successful business relationship usually occurs when the partners bring different skills to the table but share a common vision for the goal. Look at Sergey Brin and Larry Page, the creators of Google; they clashed on every topic but shared a passion for their work. Whether you make the right or wrong choice in love or life...they're ALL key learnings. The relationships that don't work out help lead you to the ones that will...and the challenges you face at work can help you know yourself better and create a sharper vision of your goals.
Live in the moment but keep the future on your mind.
Being fully present can help centre you and ensure you're truly connecting to the people you're with and experiences you're having. Meditation is a great way to handle stress in life. But there can be a downside to living too much in the moment: you forget to look to the future. I feel it's important to maintain a balance between the two. When you keep the future on your mind and make decisions that lead you towards it, you can more fully enjoy the moment because you know you're on track. Personally, I find with things being so busy for me right now, especially in regard to splitting my time between Toronto and New York City, my life can feel it is just flying by...literally! At times like this it's even more imperative to think about the future because it gives me a purpose and a reason for doing what I'm doing. And every now and then I sit on a park bench and just think about how lucky and grateful I am, and that can be so grounding for me in the moment.
Create a gauge to always return to.
Rachel McAdams has said whenever things are getting too much for her, or she feels swept up by the glitz of Hollywood, she wonders what her 15-year-old self would think. This is her way of staying grounded and remembering where she came from so that she doesn't forget to be grateful. Personally, I have always gauged my decisions on a desire to make my son proud. When I first started NKPR I kept that in mind, and I still do today. It's a great way to stay focused and make sure my choices are the right ones for me. And having this gauge to return to helps make day-to-day decisions easier. How can you find your gauge? Look within and ask yourself what you value most at your core. Is it family? Gratitude? Humility? Creativity? Generosity? Figure out what the common denominator is in everything that makes you feel good...chances are THAT is where you'll find your gauge.
When Sara Blakely, founder of Spanx and the world's youngest, self-made female billionaire, worked as a fax machine salesperson in her mid-20s, she had the idea of developing the now famous female hosiery. She had a really hard time getting this new business off the ground but because she believed in her product and was determined to invest in the kind of life she wanted, she kept at it. She even took photos of her own body in "before" and "after" shots wearing Spanx to prove how effective the product was. As she told Business Insider, she "put her butt on the line" to make it happen. Marissa Mayer, CEO of Yahoo!, worked at Google since 1999 and was the internet giant's 20th employee. She rose within the ranks over the years but took a risk when she left to join Yahoo. However, if you look at her career trajectory, she seemed to stall at the Vice President level and was being passed over for more senior roles. Clearly this tech-savvy businesswoman had her sights set higher because when Yahoo came knocking, she took a chance on a move that brought her to the top.
Deciding what to do next can sometimes be overwhelming, but we can all take steps today that will lead us towards our life goals. The most important thing is to figure out what those goals are and what makes you happy. Because when you're committed to the outcome, you are more likely to stick to your path and trust your next steps.
How do you plan for the future? Do you have five-year goals? Have you ever taken a step in the wrong direction? How did you get back on track? I would love to hear your stories! Tweet me at @NatashaNKPR or leave a comment below.
Popular in the Community