It is fascinating how quickly society embraces new technologies; eager on seamless integration with everyday life. It feels like it was only yesterday when we first heard about 3D printers, garnering excitement of people of all ages to be able to create basic items in the comfort of their own homes. I recall recently seeing a young man attend a Toronto Hallowe'en party (Snailoween to be exact), carrying a larger-sized 3D printed copy of his head in his hands. I watched as everyone walked by him to catch a curious glance and thought "this is only the beginning." Who knew that less than two years later I would be hopelessly lost in the PATH in downtown Toronto, only to stumble into The Printing House (TPH) to have my "3D Selfie" created?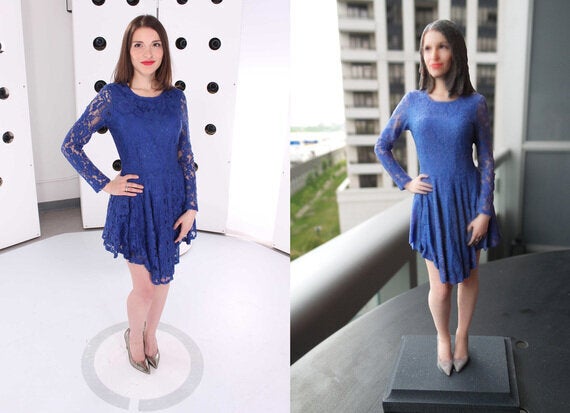 Traditionally known for paper printing, TPH introduced their 3D printing studio last November; intent on embracing modern change and 3D printing accessibility for clients. Taking on the service direction of both B2B and B2C requires the ability to be adaptable as heck, as well as hold an array of the right equipment and design knowledge. Enter the niche of the "3D selfie," a printed figurine of yourself created from a photo taken in a 3D photo booth. The process is quite straightforward: arrive prepared in an outfit including props of your choice, and pose inside the designated area in the photo booth. Within an instant of 120 simultaneous camera flashes, your 3D photo is captured to be sent to staff designers in order to render your image accordingly for printing.
The statues are printed out of gypsum powder (sandstone) within a large (and quite expensive) printer bed, which is simultaneously printed with layers of colour.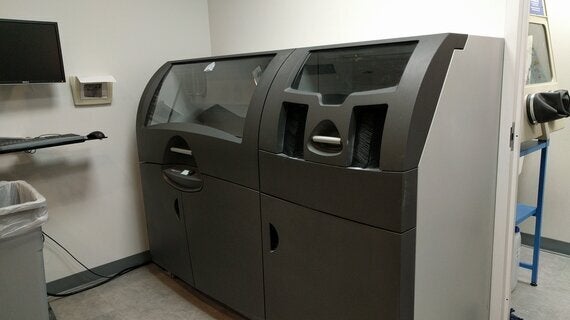 After a few days when the item is completed, what looks like a mound of powder is cleaned off leaving behind the completed "3D selfie" figurine. The end product material is as safe as drywall, yet looks just like a shrunken "you." It is strangely fascinating to hold a miniature version of yourself in your hand as the resemblance with adults is uncanny. Jose Bautista seems to enjoy his 3D selfies as well!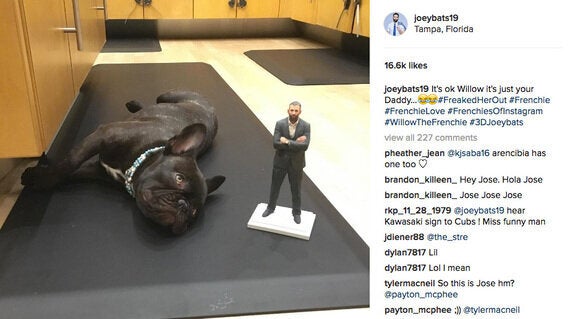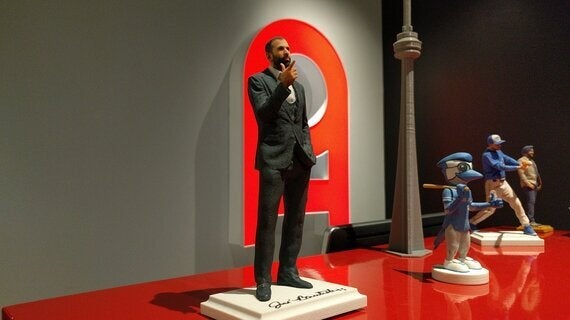 I asked 3D Scanning Specialist, Zachary Barr, for any tips on getting the most out of your 3D selfie - to which he suggested that tiny jewellery or small fabric prints may not show up very clearly. He also mentioned, "in terms of clothing fabrics, matte is best -- however this can be worked around." "Prior to taking your 3D photo you can ask our designers for input on how items will potentially appear, so it's good to bring options." As TPH's experience in 3D printing continues to grow, the designers have become quite aware of what does and doesn't work well. It's also good to know that sometimes dark fabric colours don't show up fully and it's best to wear brighter colours. "Whatever you look good in on a sunny day, that's what you want to wear in the booth," states Barr.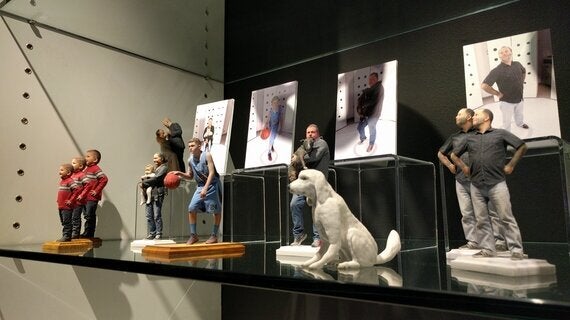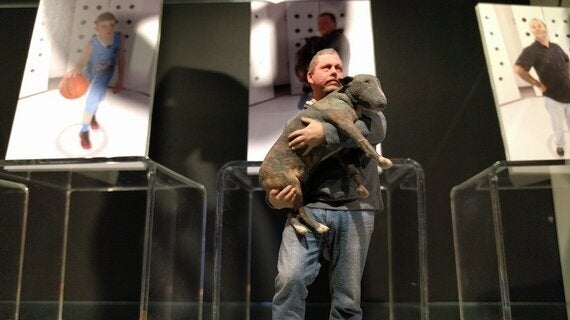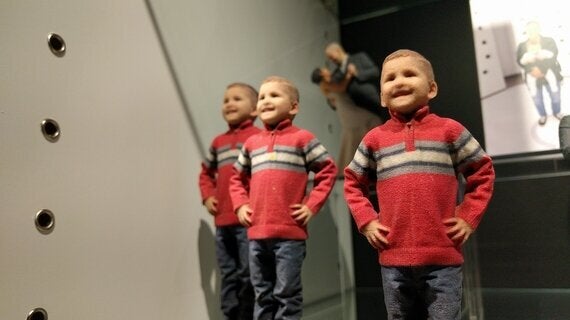 The 3D designers are also capable of adjusting your image if requested, as some clients have asked for a more youthful appearance or to have some kilos taken off; but this technology goes way beyond basic touch-ups. Some clients have asked for the designers' assistance in expressing their creativity -- some unique requests have included a wedding topper with the groom's face swapped with King Kong as he carries his bride-to-be. Another couple had photos of their groomsmen taken in various climbing poses, to be placed as scaling up the sides of the wedding cake. Then there's the ability to add other crazy stuff like cat ears and a tail -- the options are boundless.
Worldwide, 3D printing technology is evolving towards everything from creating entire buildings to producing stem cell tissue, and for many of us, curiosity is taking over as to the many avenues of production this will lead.
Speaking with Scott Dillon, Director of Business Development, 3D printing at TPH doesn't stop at selfies. Dillon indicates that TPH has been accepting clients' 3D files for a wide variety of items and materials, as seen in their showroom -- spanning from basketballs and hobbyist pieces, to mock menu items for restaurant displays. Automobile lovers are taking full advantage of creating part replacements such as fenders, something very handy for owners of older vehicles as these types of parts can be difficult to source and expensive to purchase. Sectors of law and medicine have also been showing interest in 3D printing, where 3D scans, MRIs, or x-rays, can be converted into models for anything from presenting court cases more effectively, to helping explain medical conditions in a more tangible way.
Individuals are also finding personal benefit with this technology, as I was told a story of a child who had suffered a severe brain injury and had to wear a helmet to school post-surgery. His parents provided TPH's designers with an MRI scan of his head, requesting that a pocket-sized printout of their child's skull be created. This way, the child could better explain to his peers his condition and the reason for wearing a helmet to school.
With a multi-purpose and ever-expanding technology like 3D printing, the world is our oyster. Not only are there new avenues of production unfolding before us -- but also an evolving medium of creativity that is rapidly becoming more accessible. What makes you excited about these innovations in 3D printing? Let's hear your take in the comments below!
Follow HuffPost Canada Blogs on Facebook