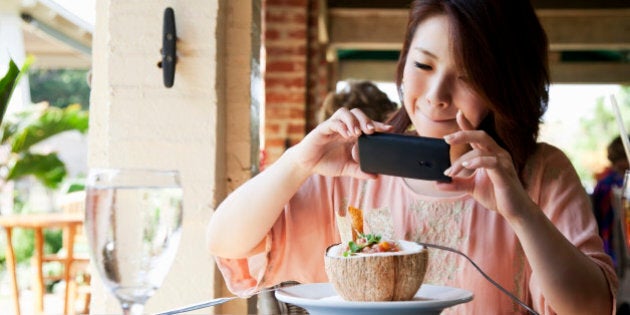 For those of you who love photography and food equally, combining the two may not always work.
The "foodtography" movement (taking pictures of your food and posting them online) has moved from the pros to amateur diners. As you're probably already well aware, these days diners can and will take pictures of their dishes with a smartphone and post them to a variety of social media sites. And with the holiday season upon us (think Christmas cookies and turkey dinners), your streams are only going to be increasingly food flooded.
Lighting, angles and even editing are all things to take into consideration when trying to capture your mouth-watering meal.
How To Take Food Pictures
What Is That? Turn Off The Flash
No really, is that food or something you found in a swamp? The flash feature is built into our phones and is responsible for doing one thing — flooding the frame with light. Often, when you use flash to take pictures of food, you also capture harsh shadows and unflattering detail.
Instead of putting your flash on auto, try positioning the shot near a window to make the best use of natural light.
Dishes appear vastly different from various angles. When you shoot a plate of food from above, you often miss out on the detail, texture and height of the plate.
The Fix: Try A 45-Degree Angle
A 45-degree angle, for example, will capture the plate from the diner's perspective, while incorporating utensils and dishware.
We're not saying you need to spend hours trying to Photoshop your food pictures, but a few touch-ups on your device — either through filters on Instagram, cropping or brightness tools on your camera — can help.
Easy tweaks with brightness or contrast can improve your dull pictures. Don't forget to use the #foodporn hashtag when you share it online!