Have you ever noticed how the most fragile and rare things are often the most beautiful? And have you ever noticed how their beauty often vanishes into the invisible abyss of atoms and time before they can ever truly be enjoyed? A snowflake, a dandelion seed, lightning, innocence - in all of a moment - they vanish. Happiness fits into this category of beauty for me. And in the past, not feeling any happiness at all has lead me to suffer from suicidal ideation, and suicide attempts.
I get frustrated with how happiness and my personal life seem to exist in separate orbits. Rarely eclipsing one another, but when it happens, like all phenomenons, it inevitably comes to an end. Watching this eclipse also causes my eyes to burn and tears to flow, especially when I see the orbit of happiness leaving, knowing that it will be a while until it returns.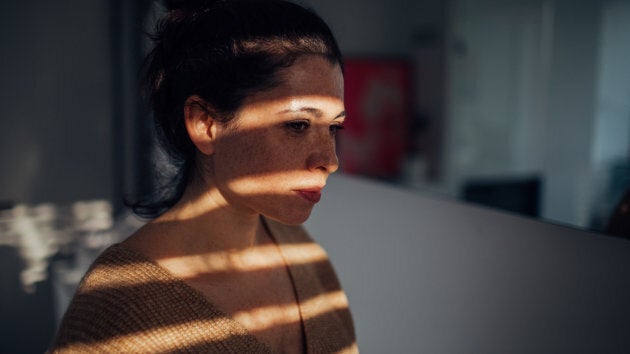 Everywhere I go, I'm there. I can't escape the sadness my mind simmers in so often. My mind's inability to practice gratitude elicits enormous levels of guilt. And I know full well that guilt is a useless emotion - and that it only brings more pain. But still I feel guilt's heavy dagger pierce my heart when I see the sunrise and simultaneously need to fight to see the beauty in it. I should be able to see the beauty in it. Why can't I see the beauty in it?
"Suicide" is still very much a taboo word. But why? Why do we whisper it when we say it? Or avoid saying it at all? Well in my opinion, it's because people are not only uneducated about suicidal ideation, they are also afraid of it. Afraid that saying the word "suicide" will cause this type of death to occur. Well let me tell you from experience, asking and talking about suicide won't cause someone to die by suicide. In fact, the opposite may happen - by opening up the lines of communication about suicide, the person may begin to feel comfortable talking about it because you gave them a safe space to do so; a stigma-free space. And talking about it is the first step towards healing.
I wore a mask with a fake smile for a long, long time because I was petrified that talking about the darkness I lived in would make me look weak and silly.
Another way you can help someone who is battling suicidal ideation, is to believe them! Personally, I did not speak about my feelings surrounding this for so long because I was afraid people wouldn't believe me. Mental illness is often invisible, so telling someone I wanted to die didn't seem logical - it didn't seem believable.
I wore a mask with a fake smile for a long, long time because I was petrified that talking about the darkness I lived in would make me look weak and silly. So, if someone has the courage to tell you that they are suffering, one of the most powerful replies you can give is, "I believe you." Then you can go forward and find the resources they need to begin to heal... even further, because believing them will have already started that process.
September is Suicide Prevention Month, and I will endeavour to continue to share what it's like to be in the mind of someone who has battled with suicidal thoughts and attempts. Don't worry - I'm safe, and I have been for a long time now. But I feel it is necessary to continue this dark and often confusing conversation so that those who don't understand, can; if even in the smallest way.
Have you been affected personally by this or another issue? Share your story on HuffPost Canada blogs. We feature the best of Canadian opinion and perspectives. Find out how to contribute here.