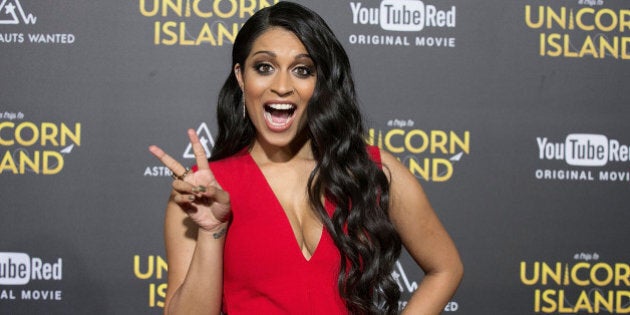 In a fast-changing media world, it's hard to wrap your mind around how much clout Lilly Singh has.
So here are a few statistics to help you out: 8 million subscribers to her YouTube channel ("IISuperwomanII"). More than a billion total views. A new documentary, "A Trip to Unicorn Island," about her recent 27-city world tour.
Not bad for a girl from Scarborough, Ont.
The Indo-Canadian superstar sat down to discuss her meteoric rise to fame -- and how exactly someone goes from making comedy videos in their bedroom, to having a rabid global fan base.
Chris Taylor: You just premiered your new documentary in Los Angeles. Was that a surreal experience?
Lilly Singh: Absolutely. Coming from the world I come from, of making videos in my own room, it was so cool to premiere my movie in front of a live audience and seeing their reactions. I'm not used to that, so it was both thrilling and terrifying. The Los Angeles screening actually took place at Grauman's Chinese Theater, which is so iconic. The new Star Wars premiered there, so it was basically everything I ever dreamed of.
CT: For those who haven't followed your career, what's the documentary about?
LS: It's called "A Trip To Unicorn Island," which is a synonym for my happy place. It was a world tour with 31 shows in 27 cities, a variety show combining stand-up comedy, sketchwork, and music. More than anything, it's about finding happiness. The documentary also covers my emotional growth spurt during that time: My little videos had turned into a real business, and I had to become a boss. I learned it's okay to be a boss sometimes.
CT: What was it like going from homemade videos, to putting on arena shows?
LS: It was a challenge, definitely. I had to literally bring my YouTube channel to life, so I took elements that people liked from the videos, and added to that theatrical elements like singing and dancing and stand-up comedy. When it's live like that, you have to roll with the punches. If people don't laugh at your joke, it's all that more thrilling, because you've just got to keep going. You don't get that kind of feedback online. You're seeing people react in real time.
CT: You recently moved from Toronto to L.A. What's that been like?
LS: I love it so far. It's been great for my career, with a lot of inspiring people, and so many possibilities for collaboration. But at the same time, Toronto will always be my home. All my family and friends are in Toronto, so I was literally uprooting my whole life and stepping out of my comfort zone. I really miss certain things, like Tim Horton's, and my mom's vegetarian curry.
CT: Your persona is so positive and high-energy. But your original motivation came from a place of depression?
LS: When I uploaded my very first video, I was just looking for something to make me happy. I was confused about what I was doing in my life, and had earned a degree that I didn't really enjoy. With that video, I was finally doing something I was passionate about. So it was my way of self-medicating.
I'm by no means an expert at giving advice on depression, but I would say that a lot of my show is about making the decision to be happy. We all think that happiness is something that just falls into our lap. But it's something you have to really work on.
CT: You're known for your comedic impressions of your parents. What do they think of all this?
LS: When I first told them I wanted to do this, they were skeptical and horrified. I get it: If I was a parent, I'd be terrified, too. So there was a learning process that took place, and now they understand what I do. They've been to my shows, they came on tour, and now they're very proud.
CT: Do you have any messages for your Canadian fans?
LS: Regardless of where life has taken me, I'm always excited to come back to Canada. I will forever be a proud Canadian. In fact a lot of my success comes from the fact that I come from a diverse place, and that translates into my comedy. I will always be Team Canada.
Follow HuffPost Canada Blogs on Facebook