At the end of Friday's meeting between Prime Minister Stephen Harper and First Nations leaders, it was astounding to hear the Minister of Aboriginal Affairs John Duncan tell the people of Canada that the Conservative Government has fulfilled its constitutional "Duty to Consult" First Nations on the legislation affecting them.
The impressive Idle No More movement was indeed spawned by the lack of consultation and imposition of the two omnibus bills C-38 and C-45 that have severely affected the environmental protection of traditional territories and the lakes and rivers that First Nations depend upon.
It was appalling to see the Minister start his press conference on Friday boasting about the government's "investments" which have clearly failed to begin to close the gap in social and economic outcomes. Instead of humility, we got a tone-deaf billboard. In spite of the commitment at last year's Crown First Nations Gathering to work towards this year's 250th Anniversary of the Royal Proclamation, absolutely no work has been done with the provinces to honour the treaties or to ensure that First Nations are able to share in the prosperity that is Canada. The failure of the government to even begin to deal with the imperative of sharing Canada's resource revenues fairly has resulted in relations with Canada's indigenous population reaching a dangerous tipping point. First Nations are pursuing their rights -- and winning -- in the courts. Thousands of Aboriginal and non-Aboriginal people are demonstrating right across Canada through the Idle no More movement. Attawapiskat Chief Theresa Spence, and other First Nations activists, remain on a hunger strike demanding the Prime Minister and the Crown come to the table in good faith to begin to repair a relationship that is in tatters.
We have to view last Friday's hastily organized meeting between the Prime Minister and Aboriginal leaders as trying to respond to the unprecedented expression of frustration as progress. The gravity of the crisis calls for concrete action. Beyond the moral obligation to deal with completely unacceptable social and economic gaps for Aboriginal Peoples, the Conservatives mishandling of this relationship and failure to consult could endanger what this government is hoping will be the engine of Canada's economic recovery -- natural resource development.
Unfortunately, the government's public follow-up to Friday's meeting raises some serious concerns. One of the key frustrations of Aboriginal people is the refusal of this government to fulfill its legal obligation to consult with them on matters that may impact their inherent and/or treaty rights. The fact that Minister Duncan indicated his belief the government has fulfilled its duty to consult on various controversial bills shows that the Conservatives still do not seem to grasp what true consultation means.
To suggest they have consulted with First Nations on the egregious omnibus Bills C-38 and C-45 is simply ridiculous. There were no prior consultations about changes to the Indian Act regarding Aboriginal Fisheries, First Nations land management and, in particular, major changes to environmental protection for their lands and waterways. Further, on the litany of other First Nations bills, the Conservatives have to understand that one way information sessions after decisions are made (when they rarely even go that far) do not constitute consultations.
In the same press conference, the Minister's Parliamentary Secretary followed the Minister's comments with a list of old talking points about the "progress" the government claims to have made on a host of First Nations' issues. This approach is very troubling and indicates that the Conservatives still don't understand what sparked this unprecedented grass roots movement or the profound frustration of Aboriginal Peoples across Canada. There has been no discernible progress made on the priorities set at the Crown First Nations Gathering of almost a year ago and claiming there has been only serves to further undermine the government's already tarnished credibility.
Appallingly, the very next day the Minister's remarks were followed up by a government press release of a re-announcement of an inadequate allocation of money from the last budget for water and wastewater systems on reserve. The 2011 National Assessment of First Nations Water and Wastewater Systems identifies a $5.8-billion funding shortfall ($1.2 billion immediately and $4.7 billion over 10 years) to deal with the First Nations water and wastewater capacity gap and yet the Conservative government only provided 6 per cent of the resources their own review identified -- $330.8 million spread over two years -- in the last budget. Almost two years after the federal assessment there are 117 First Nations communities across Canada under Drinking Water Advisories, an increase of over 23 per cent since 2006, and the government has no long term plan to get a handle on this crisis.
In fact, for the past year the Conservatives' response to First Nations, Inuit and Metis with legitimate grievances has been to tell them that they just don't understand how much "progress" has been made. This government refuses to understand that their rhetoric and insensitivity is dangerously undermining an already strained relationship between the government and Aboriginal Peoples.
Last October, during an Assembly of First Nations (AFN) Special Chiefs' Meeting on Education the government cynically issued a press release with misleading funding numbers to deny a funding gap for First Nations students even existed. This cynical move prompted First Nations to reject the federal government's approach to education and further eroded the Conservatives' credibility as a partner.
The Conservatives defend their failure on First Nations education by saying they have "built 30 schools across the country and renovated 200 others." The real issue is that students attending school on reserve are funded at half to two-thirds the per-student annual rate of students in provincial systems and only one third of First Nations students on reserve are graduating high school. The graduation rate is not improving and instead of fixing the disgraceful education funding gaps, the Minister is actually denying they exist.
The Conservatives explain their refusal to deal with the on-reserve housing crisis by claiming that they have "built 10,000 homes" over the last six years. The fact is that they are simply trying to take credit for falling short of what should have been 13,800 homes built under funding levels pre-dating their government. They have also failed to deal with their own February 2011 federal evaluation of First Nations housing, which concluded that the housing shortage on reserves is severe and only getting worse with 20,000 to 35,000 new units needed to meet current demand. The Assembly of First Nations has identified a gap of as much as 85,000 units and the Conservatives have no long-term plan to deal with this situation. Despite overcrowding rates on reserves six times those of off-reserve and more than 40 per cent of on-reserve homes in need of major repairs, the Conservatives actually spent 43 per cent less on housing during the last fiscal year than in 2006/07.
First Nations know the realities of what they are facing and the Conservatives' dishonest talking points, aimed and convincing average Canadians they are making progress, are further undermining what little credibility they have with Canada's indigenous population.
Given the Aboriginal population is the youngest and fastest growing in Canada -- and that almost every natural resource development currently operating or planned is within 200 kilometres of a First Nations' community and on their traditional lands -- it is in all of our interests to turn this around. The Prime Minister must understand the gravity of this situation and the potential impacts on all Canadians.
This should not be a partisan issue. This is about rebuilding the trust between Canada and First Nations. The Conservatives need to throw away their condescending and misleading talking points and their pathetic re-announcements of re-announcements of inadequate Budget 2012 commitments and deal honestly with Aboriginal Peoples to develop lasting solutions for what are very complex problems.
We need the 96 per cent of non-aboriginal Canadians to understand and support the need for economic and social justice for the 4 per cent. Idle No More is doing its best to educate us all. They want us to understand that whether we drink the water, or swim in it, paddle on it or fish in it, we all should be concerned with the omnibus bills. Their peaceful grassroots movement is inspirational.
This is an historic time. We have to eradicate the ignorance and deal with the racism. We need to use the anniversary of the Royal Proclamation to move forward on honouring the treaties that promised to share the land fairly and begin the process of replacing the Indian Act. We need to ensure that Canadian First Peoples, the fastest growing part of the population, will have the ability to lead us through these troubled times -- victims no more.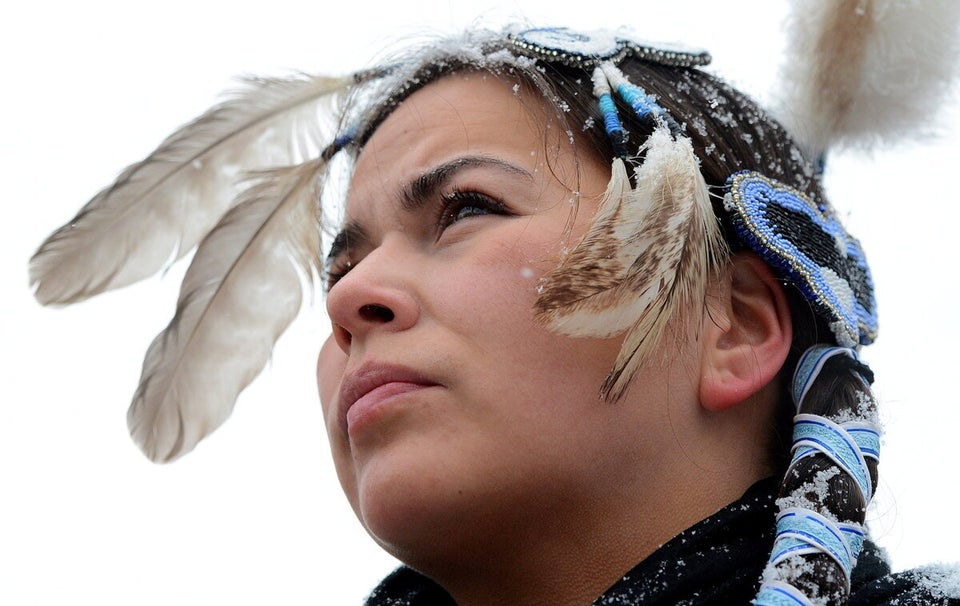 Idle No More: In Photos
Popular in the Community