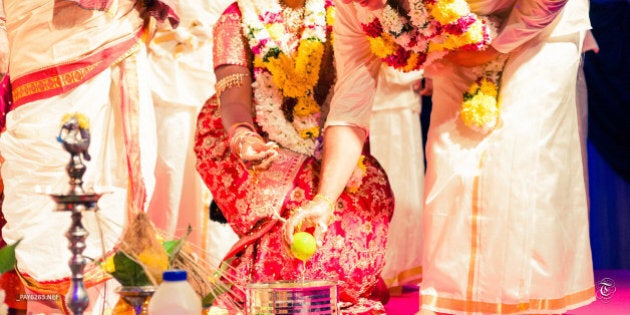 Tophos ref: _PAY6263" data-caption="Par Tophos ref: _PAY6263" data-credit="Agence Tophos/Flickr">
Thanks to our multicultural society, you may find yourself at a wedding this summer that celebrates in ways you aren't familiar with — and we're here to help. Each week, the HuffPost Canada Living team will take a look at a different culture's wedding and tell you about the customs, traditions and rules that go along with celebrating your friends' big days.
When you step foot into a Tamil wedding ceremony, you'll feel like you're walking into a royal affair. Tamil weddings (Hindu ones, at least), embrace the use of gold, red hues and pay attention to all the small details.
"One of the unique features of a Tamil wedding is the use of red and saffron colours to empower richness in the décor — these colours are symbolic of purity and sensuality," says Shawn Bala of wedding planning services Elegant Affairs based in Toronto.
Tamil weddings are based around the oldest sacred texts of Hinduism (the Vedas), but also incorporate a modern touch for both the bride and groom. Typically, a priest determines the date or month the couple should be married by looking at auspicious dates within the Hindu calender. The priest is also needed throughout the ceremony, Bala adds, as he is the one who officiates the couple.
With a guest list of over 250 people, you can expect a large family gathering at Tamil weddings. During the wedding, the parents of the bride and groom are considered just important as the couple.
"Prior to conducting the main ritual, the priest seeks approval of both sets of parents to allow their respective children in the marriage," Bala says. "The extended families also are highly involved with tasks like welcoming guests, cracking a coconut (which is an auspicious ritual offering), and walking around the venue requesting the guests to bless a tray containing the thali (the golden necklace a bride receives on her wedding day)."
The ceremony itself is also a long process: After the bride and groom walk in, the priest performs a Ganesha pooja (a religious ritual), accompanied by married women who know the bride and groom. The priest and the couple's parents bless the couple, along with a tray of the thali and second saree the bride changes into.
As the ceremony concludes and the guests eat vegetarian appetizers, the bride re-enters the hall in her new saree. At this point, the groom ties the thali around his bride's neck, signifying the official marriage. The couple then walks around a holy fire three times, and are blessed by their parents and guests.
Here are 10 key things you should know before attending a Tamil wedding this year: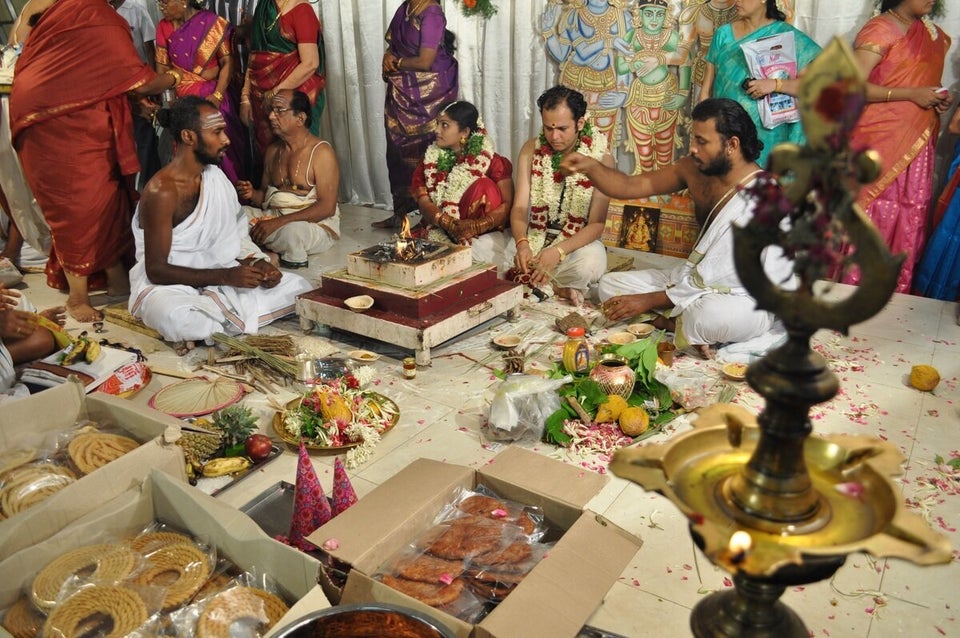 Guest Code: Tamil Weddings