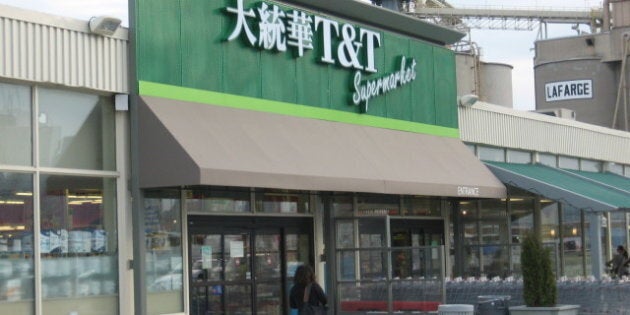 Workers at a T&T Supermarket warehouse in Scarborough, Ont., are attempting to become the first unionized employees of Canada's largest Asian food chain, The Huffington Post has learned.
On Monday, the United Food and Commercial Workers (UFCW) filed an application for certification with the Ontario Labour Relations Board. According to UFCW national representative Kevin Shimmin, the workers -- primarily women who have recently immigrated to Canada from China -- are seeking unionization in an attempt to tie wages more closely to seniority and improve scheduling issues.
T&T is owned by Loblaw Cos. Ltd., which purchased the Asian grocer in 2009 for $225 million. UFCW represents many workers in Loblaw-owned stores across Canada but none in T&T's supermarkets or warehouses.
Shimmin says the warehouse workers start at minimum wage but are supposed to earn incremental raises through additional years of service, though this has often not been the case. The minimum hourly wage in Ontario is $10.25.
"The big problem is that it's largely done on favouritism. So even if you've been there for three years, you may still be earning minimum wage," he told The Huffington Post.
Meanwhile, he says employees are working six days a week, despite working a total of 39 hours.
"You're basically working quite short shifts every day, but being tied down for those six days," he said.
Paul Ho, marketing manager for the eastern region for T&T, said the company put an internal management team in place in its Scarborough warehouse location after becoming aware of the organizing drive.
"We will follow what the laws require," he told HuffPost. "We're still working on the issue."
Ho said he did not have details about wages, but maintained that work hours "vary from individual to individual, and depends on the production schedule."
He said there are about between 100 and 130 employees at the Scarborough warehouse, which primarily supplies Ontario T&T stores. T&T opened its 21st store this year and has locations in British Columbia, Alberta and Ontario.
The outcome of the unionization drive will be determined by a secret ballot vote, slated to be held on Monday. If they are successful, the workers will join UFCW Local 175, whose membership includes most of the Loblaw workers that the union represents.
Popular in the Community