When Tanya Tagaq won the 2014 Polaris Prize a week ago, Tagaq made international headlines with two words she uttered during her acceptance speech: F--- PETA."
Unfortunately, the ensuing uproar — including PETA's response that the Inuk throat-singer should "read more" — meant that too little attention was paid to the list of 1,200 names of missing and murdered aboriginal women which scrolled past throughout her mesmerizing Sept. 22 performance in Toronto (see video below).
"I want to elicit change," Tagaq said. "I want to help people from home have a better life because this is scary. When there's a name of 1,200 missing and murdered indigenous women scrolling behind you at a big show like Polaris and everyone's losing their minds over seals? It's a little terrifying. Like c'mon, let's get with it. They're connected, it's important.
"If people are going to be worried about the welfare of animals — if you have a pet, their pet food had animal byproduct. More animals died for your pet food than 10 times the population of Inuit killing seals could do."
The musician also returned to the issue of the missing and murdered indigenous women moments later.
"Everywhere you turn there's fear, terror," Tagaq said. "There's horrible things happening and I'm sick of it. I want things to change, that's why I'm talking. I want change. I'm tired of this. I don't want to be worried for my daughters' lives, they're four times more likely to be murdered than your daughters. Like, that's not cool, that's not okay."
Tagaq also addressed the "sealfie" she posted earlier this year showing her infant daughter beside a dead seal, a photo she said she got "months and months of abuse" from, including death threats and Photoshop photos showing her daughter being killed.
"That's where the 'F--k PETA!' came from because I got so much abuse and I had no idea this was happening. I'm not against animal welfare groups, I'm not against animal rights. I think it's very important and they're doing incredible work. But you shouldn't be fostering this culture of people, thousands of crazy people that are on the internet abusing. If you feel that strongly about it, write a book, get out and protest, write a blog. These groups have made an enemy out of Inuit people for a long, long time. So it's frustrating and there's a lot of frustration."
Meanwhile, the Polaris Prize win has resulted in a few changes for Tagaq, including moves to bigger venues. Her official site shows Toronto date originally slated for The Rivoli on Nov. 6 has been moved to The Great Hall due to ticket demand. The singer's next performance is in Winnipeg with the Winnipeg Ballet with shows Oct. 1-5.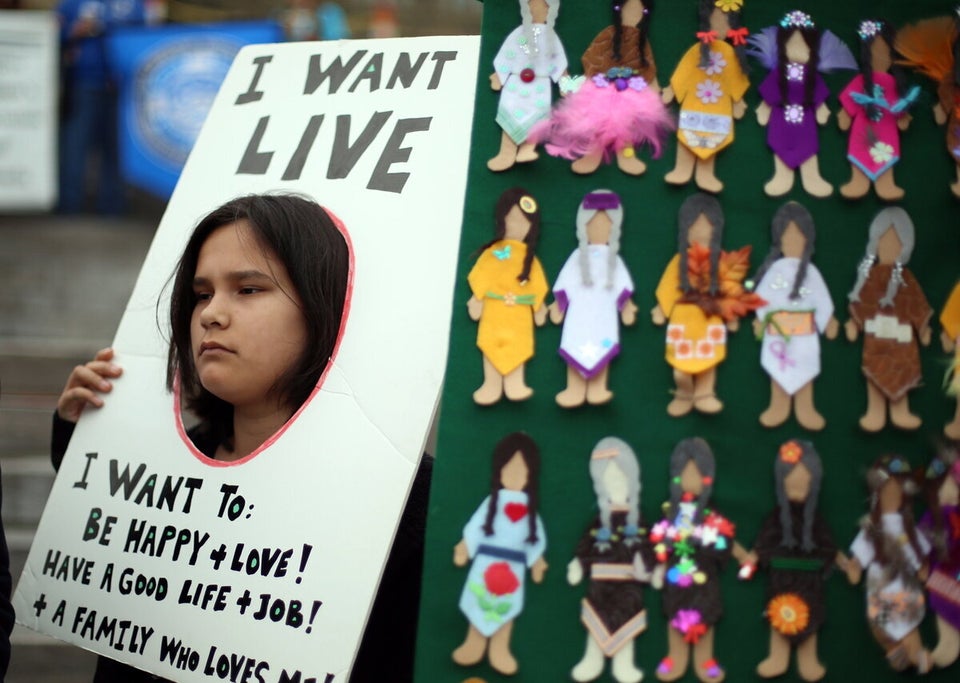 Protests Over Murdered, Missing Indigenous Women