Exxon Mobil, which makes billions of dollars in profits as the world's largest oil company, will soon make it clear to shareholders that its assets are at risk in a carbon-constrained world.
Alberta, owner of one of the world's largest oil resources but saddled with billions of dollars in debt, is unlikely to fess up anytime soon that its economic future is in peril in a carbon-constrained world.
So what is Exxon up to and why won't Alberta acknowledge that the tar sands are a potential burden rather than an endless piggy bank, as it is now portrayed? It's all about leadership.
After being pestered for years by shareholder activists, Exxon has agreed to produce a public document on its "carbon asset risk." This means it is willing to admit that some of its fossil fuel assets -- possibly including the spanking $13 billion Kearl tar sands project in Northern Alberta -- could be wiped off its books if governments start taking action on climate change.
This is a big breakthrough and it's all part of a fight by groups such as Ceres, which last year announced that a coalition of 70 investors managing $3 trillion in assets was working to get the world's top oil producers to face up to their carbon-based risks. Many of these companies have big stakes in the Alberta oil patch.
"Who better than Exxon Mobil to start answering the tough questions about the inevitable transition to a low-carbon global economy?" Mindy Lubber, president of the green investor network Ceres, said in a report in the Guardian.
"Market forces such as carbon-reducing regulations, weakening demand for oil and coal in many parts of the world and rapid growth of renewables clearly show that energy leaders of tomorrow will be those that address carbon asset risks today."
Read that last line again because it's important: "Energy leaders of tomorrow will be those that address carbon risks of today."
We know the Harper government won't give us the leadership on energy Canada needs and in fact its policies are speeding up the demise of other engines of growth in the country, such as its once strong manufacturing base.
But in Alberta there is a chance for change because the province's latest premier, Alison Redford, has left the building. Whatever the mistakes she made or didn't make in her short, Sarah Palin like tenure, it seems the government is in need of brave new ideas.
Despite the heady boom of the tar sands, Alberta has been borrowing from the future to fund burgeoning infrastructure needs. But with the sweetheart deal oil companies get in Alberta, it is increasingly clear the province can ill afford the tar sands the way things are structured now.
Don't believe the rosy forecasts that Alberta's oil production will double and triple in the coming years. This will only happen if high demand and high prices continue unabated, a risky proposition.
Stephane Dion, the former Liberal leader, once said that "there is no environmental minister on Earth who can stop the oil from coming out of the sands, because the money is too big."
But that was a long time ago and he probably hadn't considered that numerous countries would take action to curb fossil fuel demand. China is crucial in all this as they are embracing renewable fuels in a big way. Throw in the long expected slowdown in China and you can expect oil prices to fall off a cliff. How may tar sands projects are viable at $75 a barrel and lower?
It is clear Alberta needs to pick a new leader in the race expected later this year who can grasp what is at risk and deal with the changes sweeping the globe. Let us not forget Alberta produced such a remarkable leader -- Peter Lougheed, who ruled over the province from 1971 to 1985. He advised Albertans years ago to not be doormats to the oil industry and to remember to squirrel away for the future.
"Lougheed advised Albertans to behave like an owner, collect their fair share, save for the rainy day, go slow, add value and govern wisely," Andrew Nikiforuk, one of the country's sharpest tar sands critics wrote in the Tyee recently. "This remains a radical agenda for an ailing province."
Alberta needs new direction, even radical change -- for its own sake and for the sake of the rest of the country, if not for the world.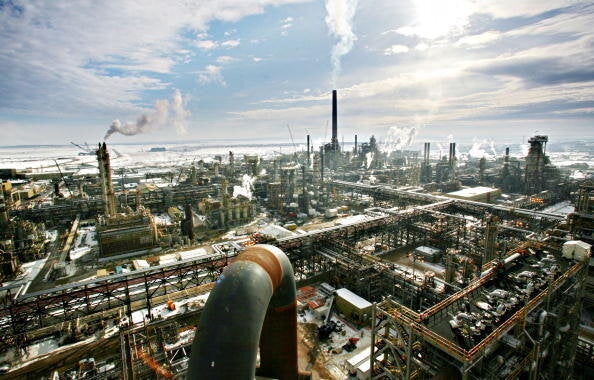 The Oil Sands and Canada's Environment
Popular in the Community