Target Canada is selling valuable patient information from its corporate-owned pharmacies to rival Walmart and effectively forcing its franchised pharmacists to sell off their own businesses at fire sale prices as part of its abrupt departure from Canada.
Pharmacies at Target locations have been told to pack up shop by the end of February, leaving thousands of patient files in the lurch, many destined to be snapped up by competitor pharmacies looking to expand their business.
Target pharmacists are being approached by national chains looking to scoop up their databases for only $1 or $2 per file, a fraction of the average market value of $17, said Dan Dimovski, president of the newly-formed Pharmacy Franchisee Association of Canada.
"For those competitors who want what's remaining of these franchisees they're looking at it as a fire sale," said Dimovski, who is a franchisee at a Target in Windsor, Ont.
"The patients have now become a monetary issue as opposed to a healthcare issue and this is the last thing the franchisees wanted."
One franchisee was originally offered $12 per patient file a few days prior to Target's closing announcement, a figure that was reduced to just $2 after it was made, Dimovski said.
The options for franchisees like Dimovski are limited. Target told them on Jan. 26 they had to be out by Feb. 26, but the legal process of setting up a new pharmacy business in Ontario, where he operates, takes 45 days, well beyond the time they have. Dimovski said the situation becomes more desperate every day and many of the franchisees will be forced to sell their patient files before they can open a new pharmacy.
Once a pharmacist sells their database of patients off, they must build a new clientele base from scratch if they open a new business, something that's increasingly difficult and costly to do in the highly competitive space.
The high-profile troubles at Target Canada have thrust the issue back into the spotlight as the price tag attached to customers' personal pharmaceutical histories makes headlines.
Zubin Austin, a professor at the University of Toronto's Faculty of Pharmacy, understands that some Canadians may feel uncomfortable with pharmacies selling patients' medical information to the highest bidder, but it's actually commonplace in the pharmacy industry.
"Its a business practice that has evolved historically as a way for one business to gain an advantage over another business," he said, adding that it happens in many client-driven businesses, including law firms, doctors' offices and physiotherapy clinics.
Transferring patient files is a way to ensure that files are not lost. It also fulfils a legal requirement to provide continuity of care for patients when a pharmacy closes. But, Austin said, it was entrenched as a business practice in the '80s and '90s when paying a premium for new clients seemed an easy way to shore up market share in an increasingly competitive space.
"It started with the need for continuity of that information but then when people cotton on to the fact that there might be a market value for it, that's where it starts to get cloudy for many of us," Austin said.
But patients should also understand that they are not obligated to use the pharmacy selected for the file transfer — they always have a choice.
Pharmacists transferring patient files are not required to get consent, but are required to notify patients in a reasonable period of time. Patients can either tell their home pharmacist where they'd rather see their file go before it closes, or tell the new pharmacy where to transfer it for no charge.
The price pharmacies are willing to pay per patient file depends on the local economy. If an area has many competitors, Austin said, it sends the price per file soaring. If there is little competition, pharmacists are more reluctant to pay out for customers they'd be likely to absorb anyway.
"In a highly contested marketplace where there's lots of pharmacies, it can be very crucial because it's all about market share and a very competitive market."
When Zellers shuttered in 2012 a group of pharmacists operating there filed a lawsuit trying to prevent the chain from selling their patient records to Metro and Loblaws stores for $35 million. They claimed Zellers had no right to the records and the sale violated privacy laws. But the court denied their injunction.
Target chose not to buy those patient records and instead opted to franchise pharmacy space in its stores to nearly 100 independent owners. It is now being hands-off about the process of transferring patients to new pharmacies. Patient information at the two franchises already shuttered have been sent to pharmacies of the franchisees' choosing, according to court documents.
"Target Canada is not responsible for the custody and control of patient files," it said on its website.
"The pharmacy franchisee is responsible for any communications with their patients under the direction of the pharmacy regulator. Guests should contact their pharmacy franchisee for additional information."
That's why franchised pharmacists were so alarmed when the corporation mistakenly sent all franchisees an email saying their files were being sold to Walmart. Target later told them it was an error and the sale was in reference to its three corporate-owned locations only.
The franchisees, wooed to set up shop in Targets by the promise of high traffic and key locations, bought the pharmacy inventory and paid their own staff as part of Target's unique model and are now owed thousands of dollars. They have formed the Pharmacy Franchisee Association of Canada to fight Target throughout the insolvency process, which represents 85 of 93 franchisees.
"We are pharmacist refugees with no clear place to go, as we've suddenly found ourselves forced out of our pharmacy homes with no notice, no support, placing us potentially on the brink of financial and personal demise," Charlie Scerbo and Stavros Gavrilidis, heads of the newly-formed organization wrote on the group's Facebook page.
PFAC has taken legal action to represent the pharmacists in Target's insolvency process and want to be able to operate in the stores until they close in May. The association's lawyer will appear in court next week to argue its case to be included in the proceedings.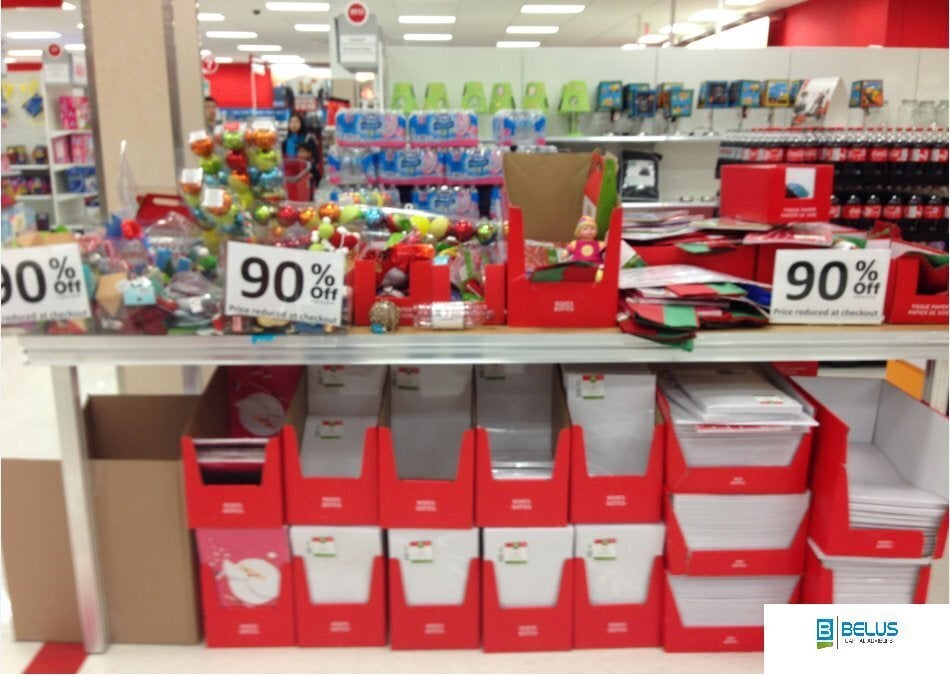 Target Canada's Empty Shelves
Popular in the Community