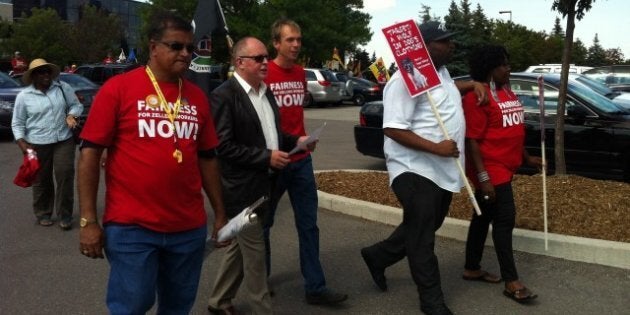 Target's Canadian headquarters in Mississauga, Ont., became the site of a protest on Wednesday morning, as a delegation of labour leaders and a former Zellers employee questioned a company executive about the decision not to keep on more than 10,000 employees in Zellers locations that are being converted to Target stores.
Target human resources manager Michelle Lettner accepted a stack of petitions signed by 200 demonstrators gathered nearby, and responded to criticisms about the company's approach to staffing in its new Target stores, which will be located in former Zellers outlets.
Lettner said that Target acquired the Zellers stores through a "real-estate transaction," adding that "we did not take the employees with us."
But Ontario Federation of Labour president Sid Ryan responded that this explanation sounded "a little disingenuous."
"That's another way of saying we're firing 10,000 people. It's a good cover, but it doesn't wash," he told her.
Target plans to open 200 stores across Canada starting in the spring of 2013, the vast majority of which will be in former Zellers locations, which it acquired from Hudson's Bay Company (HBC) last year for $1.8 billion. More than 27,000 people -- about 15,000 of whom worked in Zellers stores that will be converted to Target locations -- lost their jobs as a result of the deal.
Former Zellers worker Angela Rankine, who lost her job in the transaction, asked if she would be guaranteed a position at Target.
Lettner said she could only guarantee that Rankine would be granted an interview — an opportunity being extended to all former Zellers employees.
But that didn't sit well with Rankine, who says she worked hard to build her seniority over the past 13 years at Zellers, where she started by stocking shelves on the overnight shift.
"I've been doing everything and anything, and I get nothing," she told The Huffington Post. "I'm in my fifties, and I have to start again."
HBC is planning to close most of the remaining Zellers locations not included the company's deal with Target. This includes the Zellers store in Toronto's Galleria Mall, where Rankine worked as a unionized employee until the store closed on July 28. (She also works part-time for the United Food and Commercial Workers (UFCW) union.)
The new Target locations will employ between 150 and 200 people each.
"Target's overall compensation and benefits will be competitive in the marketplace and will [be] commensurate with position," said Target Canada spokeswoman Lisa Gibson.
HBC spokeswoman Tiffany Bourre declined to comment on Target's hiring policies. But she said that with the closing of Zellers stores, workers received more notice — or pay in lieu — than is mandated by provincial labour law.
"We are also providing associates with significant career training and transition support services, and we are committed to treating our associates fairly throughout this transition," she said.
A small number of current Zellers employees who are unionized may be protected under labour laws, though Target Canada is disputing that in a British Columbia court, where the UFCW has filed an application to be granted "successor rights." UFCW national organizer Kevin Shimmin says the union is planning to file similar applications in a bid to protect the jobs of workers at four unionized Zellers locations in Ontario.
The vast majority of Zellers workers, however, will not be protected from job losses when the stores change to their new brands.
According to Gibson, successor rights should not be granted in the case of unionized Zellers employees because "successorship is found only where the new employer draws its 'life blood' from the predecessor."
"There can be no argument that this is true for Target as there will be no continuity in the business between Target and Zellers," she said in an e-mail.
"As Target remodels the former Zellers stores, there will be a substantial hiatus in operations, lasting at least six to nine months, during which there will be no continuation of retail operations. There will be no transfer of any Zellers assets, systems, technology, goodwill or employees to Target."
Wednesday's protest was the latest in an ongoing UFCW-led public awareness campaign about the fate of Zellers workers. Dubbed Target Fairness, the national campaign features the faces and stories of actual Zellers employees urging members of the public to spread the word of their plight, and pen a letter to Target CEO Gregg Steinhafel.
The majority of demonstrators who gathered near Target's blue-tinted, glass-walled headquarters on Wednesday were union members, including representatives from the UFCW, the United Steelworkers union, and the Ontario Secondary School Teachers' Federation, as well as local NDP MP Wayne Marston.
Those in attendance were asked to sign a petition addressed to Target Canada President Tony Fisher, requesting that the company allow Zellers workers to keep their jobs and "honour the wages, benefits and seniority they've achieved."
"I'm asking for fairness for Zellers workers and now I will be telling my friends and family to do the same," the petition stated.
In his speech to protesters, Ryan framed the issue as part of a more widespread attack on labour rights — and a race to the bottom that is quickening as government attempts to align Canadian labour costs more closely with our international competitors.
"The Zellers workers today — 10,000 of them — you're being taught a lesson in many respects," he said. "This is going to be the face of all workers in this country and this province in the years to come, unless of course the labour movement gets its act together, and we start fighting together."
CLARIFICATION:This story has been edited from its original version, which suggested that Target Canada laid off employees of Zellers. The workers lost their jobs when HBC sold many of its Zellers locations to Target Corp.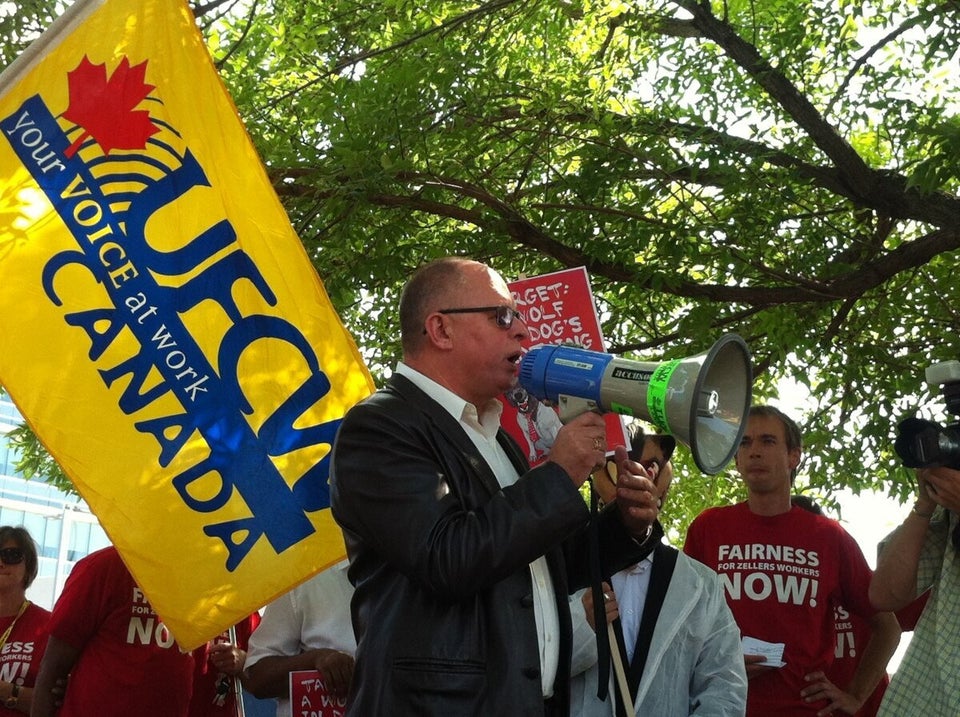 Protest At Target Canada Headquarters
Popular in the Community