 Thousands of Zellers workers slated to lose their jobs when more than 100 stores across Canada are converted to Target locations beginning next spring are ramping up a national campaign to protest the mass firing, calling on the public and government to intervene.
Though the small number of unionized workers that will be affected by the takeover may have some legal recourse to protect their jobs, the outlook for the vast majority is nowhere near as optimistic.
It's a situation that one labour expert says should serve as a poignant reminder of the precarious nature of non-unionized work, which has become a hallmark of Canada's growing retail sector, where the relatively low-skilled nature of jobs has made workers particularly vulnerable.
PHOTOS: MAJOR U.S. RETAILERS COMING TO CANADA
As Ryerson University's Maurice Mazerolle told The Huffington Post Canada: "Unless you have a unionized contract or are protected by statute or one of the grounds by discrimination, then what you are seeing from Target could apply anywhere, to any company, to anybody working in this country."
According to Kevin Shimmin, national representative for the United Food and Commercial Workers Canada (UFCW), Target's plan to assume control of the leases of the Hudson Bay Company-owned stores -- but drop as many as 10,000 Zellers employees from the payrolls -- sent shockwaves through the workforce when it was announced earlier this year.
"We were contacted by a number of Zellers workers, both union and non-union, expressing a lot of fear and anxiety and anger about what was happening," said Shimmin.
Target did not respond to an interview request from HuffPost on Tuesday, but has told other media that because it didn't buy Zellers stores outright, the transaction does not include employees.
The Minneapolis, Minn.-based company has invited Zellers employees to apply for jobs in the converted stores, which will each employ between 150 and 200 people.
But while the policy may seem unfair, Mazerolle says the American retailer may prefer to start with "a clean slate" when training workers.
"It's not like [retail] is a unique skill set that's not found anywhere else on planet earth. It's also the kind of skill set that Target may have their own system for training," he said. "They may not want someone trained into the Zellers way, or any other way."
In Canada, the UFCW represents workers at five of the Zellers locations that will be involved in the conversion. Workers in those locations have also been targeted for termination, but as Shimmin explains, the fact that they are unionized allows the UFCW pursue an application to be granted "successor rights."
Though there is no guarantee that successor rights will be granted, if they are, those jobs would be protected.
But when it comes to non-unionized workers, who make up the vast majority of Zellers employees in soon-to-be Target stores, Shimmin says there is little recourse -- a reality that prompted the union to launch a public awareness campaign, "to put some public pressure on Target to see if they would consider changing their position."
Dubbed Target Fairness, the national campaign features the faces and stories of actual Zellers employees urging members of the public to spread the word of their plight, and pen a letter to Target CEO Gregg Steinhafel.
"We are the people who work at your neighbourhood Zellers, and some of us have worked in your store for over 30 years," reads the TargetFairness.ca homepage.
"So when we found out that Target is letting us all go, we were surprised, confused and hurt. Target has said that we can reapply for our jobs, but the company will not recognize our experience and the important things we have earned through many years of loyal service."
Despite the excitement among shoppers about the arrival of Target in Canada, Shimmin says the campaign -- which included passing out leaflets to customers exiting the Target pop-up store that was erected in downtown Toronto in February -- is resonating with the public.
"With many people there is a feeling that at least the employees should be treated fairly, even though they obviously want to shop there," he said.
The UFCW has also petitioned Ottawa to intervene, but Shimmin says the government has so far declined to get involved.
In an email to HuffPost on Tuesday, a spokeswoman for Industry Canada described the Target deal as a "real estate transaction and not the acquisition of a business, assets, technology, or employees." When it comes to any labour or employment issues resulting from the transaction, she said, "provincial labour laws and standards will apply."
But while the campaign's message can be found online, in pamphlets and on billboards in affected cities across the country, Zellers employees haven't been talking to media.
According to Shimmin, the silence is at the behest of the Hudson's Bay Company (HBC), which required Zellers employees in Ontario to sign an agreement not to discuss the Target takeover with the press.
HBC spokeswoman Tiffany Bourre told HuffPost that HBC media protocol stipulates that employees pass on media calls to "the appropriate communications department," and that speaking with the press directly would be breaking this protocol.
But she said the claim that the company collected signatures from employees around this issue following the Target announcement is "not accurate."
When asked about Zellers employees who may lose their jobs, Bourre declined to comment on Target's hiring process, but said that HBC provides "very extensive career transition support for all of our associates," including online programs to assist with skills like resume writing and interviewing to assist in the transition.
In the meantime, Shimmin says plans are underway for to bring together community groups, workers and other unions around this issue, beginning with a rally outside a Zellers location in Windsor, Ont., this weekend.
"I'm not overly optimistic that Target is going to change their minds, but this is really kind of asking people to think twice about what retail work is," he said. "We don't talk about how difficult it is and often how under appreciated people are in retail."
But whatever the outcome, Mazerolle says unions should use this example as a rallying cry in the retail sector, where organized labour has traditionally had a difficult time making headway.
"This should spur on the UFCW and other unions that operate in that sector," he said. "Target basically handed them a pretty good reason to sign union cards."
PHOTOS: MAJOR U.S. RETAILERS COMING TO CANADA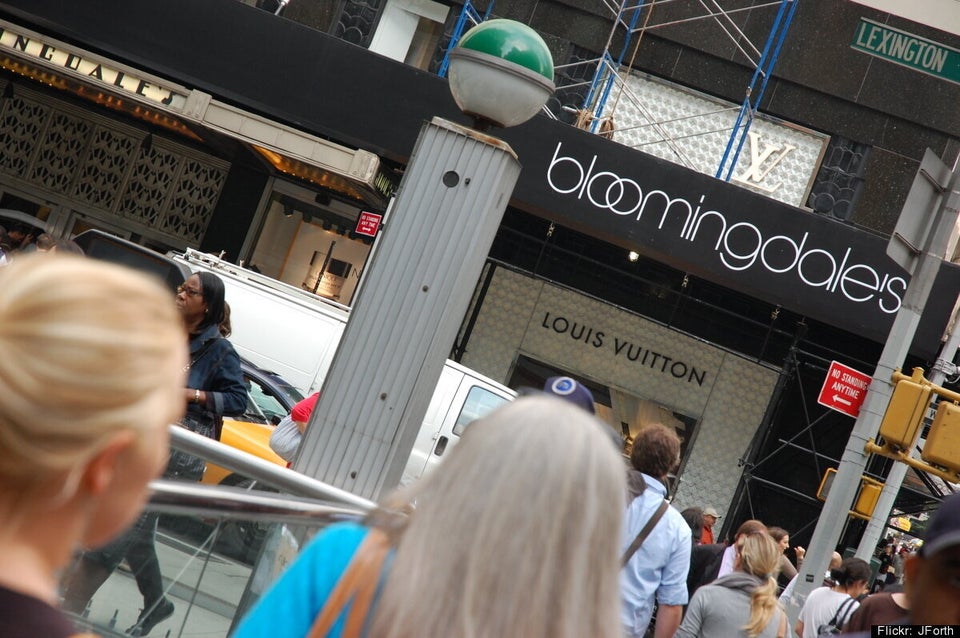 Major U.S. Retailers Coming To Canada