Target's operating losses in Canada have topped $1.52 billion U.S. since stores started opening last spring, according to numbers in the Minneapolis-based retailer's latest earnings report, released Wednesday.
Sales at Canadian stores saw a huge year-on-year acceleration, jumping four-fold from the same time last year, to $393 million. But Target had only about one-fifth of its 124 Canadian stores open at that time.
The Associated Press reports:
NEW YORK, N.Y. - Target reported a 16 per cent drop in first-quarter earnings as a massive data breach and botched up expansion plans in Canada continue to batter results.

The third-largest U.S. retailer, based in Minneapolis, also cut its annual profit outlook and issued a second-quarter projection that was below analysts' expectations.

Still, there were some encouraging signs in the report. Target said that it saw significant improvement in a key revenue metric from what it experienced shortly after the data breach that compromised the credit card and personal information of millions of customers and exposed big security flaws.

The news comes a day after the retailer fired the president of its troubled Canadian operation and two weeks after the abrupt departure of Target CEO Gregg Steinhafel.

The company's Chief Financial Officer John Mulligan took over as acting CEO while Target searches for a new permanent leader. The company said its search includes candidates outside the company as well as the industry.

"First-quarter financial performance in both our U.S. and Canadian segments was in line with expectations, reflecting the benefit of continued recovery from the data breach and early signs of improvement in our Canada operations," Mulligan said in a statement. "While we are pleased with this momentum, we need to move more quickly."

Target, known for its cheap chic fashions and home accessories, used to be a darling in retailing, but now it is facing one of the most tumultuous times in its history.

Target is trying to clean house as it fixes its flailing operations in Canada, its first foray outside the U.S., while revitalizing business in the U.S. amid heavy competition.

At the same time, Target faces uncertainty about costs related to the pre-Christmas breach. The company said that it incurred $18 million of net expense in the first quarter of 2014, reflecting $26 million of expenses partially offset by the recognition of $8 million in expected insurance reimbursement.

The costs, however, do not include any potential claims by the payment card networks for counterfeit fraud losses. And the company said it was unable to estimate future expenses related to the data breach.

All of Target's challenges come as the broader retail industry is dealing with a slow economic recovery that hasn't benefited all American equally and a move by shoppers away from buying in stores and toward shopping online.

The results show Target still has a lot of work to do.

Target says it earned $418 million, or 66 cents per share, in the quarter ended May 3. That compares with $498 million, or 77 cents per share in the year-ago period.

Adjusted earnings results were 70 cents per share.

Revenue rose 2.1 per cent to $17.1 billion.

Analysts had expected profit of 71 cents on revenue of $16.97 billion.

Revenue at stores open a least a year slipped 0.3 per cent, an improvement from the 2.5 per cent drop in the fourth quarter.

Target said it expects second-quarter earnings per share between 85 cents and $1. Analysts had expected $1.02 per share.

It also said it now expects earnings per share for the full year to be $3.60 to $3.90. That's down from the early guidance of $3.85 to $4.15 per share. Analysts had expected $3.99 for the full year.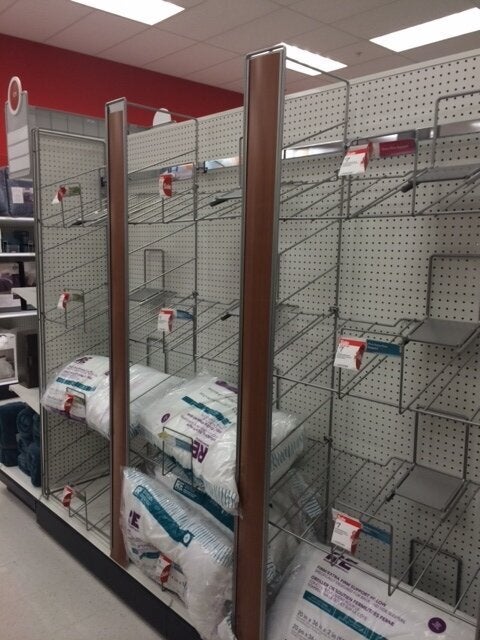 Target Canada's Empty Shelves Getting Worse