Target is leaving Canada as it came in -- with intense sound and fury. It was the largest expansion in Canadian history and now the largest layoff in recent memory.
I've had the privilege of working at Target since well before we opened our doors and now have the solemn task of helping wind up its operations. For me and 17,600 of my colleagues, the roller coaster is on its last loop. The ride is almost over.
Much ink has been spilled since Target announced its closure. Blame has been laid. Jokes have been made. Pundits have been vindicated. Analysts have pontificated. The whys and hows of Target's failure are best discussed by those who weren't involved. Critiques are best delivered by those with clean hands. I don't want to criticize and I don't want to talk business. I want to talk about the people who worked for Target Canada. I want to talk about my friends, my colleagues -- my fellow team members.
There is something so tragically beautiful about a team of people so dedicated to winning -- to doing the right thing -- but so unknowingly predestined for failure. The story of Target in Canada is one of failure but it also one of Herculean effort and positivity.
In my role in Human Resources, we charged ourselves with ensuring that we treated people fairly, respectfully and kept them engaged in their roles. Why? Because it was the right thing to do and because people treated that way do great work and don't sue. My job took me to almost every store and regional office in almost every province. I got to see a lot of Canada and meet many Canadians. I learned so much.
I learned that Target had hired the best that Canada had to offer. Whether they were hourly, salaried -- sales floor or senior management -- we had recruited among the best. We had passionate students, dedicated veterans, disabled team members (who worked like they were anything but), seniors, moms, dads, grandmas and grandpas. We had people from every walk of life -- every one of whom wanted Target to succeed.
There was not one store I walked into where the entire cross-section of Canada wasn't represented. There was not one store where the focus wasn't on service and being "the best store ever". There were absolutely areas to improve. There was still so much we did right.
There were clearly issues. However, the fault was in the plan and not the people. The people gave it their all. The plan was flawed. I worked amidst greatness and for that I will always be blessed.
The death of a company is not a pretty thing. The announcement on January 15 was earth-shattering for so many. However, my faith in my colleagues -- my fellow Canadians -- is only reinforced by what we've tried to do to help each other since the announcement we were closing. We are trying to help each other find jobs. We are reviewing our friends' CVs. We are doing these things not because we were told we had to but because we wanted to. We are doing these things because we are Canadian and we help each other even when we need help ourselves.
I would be remiss not to mention the dozens of Americans, based in Canada and the U.S., who devoted themselves to building the business and many of who are also likely losing their jobs. They devoted years of their lives to trying to help Canadians succeed. They learned our culture, our languages and to love Canada. For that, we loved them. They too are collateral damage in all of this.
I was proud to have helped build this company and I am proud of what we're doing to help each other as it has come apart. We have all lost our jobs but we have not lost our passion for our friends and our teams.
It is easy to work together in success. It is fun to win. We did not win. We lost. In this loss, we have found solace in helping each other. We have found comfort in humour. Over the next weeks and months, we will find purpose in our new mission.
I have never been more proud to be part of this team -- the best that Canada had to offer. I pray that my over 17,600 colleagues in Canada and the U.S. will all recover quickly.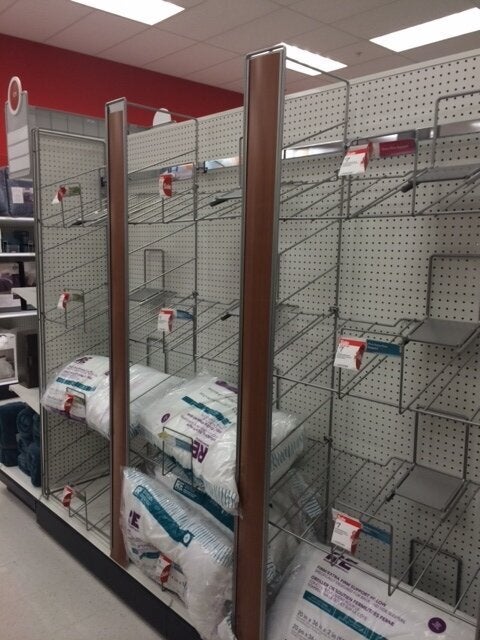 Target Canada's Empty Shelves Getting Worse