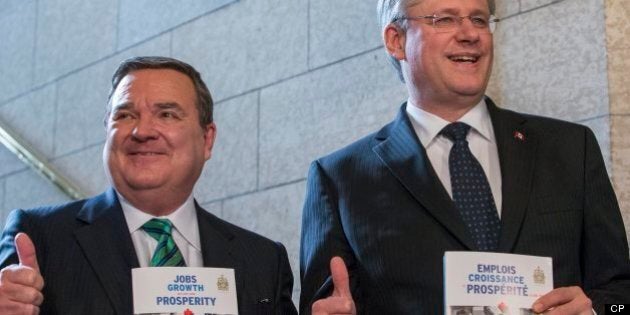 OTTAWA — Opposition parties are accusing the Conservative government of hypocrisy after it hid a massive price increase on thousands of everyday consumer goods in its federal budget last month.
The Liberals and the NDP are calling a tariff increase on everything from pens, deodorants and shampoo to bicycles and pre-cut vegetables – imported from 72 countries that include China and India – a tax.
"It's a question of hypocrisy on the part of the government, where they made a big show of saying there were no new taxes and then they are raising the taxes on a huge number of consumer goods that are going to hit Canadians right in the pocketbook," NDP finance critic Peggy Nash told The Huffington Post Canada this week.
The Retail Council of Canada and stores such as Canadian Tire are already lobbying the federal government to try to rescind some of the tariff hikes. The Finance Department estimates that changes to the General Preferential Tariff (GPT) will bring $333 million a year in new revenue when they come into effect on Jan. 1, 2015. Those costs will be incurred by the importers and most likely will be passed on to the consumers.
"The reality is that tariffs do have an impact on the price of goods," said Joscelyn Dosanjh, Canadian Tire's manager of corporate communications. Right now, she said, it is too early to speculate on what the impact will be and how store prices might be affected.
But Karen Proud, the Retail Council of Canada's vice-president of federal government relations, said the tariff increase amounts to about a four per cent price hike across the board. It is of special concern for businesses near the U.S. border who are already squeezed by lower prices in the neighbouring states, she said.
"If our members are not able to find other sources to supply their products from countries that may remain on the GPT (the preferred tariff rate list), then our concern is prices could very well go up," she told HuffPost Thursday.
Proud said the Council is working with the federal government to try to remove some of the products that are scheduled to be affected, such as canned tuna.
"This is a staple for many low-income families, it's a great source of protein and it is currently being sourced from countries that are going to be removed from the GPT, and we feel that in those cases and that in cases of grocery items, they could be exempted from some of those changes," Proud said.
Story continues below slideshow
What the Liberals are calling the Tories' "tax on everything" was the subject of the new leader Justin Trudeau's first question on Monday and the focus of much of Question Period the rest of this week.
"Baby cribs, tricycles, blankets, the Conservative tax on everything is affecting almost 1,300 household items that most Canadians need," Liberal MP Marc Garneau said Thursday during Question Period. "At a time of record debt level, high unemployment and stagnant wages, this is the worse possible thing that you can do – increase taxes. When is this government going to realize it? And when is this government going to cancel those tax increases on hard-working Canadians?"
Heritage Minister James Moore didn't defend the "tax" – which affects goods imported from countries such as China, India, Brazil, South Korea, Israel and Mexico, as well as smaller states such as Botswana, Cuba, Kazakhstan and Costa Rica. The Conservatives argue that the lower tariff rate these countries enjoyed is equivalent to development assistance money that they no longer need.
"What the Liberal Party seems to stand for is that somehow we should give special tax breaks to emerging economies like China. We think that is inappropriate," Prime Minister Stephen Harper responded Monday when Trudeau asked why he was squeezing middle-class Canadians on items such as tricycles, school supplies and a little red wagon for their kids.
Bike shop owner Jose Bray said he was flabbergasted by the tariff increase, which he estimates will mean a price hike of $30 on a $500 bike imported from China. "It's absolutely baffling to me," he said in an interview.
"If there were bicycles that were affordable being produced in this country, then they might have some sort of argument there, but there aren't," Bray said. Canadian-made bicycles are high-end and very expensive, he said.
Bray's bike store Joe Mamma is being hit not only by the changes to the General Preferential Tariff, but also by bikes' exclusion from a new tariff exemption the Conservatives introduced to make importing sporting goods and baby items cheaper.
"They've exempted golf clubs, hockey equipment, essentially every other sporting good with the exception of bicycles. It's baffling, isn't it?" Bray said. "It seems counterintuitive to me: We want less pollution but we don't want bicycles?"
Bray feels especially hard done by because Finance Minister Jim Flaherty was in his shop just last year while promoting his government's budget for helping small businesses.
"(Now) he's doing the opposite," Bray said, adding that he has invited Flaherty to come back and explain to him how these new tariffs changes are going to help him.
The opposition says that the tariff hike amounts to a tax grab by a government that is in a hurry to balance the books.
"They are funding this budget in the pocketbooks of ordinary consumers," said NDP MP Murray Rankin, who organized the press conference at Bray's shop.
Moffatt told HuffPost that he started digging through the tariff code after finding a small paragraph on upcoming tariff changes in The Wall Street Journal.
"I was really surprised by the changes I found. They were far more significant on thousands of goods... this was not a minor change at all," he said in an interview.
The tariff code describes the rate that is applied to all imports, such as an MP3 player or a bicycle when they come across the border. There are 19,000 classes of products listed, along with a note about what rate is applied, depending on where the product is made. There are different rates for countries with which Canada has signed free trade agreements – such as the United States. Countries that compete more fiercely with Canada, such as Japan and Germany, pay higher tariffs than countries such as Bangladesh and Vietnam.
In order to find what the cost would be for an iPod, Moffatt had to find the right product class, its the country of origin, then its current tariff rate and then look up its new rate.
"It's a very complex piece of regulation, it runs over 15,000 pages. So it's not the most obvious thing to be able to look up and see exactly what is going on," Moffatt said.
In fact, the Finance Department refused to give The Huffington Post Canada a list of the goods that would be affected by the tariff changes.
Moffatt's blog highlights some of the changes that are likely to result, including price hikes on everything from saris to coffins.
"It took me all weekend to read Mike Moffatt's analysis of it," Rankin said. "It's so complicated right that I believe they (the Conservatives) expected Canadians would be baffled and they wouldn't have taken the time. So good for Professor Moffatt for helping us demystify the admittedly very complicated tariff issue."