Tatiana Maslany may be laughing off questions about her Emmy snub at San Diego Comic-Con, but one fan query brought the "Orphan Black" star to tears.
A young fan, who goes by the name of Taylor, asked Maslany and her co-star Jordan Gavaris about their characters' portrayal of sexuality at the show's panel on Friday. Maslany famously plays 13 clones and counting on SPACE/BBC America's hit show, including Cosima, a bisexual scientist, and Tony, a post-transition transgender man. Gavaris acts as Felix, lead character Sarah's foster brother, whose most famous catchphrase is, "fetch me something gay."
"My question is for Tatiana and Jordan," said Taylor.
"First of all, I wanted to thank you. Before I started watching the show, I was really in the closet and I was totally ashamed of who I was. I hated myself. I started watching the show and seeing Cosima and seeing everything is not about her sexuality and that she is more than her sexuality. My parents weren't okay with me being gay. I started watching the show with my mom and it's helped us start to rebuild our relationship. ... She sees Cosima and she sees that it's okay and that people are more than their sexuality. I want to thank you for that. And my question is..."
It was at this point when the 28-year-old Regina-born star went to wipe her eyes, and the crowd erupted with applause.
After a brief break, Taylor asked her question.
"What's it like to have that affect on peoples' lives and know you're changing peoples' lives and making people more comfortable with who they are? You're saving lives. That's what you did for me. So, I just wanted to know what's that like?"
"That, I mean," replied Maslany, with tears in her eyes. "That's amazing. I mean, I have no words. That's incredible."
Lightening the mood, Gavaris responded with an answer about how a person's identity is always complex, and that a person is not defined by, "whether or not they like 'Game of Thrones,'" but that, "there are much more interesting things about you than your sexuality."
Later, Maslany took to Twitter to express her appreciation for her fans, and Taylor's question, writing:
But, this encounter was just the beginning of a jam-packed Comic-Con weekend for Maslany. The actress was also an honoured guest at Entertainment Weekly's "Women Who Kick Ass" panel on Saturday, which she attended after chatting up former "Dr. Who" star Matt Smith, at a party.
Maslany is currently filming "Woman In Gold" opposite Helen Mirren, Ryan Reynolds and Daniel Bruhl.
Watch the touching moment below: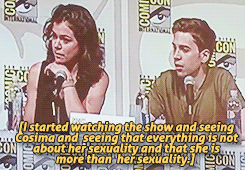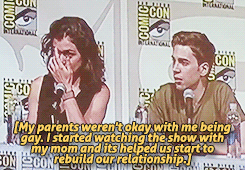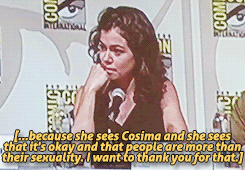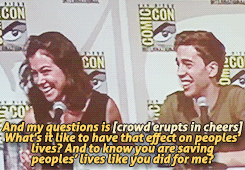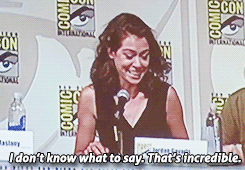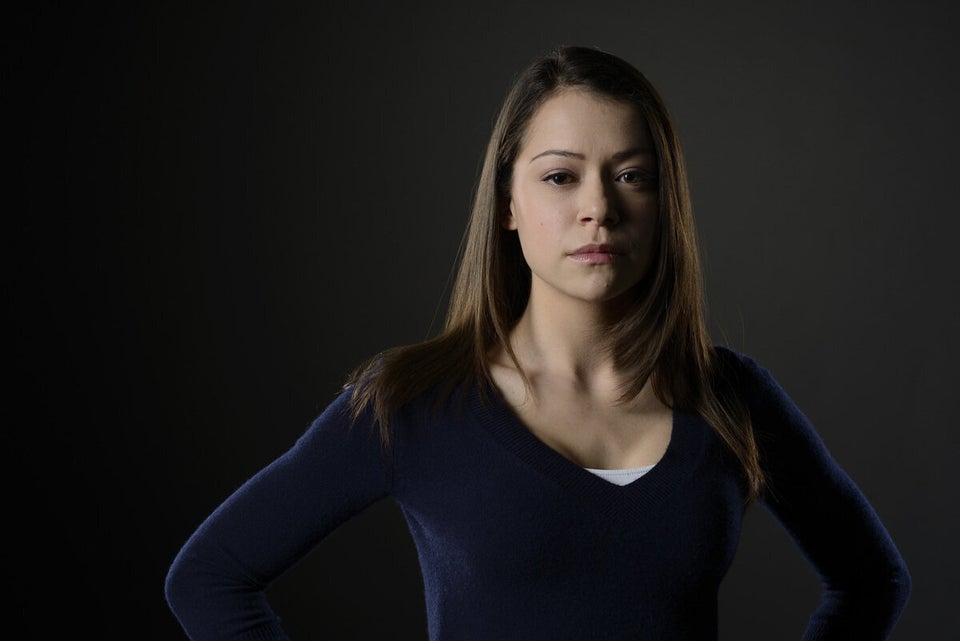 "Orphan Black"