The conflict between Toronto's cabbies and Uber is coming to a head, with some taxi drivers threatening to bring the city to a standstill amid the Pan Am Games if the city doesn't take action against the ride service.
"The taxi industry is on its last legs and if UberX continues the taxi industry will be destroyed," said Sam Moini, a spokesperson for the Toronto Taxi Alliance, as quoted at the Toronto Sun. He described Uber as a "rogue agency that does whatever it wants."
At Toronto City Hall Thursday, some taxi officials threatened to "shut down" the city if Mayor John Tory didn't crack down on Uber's UberX service, the Globe and Mail reported.
"It's not us that want to shut down the city. It's the mayor who is pushing us," the Globe quoted Moini as saying. "It's the police chief who is pushing this cab industry to take job action."
Moini said some cab drivers have reported income drops of 50 per cent. "We can't compete with somebody that doesn't have the same rules as us."
But the taxi industry argues UberX is an illegal taxi service, and Toronto's municipal government agrees. It has taken Uber to court, seeking a permanent injunction against the service.
Uber argues it's not a taxi service, but a web app that connects drivers with riders -- part of the new "sharing economy."
And despite the city's legal battle with Uber, Mayor John Tory seems to agree. He said last fall that the ride service "is here to stay" and argued a way should be found to bring Uber within city regulations.
But in many cities around the world, the conflict between Uber and taxi drivers is escalating.
Closer to home, Montreal has seen at least 40 Uber cars seized this year as authorities crack down on the service. A class-action lawsuit on behalf of cabbies was launched in the city last winter.
In Toronto, police ran an undercover sting on Uber drivers in March, charging 11 Uber drivers in a three-day period. A court dropped one of the two charges laid against each of the drivers, saying there is no prospect of conviction on the charge of operating a commercial vehicle without proper insurance. The drivers still face a charge of operating a commercial vehicle without a licence.
The legal battle between the city and Uber could prove to be protracted. The presiding judge has questioned whether his court is the right venue to settle the matter, suggesting new laws need to be written. And he has predicted that, whatever he rules, the decision is likely to be appealed.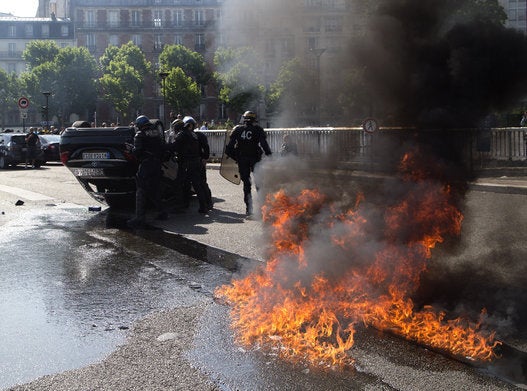 Paris Uber Protest, 2015
Popular in the Community