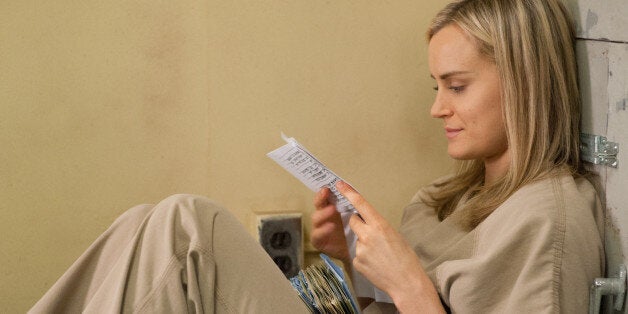 Things didn't start off very well for Piper Chapman (Taylor Schilling) at the beginning of "Orange Is The New Black" Season 2. Shuttled off to a maximum security prison, Piper faced the real deal; the Chicago City Jail had heightened violence and aggression, and was certainly no Litchfield. It was a harrowing premiere, to be sure, but Schilling nailed the performance.
Schilling has grown indescribably in the role -- in Season 1, she won our hearts, and now, in Season 2, she's most certainly earned the accolades she's getting across the board. Perhaps one of the greatest things about her depiction of Piper is you can't ever be sure how you feel about her: some love her, some despise her, and yet she acts as the centerpiece of the series, ducking in and out of various storylines as they evolve around her.
HuffPost Canada TV caught up with Schilling on a recent press junket in Toronto, where we talked about Piper's evolution, drunken fan encounters on the street, and that Episode 1 plane monologue.
HuffPost Canada TV: This has all gotten so major. Piper is such an amazing character. She's so...
Taylor Schilling: I love it!
... polarizing. One minute I hate her, the next I love her. Do you ever feel that way about her?
Our Piper is a completely fictionalized Piper. In the first season, we dealt with the book, but Piper Chapman is a character now. I don't want to expunge Piper Kerman from the process, obviously. But I have to say, it is so fun to play a character that's so complex, who has so many opposing colours. It's hard for me to play someone and have any animosity towards them at the same time. I have a great deal of compassion for her.
Even when she does the stupidest things ever? Like trusting Alex?
[Laughs] I'm not coming from that perspective! But I totally understand why you would think that.
That first episode was ridiculously intense.
I loved it. It was very gratifying for me as an actor. It was nice to be able to go there.
Thank you. That scene exemplifies how Piper has peeled back everything of what she once thought, and all the things she's hidden. It's like an onion, right? It's not something where it's like, "I'm going to decide to be honest! I'm going to take off this mask! I'm going to be myself!" It's painful, and it's a peeling process. I wonder how deep she can go. How honest with herself can she get? And what will it look like? It's a kind of "f**k 'em" mentality, that it doesn't matter what other people think now. I have to somehow survive and live my own truth, whatever that looks like, whether it's something completely reprehensible to society at large, or whether it's something that's acceptable. It doesn't matter anymore. There's something so liberating in playing that.
Throughout Season 2, we see it happening. Suddenly Piper isn't so meek.
She has to deal with the horrific struggle in Episode 1 -- the questions of "Who am I?" and "What have I done?" -- not to mention other hardships like Larry at home, and she can go all the way down into that depth of (almost) suicidal contemplation. Can you imagine? Really imagine sitting alone thinking you killed someone. The extremes are pretty cool. I'm enjoying the whole stance of not caring what anyone else thinks.
You're no longer the new girl anymore, either. Do you play Piper any differently in that sense?
I know, isn't it wild? Poor So So. Just stop talking. [Laughs] It's interesting because there's a groundedness, a confidence, a different perspective to Piper. She's discovering she belongs in the prison.
Like when you talk to Red, you're not talking to her like she's your superior. You're talking to her like an equal.
Yeah, exactly. It's like testing out that you can stand, but still holding on to the furniture. I'm a toddler. [Laughs] She's starting to spread her wings ... there's a testing situation and then there's: "I can stand. And watch me. Watch me stand." I wonder how far that's going to go.
Last time we spoke [at the Toronto Film Festival in 2013], you told me people only talked to you on the street when they were drunk at the bar near your house. Has that changed? I bet you're noticed way more now.
[Laughs] That was so true! There was a sweet moment in time when it was just the drunk people at Tortilla Flats. "PIPER!!" It's changed for sure. It's really wild -- people are so excited about the show, and I can definitely feel it when I'm out in the world. I had no idea it was such a big thing. It feels like everybody watches it! It's a TV show! I thought people only got recognizable after they'd done several films.
"Orange Is The New Black" Season 2 is now streaming on Netflix Canada and Netflix US.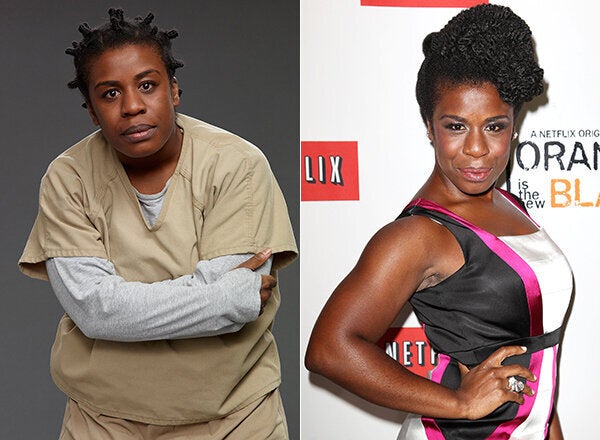 'Orange Is The New Black' Cast On & Off Set