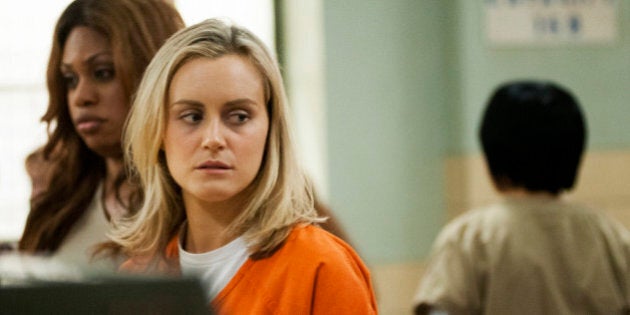 Taylor Schilling, the lead on Netflix's smash-hit "Orange Is The New Black," has had an amazing year. She's gone from the virtual unknown into the fame stratosphere as everyone's favourite convict, Piper Chapman. Love her or hate her character, you can't argue that Schilling is the centerpiece of the show.
Sometimes on "OITNB," Schilling can express everything with one raised eyebrow or one open-mouthed stare. Her naïveté and lack of experience behind bars bring us closer to her, and obviously is our conduit to understanding a first-timer's life in prison.
HuffPost TV spoke with Schilling at the Toronto Film Festival, and while she was definitely tight-lipped about Laura Prepon and anything that happens in Season 2, she still let us know how she's dealing with her sudden fame, and just how much fun the actors have on- and off-set.
HuffPost TV: Before you'd done any shooting for "OITNB," how did you feel when you first took on the role? Nervous? Excited?
Taylor Schilling: I was so excited. I read the first episode and I was totally, totally blown away. Across all mediums and platforms, it was the most dynamic female character that I've ever read, bar none. I was like, "How can I get in on this?!" The humour, the honesty ... to actually be able to portray a real woman is a pleasure, creatively. And culturally it's important to depict a real woman. Even if this wasn't on Netflix, I would have followed the role anywhere.
[Laughs] Maybe, perhaps. Discovery Channel? Bring it on! HGTV? I'm there.
Piper starts out so unsure, and then as the episodes progress, it's almost like she grows some balls ... er, I should say, a pair of boobs.
[Laughs] She grows some bigger boobs, absolutely. She expands into herself. She finds parts of herself that she didn't know existed.
Nothing. We didn't really chat beforehand, which I thought was pretty great. I didn't want to use any reference points that Piper had when she went to prison. After we were done Season 1, Piper and I went to Riker's [Island prison] together and visited some transitional housing facilities for women in the city. It was interesting to drop that in the mix after we were done.
"OITNB" is both a drama and a comedy -- there are heavy dramatic moments, but also spots of levity. Do you feel like you've honed your comedy skills in some way, since, in essence, you carry the show?
I don't know! I feel like what's fun is I've been given an opportunity to play with that stuff. It's fun to see what comes out, because I feel that that's a part of me. I don't even know if I'm smart enough to know if I've honed it -- I don't even know what that means [Laughs] -- but it's great to have that material there to play with. That's stuff I did in school, but up until "Orange" I was only doing girlfriend-y parts. In school I was playing old men and women, babies, Russian people, and all sorts of weird parts -- a lot of comedy -- and that's sort of like home to me.
How are you dealing with the sudden fame? Is it crazy?
There's this bar across the street from my house, and if I walk by it at 11 p.m. when people are a little tipsy, they're like, "PIPER!!" When people get drunk they get very uninhibited and excited. They want to talk about the show. It's really lovely, and fun. Nobody's crazy and it's not impeding my life. It's nice that people are enjoying the show, and it seems like it's hit a nerve.
Oh God, Twitter, the bane of my existence. We definitely hang out. We put on recitals and stuff for each other [Jokes]. No, but really, Danielle [Brooks, Taystee] and I really like to take pictures of ourselves, basically. [Laughs] We like to look at ourselves in mirrors and take pictures.
In all seriousness, all the women on this show are the real deal. This is no joke, they can throw down. Everybody has chops. We like to have fun, but we've all had training. We've all gotten to where we are on our own, and we can bring it!
When talking with Laura [Prepon], she said she was really comfortable with you doing the lesbian sex scenes. Were you comfortable as well?
I feel the same way. Those things, for me at least, don't feel like as big a deal for me as you'd imagine them to be. It's a different facet of their relationship. With certain people it can be weird [Laughs], but she was just really game. She's great.
You can't say anything about why she's only returning for one episode in Season 2, right? Does Piper and Alex's relationship end?
I don't know anything. I don't know anything, but I do know that there's no end to that [relationship].
Can you throw any Season 2 tidbits my way? Anything at all. Obviously Piper is alive, and Taryn Manning's character is alive, because you're both back.
I don't think there's anything I can tell you. Piper's alive, yes. You're going to have to watch and see. Here we go, if you really want something: Everybody dies. It starts with a big orgy, and then everyone kills themselves. [Laughs]
You can stream Season 1 of "Orange Is The New Black" at any time on Netflix.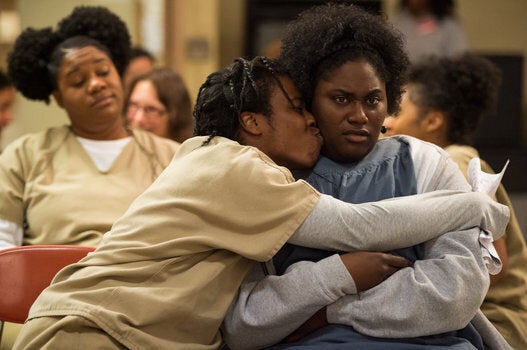 "Orange Is The New Black"