Taylor Swift is being cast as a hypocrite over a contract so "onerous" that Montreal photographers refused to snap her concert there on Tuesday night.
The blog summarized the contract as follows:
The photos could only be used once. Newspapers could not keep the photos for their archives or to use as file shots later on.
The photos could not be posted to social media.
Swift was allowed to use all photos for non-commercial purposes (including promotion) in perpetuity.
Swift or anyone else related to the tour had the right to damage or destroy equipment or data belonging to photographers if the terms of the agreement were not met.
The Gazette ran a review with an Instagram photo. Others used Getty file images.
The moves came after freelance photographer Jason Sheldon cast Swift as a hypocrite in a letter last month.
Swift had previously penned a letter to Apple saying she would withhold her album "1989" from its new Apple Music streaming service over a lack of payment to "writers, producers or artists" during a free, three-month trial period.
Sheldon told Swift that, while standing up for artists when it came to streaming music, "you seem happy to restrict [photographers] to being paid once, and never being able to earn from our work ever again, while granting you the rights to exploit our work for your benefit for all eternity."
He then asked Swift how she's any different from Apple: "How about making sure you're not guilty of the very same tactic before you have a pop at someone else?"
A Swift representative based in the U.K. told Business Insider the contract was "misrepresented" in Sheldon's letter.
The rep pointed out that photographers can make further use of photos of the 1989 World Tour "with management's approval."
"Another distinct misrepresentation is the claim that the copyright of the photographs will be with anyone other than the photographer," the rep said.
"This agreement does not transfer copyright away from the photographer. Every artist has the right to and should protect the use of their name and likeness."
But the contract has nevertheless left a bad taste in the mouths of some Montrealers.
"Above all, they also don't have to cede their photo rights in perpetuity to a girl who, at 25 years old, is already worth $200 million," she wrote.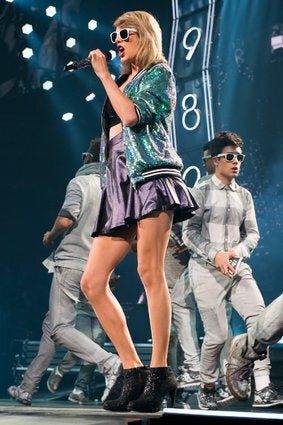 Taylor Swift au Centre Bell