Sure, the term "unrecognizable" is thrown around like confetti these days, but it's a good word to describe the 26-year-old's May issue cover, wouldn't you say? We mean, we had to do a double take and so did Vogue, who asked, "Who's That Girl?"
The global pop sensation dons a cropped platinum blond 'do complete with a fringe and a red lip (you now, that classic thing that you like), which makes us question if that really is the girl who fell off a treadmill in that recent Apple Music commercial. Her bright, ocean blue eyes shine as she stares seductively into the camera, sporting a sequin, spaghetti-strap Saint Laurent by Hedi Slimane dress and towering Vetements boots.
So chic, so glam, so unexpected!
Photographed by Mert Alas and Marcus Piggott, Swift is captured in an array of futuristic dresses and platform heels that proves she's come a long way from her country music days. In the editorial, chains, jewels and fringe drape over TayTay as she flaunts arched brows done by Aaron de Mey. The "1989" star, who has covered the American edition of Vogue twice before, told the fashion bible that "going through different phases" is one of her favourite things about fashion.
"At 26, Swift is world famous, wealthy, critically celebrated, a style influencer, and a cultural movement unto herself, recognizable everywhere she goes," Vogue writer Jason Gay notes of the Instagram baker, who will co-chair the Met Gala come May 2nd. "She also has two awesome cats."
Interestingly enough, Gay accompanied Swift to her best friend's wedding, where she served as the maid of honour.
Three things we should note about this interview:
1) To unwind, Taylor's drink of choice is an Old Fashioned
"Honestly, I never relax, and I'm excited about being able to relax for the first time in ten years," she tells Vogue. Swift then takes a sip of her Old Fashioned at best friend Brittany Maack's wedding reception. "I feel relaxed right now."
2) Taylor says her relationship with Calvin Harris is "magical"
"I'm just taking things as they come," Swift tells Jason Gay. "I'm in a magical relationship right now. And of course I want it to be ours, and low-key... this is the one thing that's been mine about my personal life."
3) Taylor's mom wanted her to be a horseback rider
"That was kind of my mom's thing," Taylor says. "She really wanted me to be a horseback rider, and I did it competitively until I worked up the nerve at age twelve to tell her I didn't really love it like she loved it."
You can read the entire Vogue interview and see the rest of the spreadhere.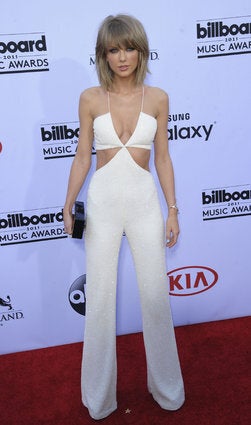 Taylor Swift's Best Fashion Moments