No matter what holiday you celebrate, this time of year often incites more "gimme, gimme" than gratitude and giving. We live in a consumers' world where marketing campaigns drive up the value of "stuff" over the joys of generosity and appreciation.
Thankfully, many parents are trying to swing away from long wish lists for expensive gifts with the often-correct assumption they will receive every item.
Kids are still getting gifts, but trying to teach their families to be more thankful and philanthropic are increasingly becoming part of holiday traditions.
The "giving" flipside of receiving is finally becoming fashionable.
Nicole Nel, a Toronto single mom of two, teaches her children generosity of spirit and empathy for others year-round.
"Modelling giving behaviours throughout the year, whether financially, with our time, or in-kind, is critical to me," says Nel. "Incorporating these traits reinforces them as family values. We donate to Value Village, give 25 per cent of monthly allowances to charity and do volunteer work regularly. My kids give often, but are also the recipients of gifts, too."
Nel hits a key point -- generosity and gratitude shouldn't be limited to only holiday endeavors. Activities as simple as writing appreciation notes to special sports coaches or teachers, donating to shelters or volunteering at a senior's residence can be done anytime.
Modelling appreciation at home goes further than you think; consistently using "please," "thank you" and "you're welcome" between family members will eventually ensure the words and mentality are elements of a child outside the home, too.
Regularly buying a homeless person a hot chocolate and sandwich demonstrates to your kids that helping others is just a regular thing in your family.
Oshawa, Ont., mom Bonnie Vella confirms that no act of kindness goes unnoticed. After years of regularly paying for the coffee order of the driver behind her in the drive-thru, she recently witnessed her 15-year-old son, Cooper, do exactly the same thing with money from his new job.
Kids really do watch, listen and learn, even when parents think they don't.
Charities are now making it easier than ever to both give and receive, with the option of gifts that give portions of their proceeds to help others, or gift cards for the recipient to use as payment for a donation of sustainable help items.
Kids love choosing from "presents" like chickens, goats, clean water kits or fruit trees, and the process initiates conversation about the needs of others and how the necessities of life most North American kids take for granted are often unavailable in other parts of our world.
Parents are also trying harder in recent years to control excessiveness by defining what can be included on their kids' wish lists. The little poem: "Something you want, something you need, something you wear and something you read" is becoming a popular parameter and it's encouraging families to consider the difference between "need" versus "want" while also putting value on expected items like books and clothes.
Other families are opting to trade stacks of wrapped presents for experiences such as family travel or visits to popular attractions. Experiential gifts have the added bonus of time together, creating memories kids retain and cherish long after the batteries wear out on toys or screens crack on electronics.
Jennifer Powell and her husband took experiential gifts to a new level. They recently sold their Toronto home and set out with their two grade-school children on a six-month trip around the globe. Powell shares, "We want to show them how to lose their superficial wants and teach them to connect with people. They need to see how fortunate they are. Their present this year is being present."
For those just starting out, acts-of-kindness calendars, which assign a charitable action for completion each day, have become popular in lieu of traditional advent gift calendars.
Tasks such as giving compliments, taping change to a vending machine, making cookies for local first responders or sitting with someone who is alone at lunch all help families refocus on those around them.
Psychotherapist Kelly Bos from Orillia, Ont., confirms, "Instilling the values of gratitude and giving require a commitment throughout the year, not just during holiday seasons. Each family may have their own unique ideas on how to be appreciative and generous, and that's OK. There is no wrong way to be thankful and compassionate."
Bos also calms the concerns of parents who don't want to surrender the fun of seeing their kids' faces light up when they open their presents.
"There are no negative consequences to balancing lessons in appreciation and generosity with gift-giving inside the family's budget. The two aren't mutually exclusive; there are many philanthropic and grateful adults who grew up receiving presents also."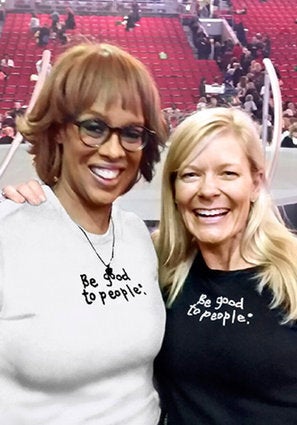 13 Messages From The Universe That Inspire Kindness