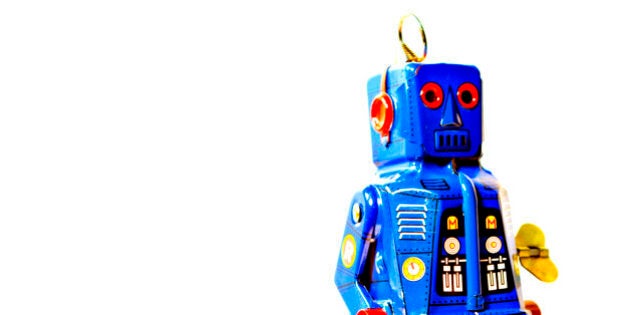 Getting up at 6 a.m. to do extra work is admirable, especially when the extra work in question involves programming robots, not to mention designing a high-tech dog feeder to fight pet obesity. And the deserved admiration is amplified even more when you are talking about a group of Canadian school kids, not hungry employees at some Silicon Valley start-up or Google labs.
Believe it or not, the First Lego League robotics team at Toronto's Glen Ames Senior Public School is often hard at work long before other students are even out of bed in the morning. At the end of the day, when their peers leave school to play outside, members of the team known as the Pawsitive Proportionists go back, for another extra hour or two, to working on the PetPortion, an automated feeding and health monitoring station for dogs.
According to a 2011 Pet Wellness Report, Canadian veterinarians identified weight management as the number one thing that pet owners can do to increase dog life expectancy. Unfortunately, many dog owners fail to take the issue seriously. In the United States alone, for example, 41.9 million dogs, or more than half the canine population, is reportedly overweight or obese. And even when dog owners use existing feeder systems on the market, human error and failures to adjust portion programming remain issues.
According to Glen Ames' robotic team coach Luke Martin, the PetPortion is uniquely designed to solve these problems. "The device is currently manufactured and programmed to give a mini Dachshund the proper amount of food based on its current weight and activity level," Martin explained to me in an email. "What sets the PetPortion apart from auto feeders already on the market is that the device actually weighs pets on each feeding, delivering exactly the right amount of food."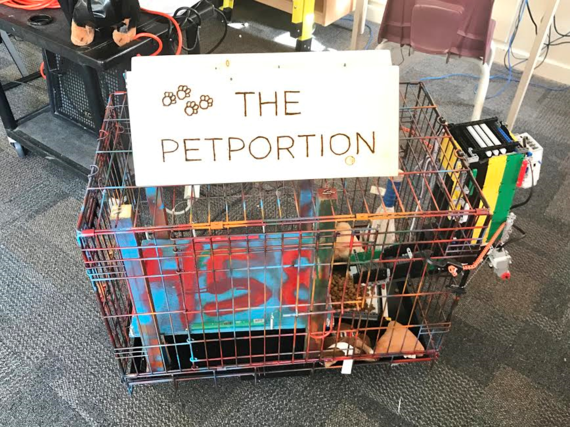 Despite experiencing frustrating technical difficulties at a recent regional FLL tournament, the Glen Ames robotics team came in second overall and qualified for provincials in early 2017 because they won the innovative solution award for best project. First Lego League teams are judged on building and programming robots to complete timed missions as well as on a social project solution designed to make the world a better place. At a Toronto tournament on Dec. 17, 27 teams competed, but the Pawsitive Proportionists were the only ones with a working prototype of their social project solution.
"This team has the best project I've seen and unlimited potential," says Martin, noting that while other kids were winding down for the holidays, his robotics team was back at it, working extra hours before and after school, preparing to compete against the best teams from across Ontario on Jan. 14. "The team has big plans for version 2.0 of the PetPortion," he says, including "changing the scale from springs to magnets and doing a complete re-design of the exterior, making it lighter weight and more visually appealing."
Martin, of course, is lucky to be working with children who have not yet developed entrenched bad habits or the kind of super-sized egos that develop following years of success. But while mentoring a group of school kids can be less challenging that coaching teams of my-way-or-the-highway executives, professional workplace coaches can still learn a thing or two from "Mister Robotics" at Glen Ames.
The dedication of Martin's students is great. But that isn't what led the Pawsitive Proportionists to win their innovation solutions award. Martin's skills as a mentor also aren't responsible for the win because it takes more than coaching skills to effectively mentor a team. The trick is forgetting about trying to develop individuals and instead focus on creating a group relationship that empowers the team to develop a positive dynamic on its own.
Martin's group of kids have fun and learn robotics, but his actual goal is to teach them the importance of positive teamwork and empower students to create a productive environment by themselves. That is what led to his team's success. It is also what many professional coaches fail to understand.
Coaching is one of the fastest-growing professions in the world. In fact, as noted in "Coaching By Numbers," an Ivey Business Journalfeature by Bart Tkaczyk, chief executive officer of Energizers, a strategic advisory firm, there are currently over 50,000 professional coaches worldwide, producing around US$2.36 billion in annual revenue. But not all of them understand that the job isn't about developing people, at least not directly. "Coaches," Tkaczyk says, "energize and equip talented and resourceful individuals to develop themselves and maximize their own potential."
This skill set required to be a good team coach is substantial. But having mad coaching skills won't amount to a hill of beans if you attempt to energize and inspire a collective group in the wrong way. In other words, coaching is as much about mindsets as skill sets.
And that's an issue, Tkaczyk says, because while best practices in individual coaching are relatively well recognized, the same can't be said about coaching teams.
Simply put, pushing people beyond comfort zones can have numerous toxic side effects, such as stress, resistance to change, distrust, feigning ignorance, perceived breach of mutual expectations, fear of failure, procrastination, pursuit of personal agendas, arrogance, change fatigue, negative relational energy and sabotaging. And these toxins seriously interfere with team dynamics and cooperation. When left unaddressed, they deplete enthusiasm and energy, and corrode a team.
As a result, team coaches can't be robotic. They must build relationships that serve as an antitoxin to negativity and help energize and lead positive change in a methodological and creative way. "Team coaching is not a simple matter of coaching a collection of individuals," Tkaczyk says, "but a sophisticated process of coaching a system of interdependent individuals that must build synergistically to achieve a shared outcome."
ABOUT THE AUTHOR: Thomas Watson is Editor of Ivey Business Journal published by the Ivey Business School at Western University in London, Ont.
Follow HuffPost Canada Blogs on Facebook