A giant sculpture that will light up with the help of people's cellphones is being installed over downtown Vancouver to coincide with the upcoming TED Conference.
Janet Echelman's 745-foot wide installation — made of soft netting — will be suspended between the roof of the 24-storey Fairmont Waterfront Hotel and the Vancouver Convention Centre where TED2014 is being held. Work began on Tuesday.
Story continues after slideshow: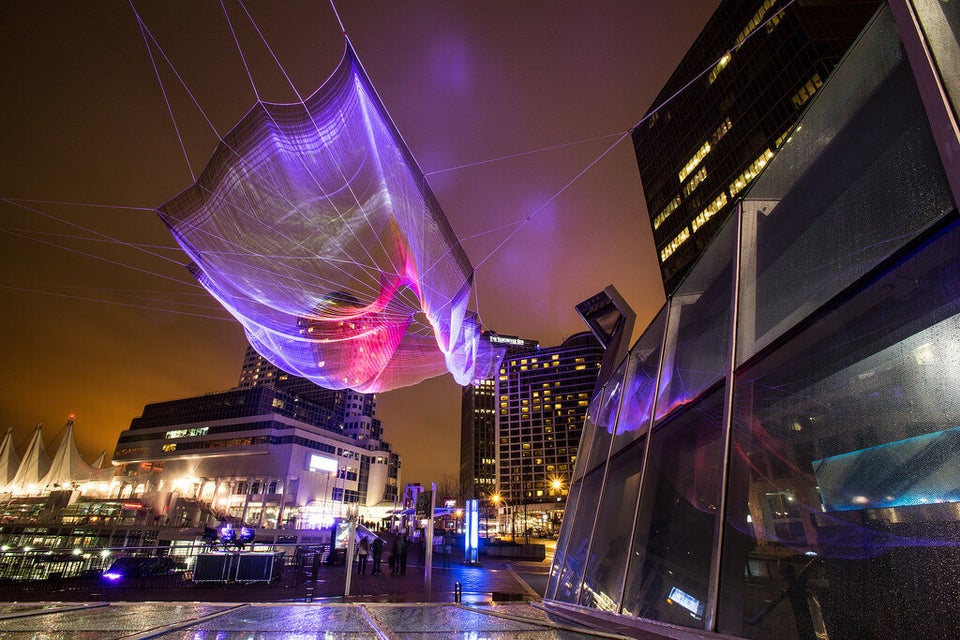 Janet Echelman's Vancouver Sculpture
Echelman, who is from Boston, aims to create sculptures that are durable and permanent but also react to the wind.
During the day, the sculpture will flow with the wind, "blending in with clouds and sky," Echelman told the TED blog. When the sun sets, it will "come alive with illumination."
People will be able to choreograph the lighting of the sculpture overhead by waving their mobile device, thanks to a collaboration with Aaron Koblin, a creative director at Google Creative Lab.
"We all carry devices in our pockets that have an enormous power to connect with other people around the world," said Koblin. "But rarely do we get a chance to use it to connect and create with people standing next to us."
Echelman created a similar piece for the Richmond Olympic Oval but this one, titled Skies Painted With Unnumbered Sparks, is 10 times bigger. She told the TED blog the current sculpture is specifically designed for the Vancouver waterfront: "It's like a custom-knitted sweater for the city."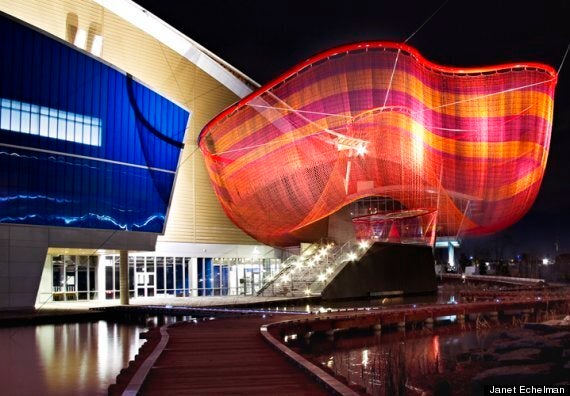 2009 installation at the Richmond Olympic Oval
The Burrard Arts Foundation, which supports public art in Vancouver, raised more than $25,000 through Kickstarter to support installation costs. Depending on their pledge, supporters received T-shirts, limited edition signed prints or etched carvings.
Autodesk, a leader in 3D design and engineering software, sponsored Echelman's sculpture, and also helped her model and test her plans.
The installation is scheduled to be officially unveiled Saturday, March 17 at 7 p.m. It will be on display until March 23, then will travel to different cities.
The 1,200 seats for TED Vancouver, which cost $7,500 US, are sold out but the talks will be streamed live for accredited schools, community centres or non-profit groups.
Like this article? Follow our Facebook page

Or follow us on Twitter