Tessa Hill and Lia Valente, two teens who convinced Ontario premier Kathleen Wynn to put consent into the updated sex-ed curriculum last year, have been named the youngest-ever winners of YWCA Toronto's Women of Distinction award.
Now 15 and 14 respectively, Hill and Valente set out to make a documentary about rape culture for a grade 8 school project when they were just 13. Part of the assignment included a call to action, so they started a campaign called "We Give Consent" and put up a petition on Change.org.
It went viral, garnering 40,000 signatures. This got Premier Wynn to invite them to a meeting and their request for the inclusion of consent was successful.
"Tessa and Lia, the youngest Young Women of Distinction ever recognized by YWCA Toronto, and their successful campaign on sexual consent shows the power of voice and the change it can bring when women work for women," YWCA Toronto CEO Heather McGregor told HuffPost Canada.
When The Huffington Post Canada premiered their documentary, "Allegedly," last June, the young women wrote "because of this project, the two of us were dropped right into this amazing community of feminists and activists in our city. We both learned so much by doing presentations and panels about the issue of rape culture, and by just having discussions about feminism."
Other Women of Distinction award winners included Roberta L. Jamieson, who has been fighting for indigenous women's rights for five decades, TD Bank's Colleen Johnston, for her efforts promoting women's corporate leadership, Reeta Roy, whose MasterCard Foundation has been working to improve conditions for female farmers in African.
Though the recipients were announced today to mark International Women's Day, the 2016 YWCA Women of Distinction Awards Event will be held May 26th.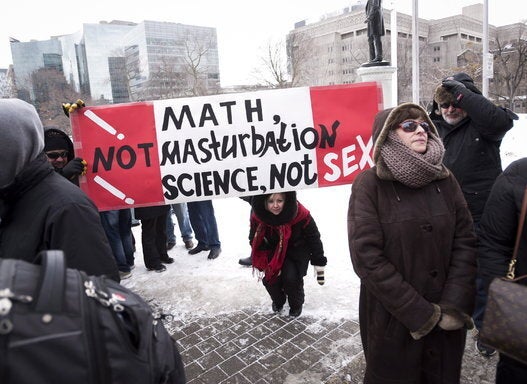 Parents Protest Ontario's New Sex-Ed Curriculum