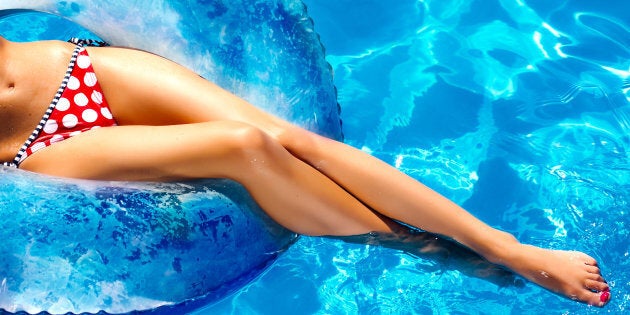 Hot weather is finally here, which means it's time to prepare some essentials for summer.
Like your car. Or your wardrobe. Or, according to Teen Vogue, your vagina.
So, are we supposed to swap out its winter tires, buy it some strappy sandals, or what?
Teen Vogue, which is marketed to young readers, has been widely criticized for its article about "how to keep your vagina healthy all summer." The article, which uses phrases like "vaginal panic attack," provides what some are calling "questionable" tips from OB-GYNs for optimal vaginal health in any summer scenario, such as wearing wet bathing suits, camping, sunburn, sand, sex, workouts, and travel.
"Keep your vag healthy, even at the beach," the article promised.
"While you might think there's little difference in the TLC she gets during the other seasons, OB-GYNs note that in the summer it's especially important to pay attention to any symptoms, changes, and funkiness you notice south of the border. The unique elements of summer — water, sunshine, sand, sweat — can be tricky to navigate," the article noted.
Damn, I haven't taken down my vagina's Christmas lights yet...

— YRAmerSoFrknDumb (@YRAmersSoDumb) May 31, 2018
Some of the passages in the Teen Vogue article that Gunter took particular issue with were that "the heat of the summer can make your vagina drier" (no, it can't, Gunter says), that "sitting in a wet bathing suit can upset the pH balance of the vagina" (again, no), and to "consider bringing vaginal hygiene wipes in your backpack" while hiking or camping.
"(Hyperventilates). DO NOT CLEAN THE INSIDE OF YOUR VAGINA WITH A WIPE. THIS IS QUITE LITERALLY ONE OF THE WORST THINGS YOU CAN DO. TEEN VOGUE, YOU ARE NOT HELPING ANYONE HERE. THIS ALSO PROMOTES THE IDEA THAT A VAGINA NEEDS CLEANING. IT DOES NOT. YES, I AM YELLING," Gunter wrote.