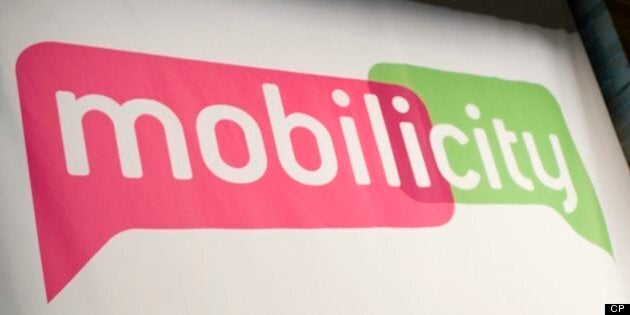 The federal government staved off attempts from Canada's big three wireless players to purchase financially-strapped Mobilicity for its lucrative wireless spectrum in a decision Tuesday, a move that fellow new entrant Wind Mobile sees as its cue to move in for a takeover or other opportunity that could bolster the chances of survival of smaller players.
Wind CEO Anthony Lacavera cheered Industry Minister Christian Paradis' announcement that Ottawa would not approve the transfer of Mobilicity's bandwidth to Telus, which had offered to buy the struggling wireless company for $380 million, a decision he says provides clarity in how spectrum transfers are going to be governed.
"It creates a situation where there's a renewed opportunity to have a discussion with Mobilicity stakeholders," he said in an interview with Huffington Post Canada.
"Given there was quite a big offer for the company from Telus and that had Wind Mobile been able to raise sufficient financing to pursue Mobilicity we would have always just had the incumbents bidding more to make sure we don't get it."
The federal government in 2008 set aside wireless spectrum for small wireless players, in an effort to spur competition to Canada's big three wireless companies. And Paradis highlighted in a statement Tuesday that the government has been clear that spectrum was not intended to be transferred to incumbents.
"We will not waive this condition of licence and will not approve this, or any other, transfer of set-aside spectrum to an incumbent ahead of the five-year limit," Paradis said in a statement.
The industry minister told reporters Tuesday the federal government wants at least four wireless competitors in every region of the country and will do what's necessary to prevent undue concentration of ownership in the market.
Mobilicity, along with other smaller wireless players like Wind Mobile and Public Mobile, has been struggling to gain market share against behemoths Bell, Telus and Rogers ever since the upstart companies entered the market nearly five years ago, offering Canadians looser contracts and discounted plans.
Story continues below slideshow
Despite the government's best efforts to boost competition, market forces seem to be working against the new challengers, whose limited cash flow and the expensive infrastructure required to succeed have prevented them from expanding.
Lacavera has repeatedly suggested a merger of the smaller three players would help them to survive. But with both Wind, the biggest of the three new entrants, and Public Mobile also reportedly on the auction block, it had appeared to be too late for such a move to create a viable fourth player.
Wind had made offers for Mobilicity in the past but no progress was made. Lacavera believes that with the possibility of the big three acquiring the struggling company's wireless spectrum -- the main reason potential buyers are interested -- now ruled out, Mobilicity might be more open to working with Wind.
"Hopefully the clarity offered in the policy today will help act as a catalyst to productive discussions," he said.
Mobilicity was not immediately available for contact on whether it would be interested in a potential Wind takeover.
"New entrants need to find a way to co-operate, co-ordinate share partner, whatever form or structure it takes is not really the important as much as we're going up against three giants that are an entrenched oligopoly and if we don't co-operate, none of us have any chance," Lacavera said.
"The government must put an end to nine brands operated by three companies running two networks it creates an artifice of competition that in no way benefits Canadian consumers or businesses."
Any potential buyer for small players – whether it be a domestic or foreign company – will have to face the glaring question of whether there is enough room in the Canadian market for four major wireless companies, which has not been possible even in the much larger U.S. market.
The government also delayed an auction of wireless spectrum that had been set to take place in November, to January, 2014 to give new entrants more time to prepare.
Paradis announced a broadening of the restrictions on buying wireless spectrum. From now on, the government will reject any transfers of spectrum between wireless companies if that transfer results "in undue spectrum concentration."
Paradis suggested he wouldn't stand for any incumbent to purchase wireless spectrum from smaller players, a move that would be counterproductive to the government's stated goal of opening up competition in Canada's wireless industry.
"I want to take this as a good moment to clearly send the signal to the market,'' Paradis told reporters Tuesday. "This was not the intent of the government, to have the set-aside spectrum to be sold to the incumbents.''
He said Ottawa's policy, from the outset, was to encourage competition in the wireless market.
"So, I want to be very, very clear that we will use any and all of the tools available to it to achieve its competition objectives.''
The rejection will likely help assuage the fears of many consumers' advocates, who had seen the Telus-Mobilicity takeover and the upcoming spectrum auction as signs efforts to bring greater competition to the wireless market were failing.
"This is what we've been calling for, for months now," said Steve Anderson of OpenMedia.ca.
"The Big Three cell phone giants should not be permitted to obtain wireless infrastructure set aside for new independent and more affordable mobile services for Canadians -- full stop. This activity breaks the government's rules, it's bad for our economy and it's bad for our pocketbooks."
But Anderson added that Paradis needs to be clearer about what that will mean for Rogers plan to purchase spectrum from smaller players.
"We need Paradis to clearly state that such a scheme would fit his definition of "undue concentration," he said.
Since the 2008 spectrum auction designed to increase competition, most of the independent new carriers -- operating the Wind, Mobilicity and Public Mobile networks -- have struggled to make money and are currently up for sale.
The minister's announcement will be a setback for Telus which had asked permission to acquire unused spectrum from Mobilicity. Paradis said he has rejected that request.
Telus spokesman Shawn Hall said Tuesday's decision makes Mobilicity's future uncertain, but would not comment on whether Telus would still be interested in acquiring the company without its lucrative wireless spectrum.
"Today's decision is unfortunate for Mobilicity's 250,000 customers, 150 employees and debtholders, who now face considerable uncertainty due to the pressing financial challenges facing the company," he said.
Mobilicity was part of a wave of small wireless companies launched after the last wireless spectrum auction in Canada.The company had been losing money and launched a restructuring plan in April.
The wireless industry has been calling on Ottawa to clarify the rules ahead of the next auction of wireless spectrum, which won't take place until the new year, giving ample time for more shakeout in the industry.
— With files from The Canadian Press