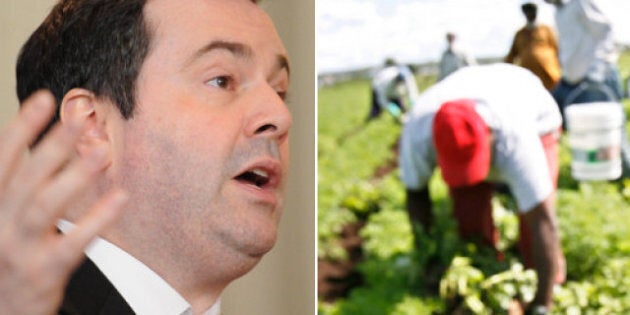 Immigration Minister Jason Kenney says Canadian employers who violate the rights of migrant labourers should be permanently blacklisted from hiring them.
Under regulations introduced last year, employers can be banned from participating in the foreign temporary worker program for up to two years if they don't provide the wages, working conditions or type of employment promised in the job offer.
"Two years is not long enough," he said. "If there's been a serious violation of workers' rights on the part of the employer, I think you should put the employer on a permanent blacklist. I'm going to look at doing that."
It's a move that would be welcomed by Jenna Hennebry, associate director of the International Migration Research Centre at Wilfrid Laurier University, who says that the current sanctions are too lenient.
"Right now, as far as I can tell, the penalties at maximum are that you might not be able to have workers for up to two years, but there's no reason why the following day you couldn't have workers after that," she said.
But while Hennebry says she was pleasantly surprised to hear about the Minister's pledge, she questions whether the government is making use of the powers it currently has.
When the new regulations affecting Canada's foreign temporary work program were put into place, the government set up a website to list employers that had been deemed "ineligible." But as Hennebry points out, that list is empty.
"It's unclear to what extent that even what's present right now is even being applied given that there's no employers on the ineligible list," she said.
Inquiries to the minister's office about the number of employers that been deemed ineligible have so far gone unanswered.
But during his meeting with HuffPost, Kenney maintained that non-compliant employers make up a "very small number," and that the majority of low-skilled foreign temporary workers are satisfied.
"I've gone to a lot of work sites and visited, looked at where people lived, talked to them beyond the presence of their employers. Every single temporary foreign worker I've met is thrilled to have the opportunity to come to work in Canada," he said. "For a lot of these people it's probably the safest work environment in the world at amazing pay rates where they can send remittances home, to take care of their families, build new homes and start new businesses.
"This is not Dickensian, 19th-century kind of exploitation," he added.
But Hennebry says that view is "a little out of touch" with what she has observed.
Her survey of 600 migrant farm workers in Ontario revealed that many were fearful of telling their employers that they were sick or injured. Others feared reporting unsafe work conditions because they worried about being fired -- which could lead to losing their immigration status and participation in the temporary work program.
The same, she says, is true of other low-skilled foreign temporary workers.
"They often have really low levels of literacy and English or French language knowledge, which impedes their ability to stand up for their rights," she said.
As workers' rights advocate Deena Ladd sees it, that fear of reprisal is a significant barrier in a system that relies heavily on migrant workers coming forward to lodge a complaint.
"It's well and good that if someone is found to be non-compliant that they are banned," said Ladd, who is a coordinator at the Toronto-based Workers' Action Centre. "But the real issue is the system of enforcement, the ways in which migrant workers are brought in with very little access to protections, and [very little] ability to come forward."
Concern about the annual intake of foreign temporary workers has increased in recent years alongside their numbers, which have swelled to more than 182,000 in 2010, the second highest number of record after 2008.
But Kenney says that low-skilled, vulnerable workers number about 50,000 of the total and they are not the primary source of the increase.
Rather, he says, the biggest areas of growth have been among foreign students and those who arrive in Canada through the Youth Mobility or Working Holiday programs.
"If any of you have been to Whistler or the ski hills in Alberta, and [you've heard] all those Aussie and Kiwi accents, those are our exploited foreign temporary workers that we keep hearing about," he said.
PHOTOS, VIDEO: JASON KENNEY VISITS HUFFPOST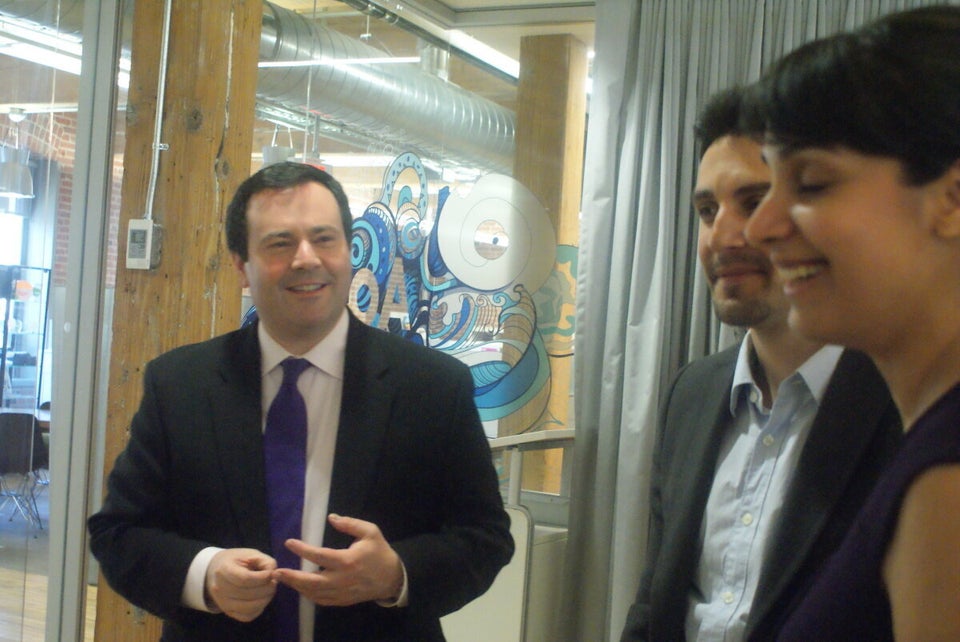 Jason Kenney At HuffPost
Popular in the Community