As the federal Liberals prepare for what's expected to be an expansion of Canada's foreign worker programs, a new study says businesses have been increasingly hiring foreign nationals without proving no Canadians could be found to do the job.
The report also says the new free trade deals negotiated by Canada will further increase the number of foreign nationals hired without seeking a Canadian, if the agreements are ratified.
The Conference Board of Canada study released this week found that, between 2010 and 2014, there was a small decline in the number of people coming into Canada under parts of the foreign worker program that require proving the employer couldn't find a Canadian.
But from 2004 to 2014, there was a tripling in the number of workers who get permits that don't require seeking a Canadian for the job. More than 194,000 such permits were signed in 2014, roughly double the number of permits that require seeking a Canadian.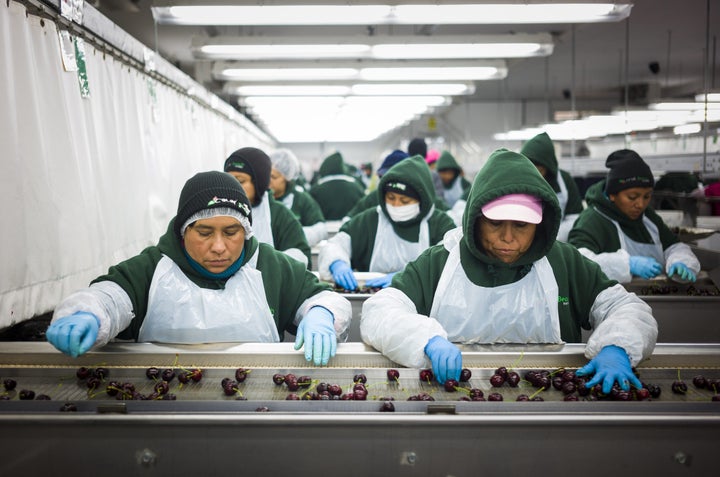 Overall, 360,000 temporary work permits were signed in 2014, an increase of 64 per cent from a decade earlier, the Conference Board report said.
A recent Nanos poll found three-quarters of Canadians oppose or "somewhat oppose" allowing foreign workers to be employed while Canadians qualified for the same jobs are looking for work.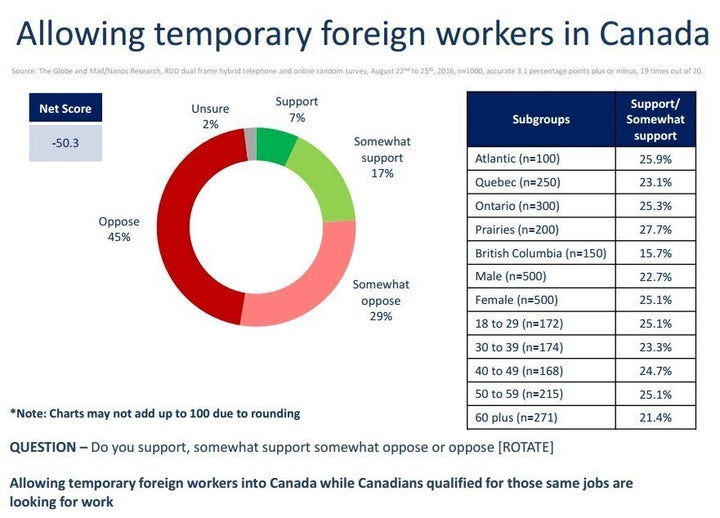 The previous Conservative government reformed the TFW program in 2014, following an outcry over reports that Royal Bank of Canada required staffers who would soon be laid off to train their foreign-worker replacements.
The Tories split the previous arrangement into into two parts:
A new, more restrictive TFW program that requires proof that an employer couldn't find a Canadian (known as a "Labour Market Impact Assessment," or LMIA);
And various International Mobility Programs (IMPs), which don't have that requirement.
The new TFW program is aimed primarily at low-skilled workers, while the IMPs are targeted at higher-skilled workers, in general.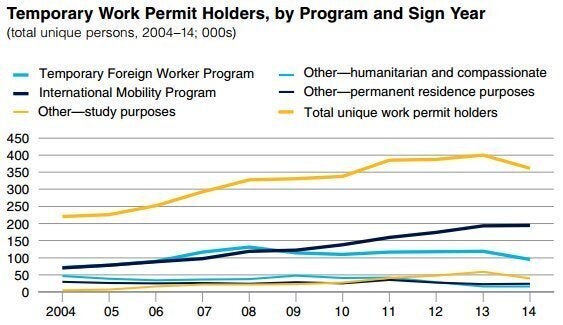 The Conference Board study authors suspect that employers are using these IMPs to avoid having to prove they couldn't find a Canadian for the job — but they admit that the labour market data isn't there to prove it.
"There are substantially more opportunities for interested foreign nationals to obtain a temporary work permit in Canada under the IMP than the TFWP," the authors wrote.
"Therefore, it is possible that some workers and employers could be using the IMP to circumvent stricter TFWP requirements — though definitive evidence is lacking."
Dearth of data on foreign workers in Canada
The study criticized what it saw as a dearth of data on foreign workers in Canada, which "hinders policy-makers' ability to make informed decisions that are critical to the country's economic performance."
They called the IMPs "especially problematic" because those work permits are not subject to the same reporting requirements as those under the TFW program.
"Consequently, it is difficult to know the types of jobs open work permit holders are taking in Canada and what effect they may be having on the domestic labour market."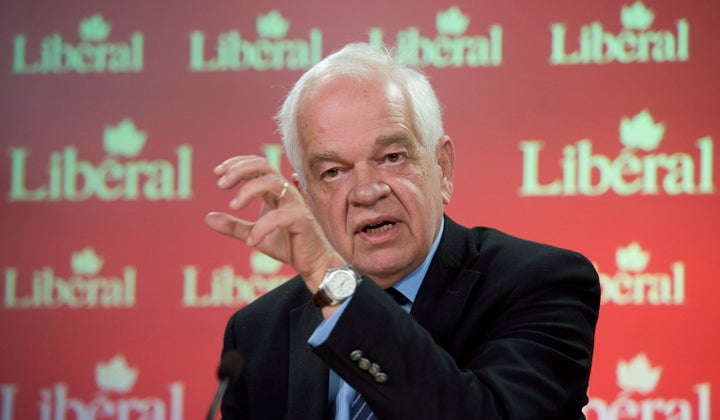 The federal Liberals have recently signalled that they plan to expand Canada's foreign-worker programs, pending a review scheduled to be released later this month.
During a trip to China last month, Immigration Minister John McCallum indicated his government wants to see a larger flow of migrants from China into Canada — not just temporary foreign workers, but students, tourists and others as well.
In terms of the flow of Chinese nationals into Canada, "we want to get it even bigger," McCallum said.
The Conference Board noted that two free trade deals the Liberals aim to sign would further expand the number of foreign workers allowed to work in Canada without proof a Canadian couldn't be found.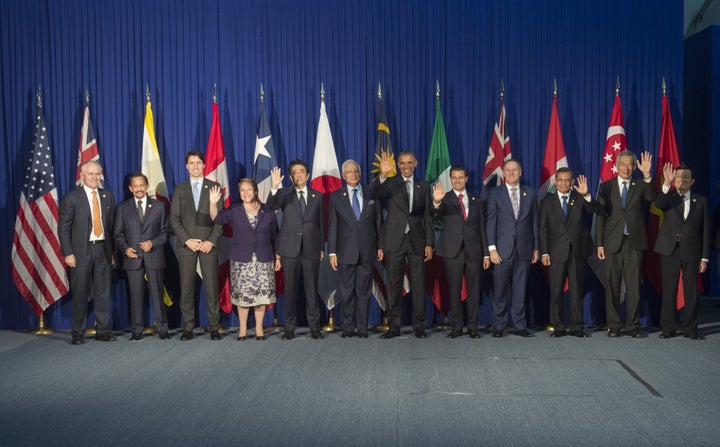 The Trans-Pacific Partnership (TPP) between 12 Pacific Rim nations, and the Canada-EU trade pact, known as CETA, would increase labour mobility between partner countries, allowing Canadians to work in those countries under certain circumstances, and allowing foreign nationals to work in Canada as well.
However, both free trade deals are on the rocks. CETA is facing grassroots opposition in Europe by opponents who call it a corporate power grab, and the TPP has ground to a halt, mainly due to the fact that both U.S. presidential candidates officially oppose it.
The Conference Board of Canada's vice-president for industry and business strategy, Michael Bloom, said "balance" is the key to building a proper foreign worker program.
"The government has a legitimate role to monitor the TFWP to ensure domestic workers are given priority in the labour market," he said in a statement. "Employers across Canada would like enough flexibility to fill their temporary employment needs when domestic workers are unavailable to do the job."
But, he added, "The Canadian public wants assurance that foreign workers are supplementing, rather than supplanting domestic workers. And protections must be in place to ensure temporary foreign workers are treated fairly by employers."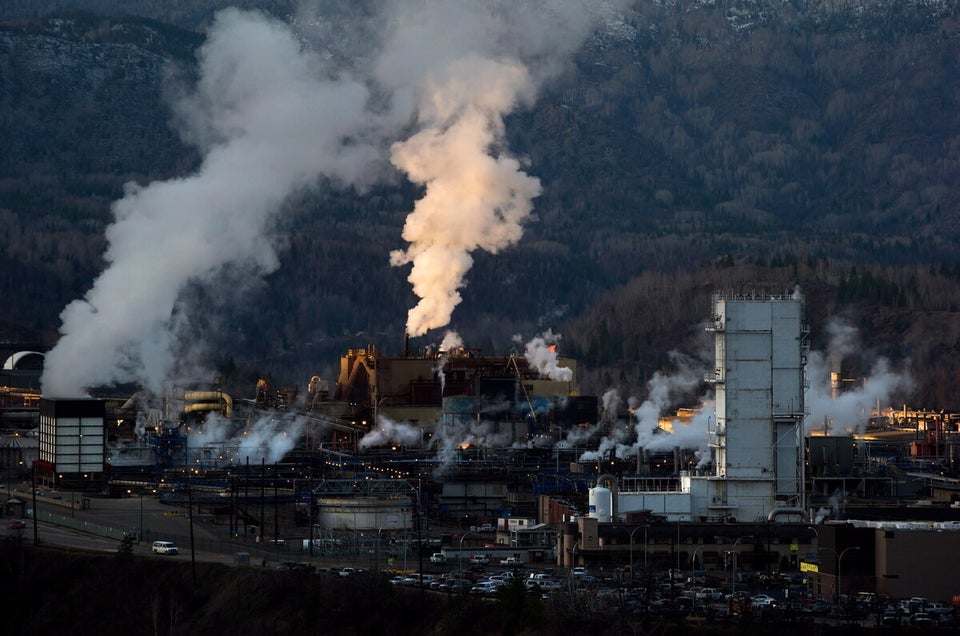 Largest Canadian Employers Using Temporary Foreign Workers (2013)